It's easy to accumulate an arsenal of housecleaning products when you have pets, but it's a good idea to regularly inspect your housecleaning toolkit carefully. Mr. Clean is a popular cleaning brand, but not every cleaner in their line of products is a pet-safe disinfectant. Check the ingredient lists, warnings, hazards, and precautions of each product, and eliminate any cleansers, disinfectants, and other potions that contain harsh chemicals, such as ammonia, chlorine bleach, glycol ethers, or formaldehyde, and others that are not safe for dogs and cats.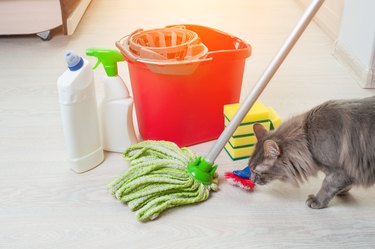 Pets and household cleaners
For decades, millions have relied on Mr. Clean to keep their home sparkling clean and smelling fresh. But is Mr. Clean safe for pets? The proof is in the pudding, as they say, and a little investigating is all it takes to decide whether Mr. Clean is right for you. A careful review of the ingredients and safety profile of one Mr. Clean pet product in the Mr. Clean brand product lineup — Multi-Surface Pet Cleaner With Febreze Odor Defense — will give you information to help in your decision whether or not to use this particular Mr. Clean product around your pets.
Limiting your pet's exposure to toxins is a huge concern since pets are more vulnerable to harsh chemicals found in some household cleaners. Dogs and cats are smaller than humans with smaller lungs and a faster metabolism. Pets also live day-to-day relatively close to the floor and carpets, where they are always in contact with chemical residues from cleaners. Cats are particularly sensitive to inhaling toxins, while dogs investigate with their mouths and lick food crumbs from the floor, ingesting whatever chemical residue comes with it.
Your pet's lack of awareness of toxic hazards and natural curiosity also puts him at greater risk for exposure. And the fact that most dogs and cats spend more time in the home increases their exposure to toxins exponentially.
About the Mr. Clean brand
"Mr. Clean gets rid of dirt and grime and grease in just a minute! Mr. Clean will clean your whole house and everything that's in it! Mr. Clean, Mr. Clean, Mr. Clean." If this catchy Mr. Clean jingle has been ringing in your ears for years, you're not alone. It's the longest-running jingle in television history, debuting in 1958, the same year the product was introduced, and Americans have embraced Mr. Clean, the product and its iconic mascot, ever since.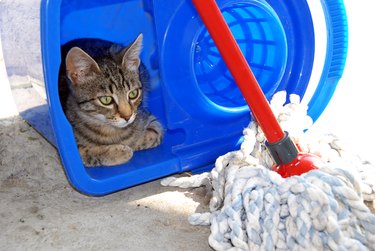 Owned by Proctor & Gamble, the Mr. Clean brand ranks as the 8th most popular household and personal care brand in America and the 4th most famous, as of the fourth quarter of 2021. It's likely in millions of pet parents' cleaning kits.
Eighteen products comprise the Mr. Clean lineup; among them are six multi-surface liquids, six multi-surface sprays, five Magic Eraser scrubbers, and one Magic Eraser disposable sheet. Getting down to the nitty-gritty of each product to determine whether it is pet-safe is simple. In the interest of consumer transparency, Proctor & Gamble created a website called Smart Label, a virtual cornucopia of product information. So if you use any of the Mr. Clean products, you can research its safety info or call their consumer hotline at 1-800-867-2532.
Mr. Clean pet cleaner ingredients
As a pet parent, your choice of Mr. Clean products may well be the Multi-Surface Pet Cleaner With Febreze Odor Defense, particularly since it is dedicated exclusively to households with pets and those tough cleaning jobs that come with the turf. This is the perfect product example to review to determine its suitability for use around pets.
The Mr. Clean Multi-Surface Pet Cleaner label pictures a smiling Mr. Clean with a yellow Lab and the tagline, "Cuts through 100% of pet messes; odor and dirt." so it certainly looks and sounds pet-friendly — but is it? The good news is that this product does not contain phosphates and has no chlorine bleach, ammonia, formaldehyde, or glycol ethers.
But every pet parent is aware that any chemical-based product should be used sparingly, strictly as directed on the label, and properly stored and handled. You also likely use the household products like carpet or floor cleaners at times when your pet is elsewhere in the home. But keep in mind that when products promote themselves specifically for pet messes like Mr. Clean Multi-Surface Pet Cleaner, it doesn't automatically translate into "pet-safe."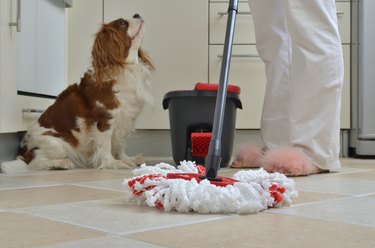 Mr. Clean safety warnings
Despite the fact the warnings in the health and safety information portion of Mr. Clean Multi-Surface Pet Cleaner profile page are in reference to human health, the following excerpt from Smart Label may be concerning for some when you consider dogs' and cats' susceptibility to adverse effects from chemicals: "Caution: eye irritant. Avoid contact with eyes. Keep out of reach of children. First aid: If in eyes, hold eyes open and rinse gently with water for 15-20 min. If swallowed, drink 1-2 glasses of water and call a physician or poison control center (product contains alcohol ethoxylates)."
The Safety Data Sheet for this product also advises rinsing the skin with plenty of water if exposed. If you consider how pets navigate their way throughout the house, where they sleep and play, you can put this warning in perspective; people are certainly not as vulnerable to eye irritation from the product as pets may be.
If you heed the label warnings and follow the instructions to a T, you would think it should keep your pet safe in the short term. But what about the long-term effects of exposure to this or any other conventional cleaning products you regularly use? It's for you to decide. Based on product reviews on its website, animal shelters and pet parents alike rave about the efficacy of Mr. Clean Multi-Surface Pet Cleaner. You just have to weigh out the pros and cons of this or any other household cleaner.
Some sources suggest that some Mr. Clean products may be detrimental to pets. For example, Mr. Clean floor cleaners, Mr. Clean Multi-Purpose Spray, and Formula 409 are cited as being unsafe for use around pets. And based on researching the ingredients in Mr. Clean Multi-Surface Pet Cleaner, a sample product from the Mr. Clean brand, there are indeed some dubious chemicals in the formulation that may suggest it should be used with caution around pets.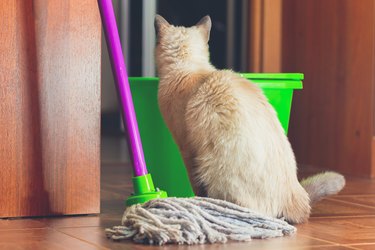 Choose pet-safe cleaning products
The bottom line: exercise caution when choosing household cleaning products, conduct in-depth research on the ingredients/contents of any product you are considering, and remember that following the warnings, hazards, usage, and storage instructions from the manufacturer are vitally important. By exercising appropriate caution and using the products as safely as is possible, you can mitigate potential hazards.
On the other hand, with so many eco-friendly and pet-friendly products available on the market today, many pet parents select only those products that are labeled non-toxic and promoted as "pet-safe." Yet even products labeled "pet-friendly," "pet-safe," "non-toxic," or "green" have caveats you need to be aware of and follow closely. In addition, there are tons of DIY recipes online for cleaners and disinfectants that contain apple cider vinegar (a natural anti-bacterial), baking soda (a safe, mild abrasive), lemon juice, and other natural, organic ingredients.
While there is no ammonia, chlorine, glycol ethers, or formaldehyde in Multi-Surface Pet Cleaner, it's safe to say that the use of Mr. Clean and other conventional cleaners should be carefully considered when you have pets in your family.