Having to say goodbye to a pet can be incredibly difficult, and learning how to live your life without them will be a process. After the arrangements for their afterlife have been made, and as the grieving process moves along, we will be faced with another detail to deal with: what do I do with her stuff? Handling your deceased pet's belongings will look different for everyone, and there is no right or wrong way to go about it. For anyone stuck on what to do with those old bowls, leashes, or beds, there are a few common go-to's for dealing with your friend's old things.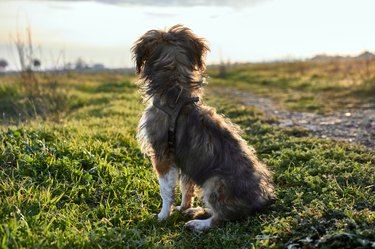 Donate to a shelter or organization
A great way to continue your dog's legacy is to donate his old belongings to an animal in need. Many local shelters, rescues, and foster-based organizations rely on donations from citizens to operate, and items like wet and dry food, leashes, collars, treats, beds, carriers, toys, and other pet care items can often find a second life in such a place. Unused medication may be accepted by some rescue organizations, particularly those who specialize in rehoming senior or sickly pets, which often have a higher need than most. When looking to donate medication or opened food, be sure to check with the organization beforehand, as not everyone will be able to accept used items.
If you can't bring yourself to part with your companion's things but still want to help animals in his name, there are other options. Memorial donations made in your pet's name can be a great way to honor your pet while simultaneously helping less fortunate animals who still have yet to find their forever companion. Donations can be made online to large organizations, like the ASPCA, or to local operations. Some organizations may also have a wishlist on their website, which will allow you to purchase and ship items currently needed directly to them. VCA Hospitals suggests searching for a cause that may have been personal to them, like donating to a research center if your pet had an illness, or donating a bench to your pet's favorite dog park.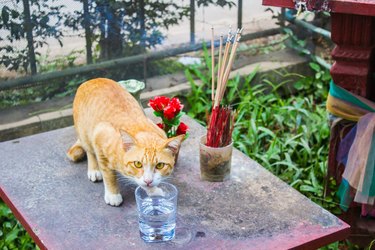 Create a memorial
Many people like to keep some of their pet's belongings as a way to stay connected to their beloved companion, even after they have passed on. It will depend on the person, but some may opt to keep their pet's belongings in a box or drawer for safe keeping, while others may prefer to display them as a memorial so they can see them every day. Collars and name tags are items that can easily be repurposed into jewelry, key chains, and decorative ornaments. Small items, like toys, bandanas or clothing, and even a favorite treat can be saved in a shadow box, which can be displayed or kept just for you. Old blankets can be washed and screen printed with your dog's image, name, or even a funny phrase that you associate with your friend.
Throw things away
While giving things away or turning old items into keepsakes is for some people, others may prefer to toss some things, or everything, and that's perfectly OK too. If you can't bear to look at those personal belongings, don't have the room to keep them, or simply don't want them anymore, throwing items out with the trash is absolutely an option, and can help some people cope with the loss, allowing them to heal in their time.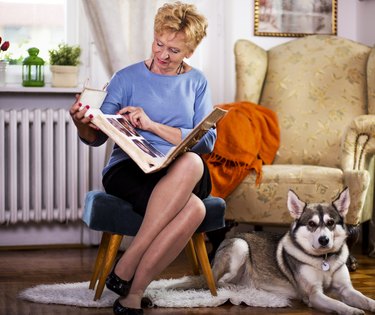 Keep them until you know what to do
The loss of a pet can be one of the hardest things a pet owner will ever go through, and many people find it even harder than losing a human loved one. As we grieve, giving ourselves a moment to pause and wait before acting until you know, for sure, what you wish to do with your pet's belongings, helps many people deal with the loss. Psych Central states that losing a pet not only involves the loss of your specific companion, but also your routine, and your source of unconditional love. If you wish to donate your pets things, use parts of them in art creations, or to give them away as gifts, there will always be time to do so later, so if you're unsure or on the fence, just hold onto them for now. When it's time to do something with them, you'll know.
If you did toss your pet's belongings and wish you hadn't, try to be gentle with yourself and know that you did what you needed to do at the time. Grief works in mysterious and unpredictable ways, and the process of saying goodbye won't look the same for everyone. Regardless of how you parted ways with your pet's belongings, you'll always have the countless special memories to keep with you always.