Paw-dicures, nail paw-lish, and even...facials? But of course! With all the love we have for our canines, it really is no surprise the amount of beauty and spa treatments that are available out there for dogs.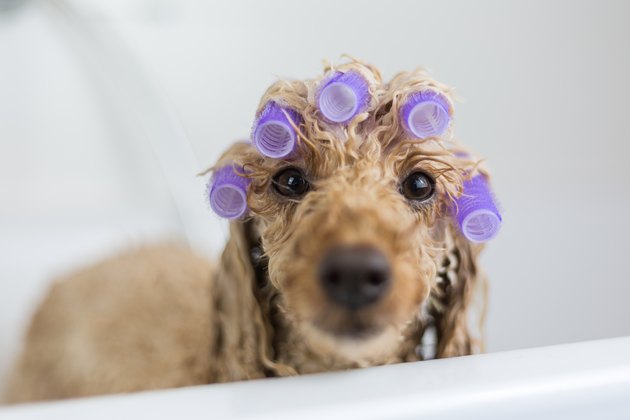 So, what do some of these treatments entail? And do they really work? Inquiring dog owners want to know. We did the dirty work for you so that you can focus on a day of pampering your pupper.
Dog massages
Many spaws offer pet massages on their menu, but can a good rub down really benefit your canine? According to AKC, absolutely! A dog massage can alleviate anxiety in your pet by reducing stress, as well as help with arthritis by increasing blood flow to affected areas. In addition, massages can address overexertion in pets, as well as geriatric issues. If you choose to massage your pup, just be sure to be extra gentle!
Painting your dog's nails
Have you ever seen a dog with painted toes? It's pretty darn adorable (and weird). However, it's important to note that you really shouldn't use human nail polish on your dog. According to VCA Animal Hospitals, human nail polish contains ingredients like dibutylphthalate (DBP), toluene, and formaldehyde, all of which can make your dog sick. On the other hand (or paw), pet-friendly nail paw-lishes that you may see in your local posh pet spa or pet store are usually made from natural and non toxic ingredients that are safer when ingested. If you wish to paint your dog's nails, go for it—just be sure to opt for the dog-friendly stuff.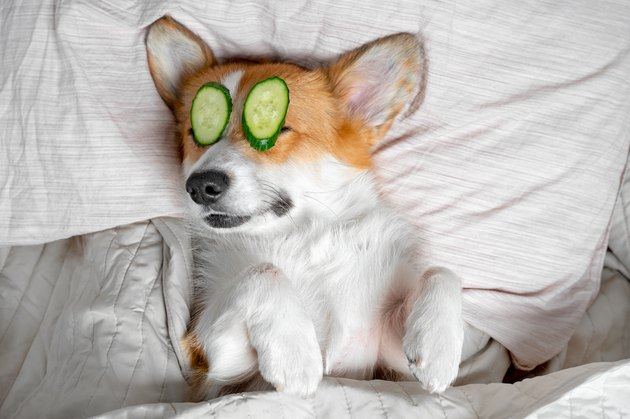 Dog facials
Many posh dog groomers offer blueberry facials for dogs, but what is the benefit of giving your dog a facial? Isn't that just washing his face? Some claim that the antioxidants in the blueberries make the cleanser more effective, and a dog facial can be a good way to remove tear stains, a common problem for our fluffy friends. Does it function in the same way that a human facial does? Probably not, but it sure is fun to think so. A facial is harmless to your dog, but only if he likes it. Be sure to start very slowly to test if your dog seems into it. If he seems to like it, proceed! If he seems at all stressed by it, stop, rinse it off and find another activity for you and your dog to do. There's no proven benefit of dog facials, and it's not worth causing him any stress.
Dyeing your dog's hair
If you've ever seen dogs strutting their stuff with a funky, colorful hairdo, you may be wondering if you yourself should change up your dog's look. Unfortunately, according to VCA Animal Hospitals, dying your dog's fur is never advised—that is, if you're using human hair dye.Never, under any circumstance, use human hair dye on your pet. This can be harmful and dangerous to your furry friend. However, there are pet-safe shampoos that contain dyes that are safe to use on your dog. You can use these yourself, or you wish to use a professional groomer who utilizes similar dog-safe techniques. Before you decide to dye your dog's hair, please consult your vet and groomer with any questions and safety concerns.
Dog acupuncture
While acupuncture isn't necessarily a beauty treatment, it is often associated with spa time and relaxation. So would you believe that pet acupuncture is a thing? Who knew? But if you aren't convinced just yet, acupuncture can help your dog with a number of conditions including arthritis, asthma, allergies, skin and ear infections, gastrointestinal problems, and geriatric problems like dementia or anxiety. If you are curious about acupuncture for your pet, be sure to see a certified veterinarian before you start any treatment. That way you can be sure to craft a treatment plan that is safe and appropriate for your furry friend!
There are so many ways to spoil your pet (spaw days included), but what matters is you do so in a safe and thoughtful manner. Always be sure to check that you are using dog-friendly products and talk to your vet if you have any concerns regarding your furry friend.