In the past couple of years, more and more cat cafes have been popping up around the country, and it's pretty easy to see why they've become so popular. Who wouldn't want to sip a drink while getting to play with dozens of adorable kitties? But there's a lot more to the story than coffee and cute cats.
For the CatCafe Lounge, Los Angeles' only non-profit cat cafe, the main focus is helping cats become socialized and find their forever homes. The CatCafe Lounge houses 35 to 40 cats, and unlike like most other cafes, the cats are available for adoption. However, a small percentage of them are undersocialized and would likely be euthanized in a standard shelter.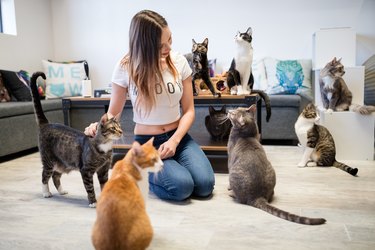 The CatCafe Lounge gives them a large and comfortable space where they can get used to being around humans as well as other cats. In addition to spending time with visitors, they also get special attention from a volunteer cat behavioralist Cristin Coll who comes by once a week to help with some of the more undersocialized cats.
Guests who are looking to adopt have the opportunity to interact with these cats in a way you won't be able to at a shelter, making it easier to decide which kitty is right for your home. And even if you aren't looking to adopt, you're helping just by playing and spending time with these cats who might not be used to hanging out with humans.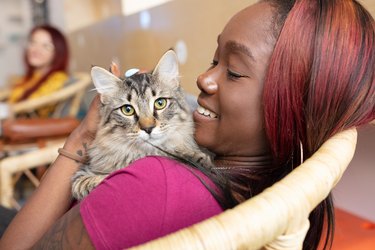 Founder and Executive Director Kristi Labrenz Galvan invited me to stop by for an afternoon to volunteer and see how things work. I got a behind the scenes look at the special attention that goes into keeping all of the cats comfortable and happy, and I even helped prep the common space before it opened to guests. But perhaps the best part of the visit was getting a change to spend some time playing with some of the more shy cats. It took a lot of time and patience to get them to play, but it was so rewarding seeing these undersocialized cats come out of their shells.
The CatCafe Lounge knows that every cat deserves a second chance, even if they require a little extra love and attention. In less than 2 years, they have helped more than 307 cats find their forever homes, and that number will only continue to grow.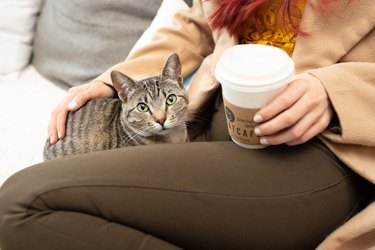 To learn more about the CatCafe Lounge and their mission, click here. If you'd like to learn about volunteering opportunities in your area, check out Volunteer Match, which will help pair you with an organization using your location and keywords. You can also use the "find a shelter" tool on Adopt-a-Pet, which helps find animal shelters in your area.