If you're in a particularly close relationship with a canine companion, this scene may be familiar to you: you're gathering your things to head out the door, stopping only to turn around and offer a long goodbye to your dog with the utmost assurance that you will be back, complete with reminders that he is a good boy. For many of us, our dogs are our family members, and the same considerations we might pay to a loved one are often extended to our four-legged friends. But, is it necessary to say "goodbye" to your dog every time you leave your domain? Furthermore, could doing so actually be reinforcing your dog's anxiety?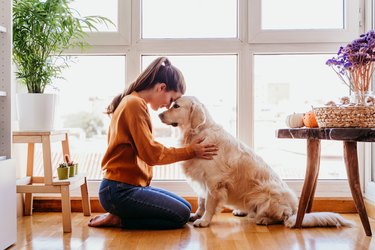 What is separation anxiety?
According to the ASPCA, separation anxiety is a behavior exhibited by canines that becomes triggered by a separation from their owners, however brief the time apart may be. This behavior is exhibited in symptoms like barking, whining, drooling, general household destruction, like tearing up bedding or furniture, and even urination or defecation in the home, which usually occur after the guardian has left the dog home alone. Some dogs can even attempt to escape from the home upon being left alone, which can result in a lost or injured dog. For some dogs, separation anxiety may become triggered when they witness certain "cues" that their companion is leaving the house, like grabbing car keys, putting on a coat, or packing a suitcase.
Separation anxiety can range from mild to severe, and treatment will depend on the level of anxiety your dog experiences, and the symptoms she displays while you're away. Some dogs with moderate to severe anxiety may require the help of a behaviorist or medication, while those with milder symptoms may be corrected with basic training and a regular routine.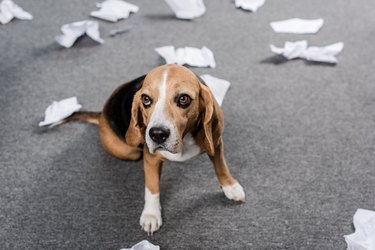 Should you say "bye" to your dog?
When it comes to anxious dogs, it's not so much whether you should say goodbye to your dog, as it is how you say goodbye to your dog. Because an anxious dog is already in a state of fear, an over-the-top, dramatic declaration of love and assurance, as well-meaning as it may be, could work your dog up even more. Additionally, dogs have not been shown to understand spoken language, although they are fluent in comprehending the messages we send with our bodies. So, if you find yourself on the floor, eye to eye with your dog and offering promises that you'll be home after work, your friend isn't understanding that you're going to be back in a few hours…if anything, he may read the sadness in your face and body language to mean that he has a legitimate reason to worry about being alone.
In addition to goodbyes, the hellos we offer to our canine friends should also be considered when we have an anxious dog on our hands. In many cases, dogs with separation anxiety are absolutely overjoyed, to say the least, to see their guardians return home, and sometimes show it by jumping, barking, or licking, among other behaviors. Encouraging these behaviors can also exacerbate symptoms of separation anxiety, and should always be addressed.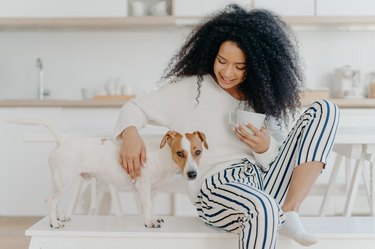 How to say "bye" and "hello"
When it comes to departing or greeting dogs who suffer from separation anxiety, the best course of action will alway be a "less is more" approach. If you prefer to say goodbye to your friend on your way out of the house, it's best to keep it short, sweet, and very calm, and perhaps briefly pet the dog — don't linger, pout, or express your own sadness about leaving, just say "goodbye" and walk out. If you see that your dog becomes anxious at the first sight of departure cues, you can try engaging in those actions without leaving the house, to dispel the association your dog has with those specific triggers.
When many people have a dog who they know becomes extremely upset to see them leave, their first reaction may be to shower them with attention and affection, perhaps in an effort to show them that they don't actually have anything to worry about. For some dogs, however, this may be causing more harm than good, as the same excitement level that surrounds leaving or entering a home only reinforces what that dog believes about being left alone — that it's bad. To combat this, many pet owners elect to completely ignore their dog until they have completely calmed down, at which case attention is given, while others may opt to redirect their dog's attention by ordering simple commands that their dog can easily obey.
Conclusion
It doesn't matter so much whether you say goodbye to your dog, but rather how you say it. If your dog has separation anxiety, it's best to keep your goodbye short and sweet.
In many cases, separation anxiety can be managed by implementing a routine complete with structure, consistency, positive reinforcement, and patience, according to VCA Hospitals. As with any medical condition, never punish your dog for displaying symptoms of anxiety, and in moderate to severe cases, it is recommended that you find a behaviorist in your area to work with, who may be able to provide relief for your companion and yourself.