Cuteness may earn compensation through affiliate links in this article.
If you've ever liked, shared, or cracked a grin at the meme "I work hard so my dog can have a better life," then you're definitely, definitely not alone. When it comes to purchasing the items to give said dog a better life, however, it's easy to feel a little, well, bleh about the options. If you've ever felt like, at a certain point, the options available on everyone's favorite two-day shipping mecca, Amazon, just don't do it for you, then you're in luck. We've roundup some of the best sites and apps for dog-related shopping that aren't Amazon.
First, some of the more well-known options:
1. Chewy.com
Let's start with a pretty obvious one. If you're a pet owner and you're not at least browsing Chewy, then you're missing out. The site has everything pet owners need on the reg, from food and treats to toys and accessories. And the selection is nothing short of impressive, especially considering the mass market vibe of the site—I even bought my dog a tux to wear to my best friend's wedding on Chewy.
2. Petco.com
When you're looking for great places to shop for your pet online, it only makes sense to start with, you know, pet stores. Petco has a great selection in its retail locations and an event more extensive selection online at Petco.com.
3. PetSmart.com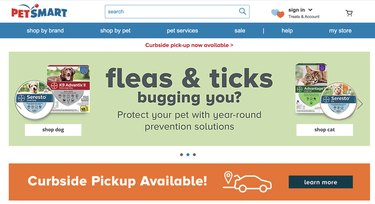 Just like Petco, PetSmart is a trust brick and mortar pet retailer with an even better online inventory than their in-store selection. This means that PetSmart.com is definitely worth a look for the casual dog shopper.
Now, a couple you may not have thought of:
4. Etsy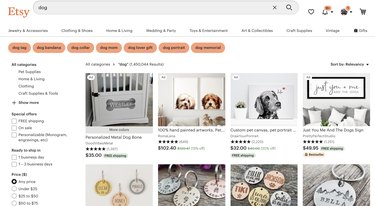 Now that we've covered the most obvious of bases, let's get just a little more creative. Or a lot more creative, depending on the kind of pup-centric merch you're in the market for. If you're looking for something truly unique (read: customized name tags, personalized artwork, etc.), you can't get much better that Etsy.com. The online marketplace has long been known as a haven for handmade and otherwise unbelievably unique goods and its selection of dog-related gifts and knickknacks are no exception. Of course, you won't find dog food or basic supplies here (scroll back up if you're looking for the basics).
5. PupLife.com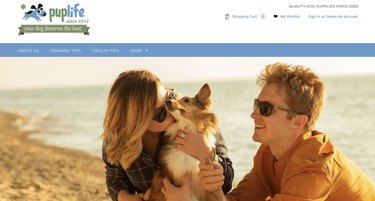 If you're looking for anything that could fall under the wide umbrella of "dog accessories" and want to support a quality, non-Amazon option on the internet, you should definitely swing by PupLife.com, which offers an impressive selection of quality-made pup-related goods, from collars and harnesses to toys and training gear.
6. Mercari.com
Mercari.com and its accompanying app are billed as an online marketplace for, well, just about everything. Think of it as the internet's flea market. You'll see a wide range of items in a wider range of conditions, meaning this can be a great resource for pet parents looking to save on gently used items or for people only interested in brand new merch. Just adjust your search filters to stick to the price range and condition(s) you're interested in seeing results for and—voila!—tons of new (or at least new to you) pup products are at your finger tips. Bonus: You can also use the site to sell gently used (or purchased-with-the-best-of-intentions-but-never-even-opened) items of your own. You can apply the earnings toward future purchases or cash out, your call.
If you're looking for something specific for your pup, check out some of our recommendations: