Most pets have a favorite toy, and some may even have two or three that they play with regularly. While mental and physical stimulation is an important part of any pet's health and wellness, the National Safety Federation states that a pet's toys is one of the top 10 most germ-ridden areas of the home, and can harbor bacteria, yeast, and mold. It's recommended that you clean your pet's toys once a month, or more frequently if needed, and you'll want to take care to do so in a way that's both effective, and safe for your pet to use them again.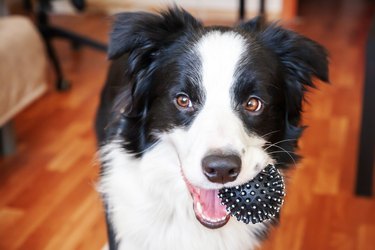 How to clean toys
The best way to get your pet's toys will depend on the type of toy that it is and the material that it's made of. Fortunately, there is one ingredient that you can use to get either type of toy clean: white vinegar. Safer to use than alcohol as it's non-toxic, and naturally rich in antibacterial, antiviral, and antiseptic properties, white vinegar is an inexpensive ingredient that can get pet toys clean. You may prefer to use vinegar in combination with other cleansers like dish soap for more well-worn toys.
Cleaning fabric toys
Rope toys, stuffed toys, catnip pouches, and other pet toys covered in fabric will need to be washed the same as any fabric surface. Soap and hot water will work to remove built-up dirt and bacterial on soft surfaces, and is recommended for fabrics that are especially fuzzy or small, like toy mice for cats. For larger toys, or for toys in need of a longer cleaning, a run through the washing machine will work just fine, and toys can be tossed in with your clothing so there's no need to run an entirely separate load for them.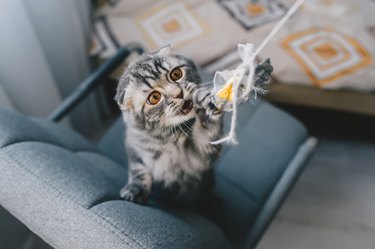 Cleaning toys with wipeable surfaces
While toys that aren't made from fabric may not look so dirty, they can attract a good amount of dirt and bacteria if they're in regular contact with a pet's mouth, their feet, the floor, or a surface outdoors. Rubber toys, plastic toys, and anything made from a hard material can be easily cleaned by using antibacterial soap and hot water to hand wash them with a gentle scrub or wipe. Be sure to rinse cleaned toys well and allow them to air dry, as not to transfer any bacterial onto them from a towel. Some toys, like KONG chew toys for dogs or other nylon or rubber toys, are dishwasher safe, according to Hartz, and can be cleaned using just hot water during a regular cycle, which will kill germs and remove residue.
If you have tough stains to remove, like blood from the gums of an overzealous chewer, you can spray your toys down with a solution of one part vinegar to two parts water. This diluted mixture will not only clean the surface of your toy, it can also lift or dissolve grease or other build up. For very tough stains, you can try soaking your pet's toy in a dish with hot soapy water before scrubbing clean with a bristle brush, like an old toothbrush.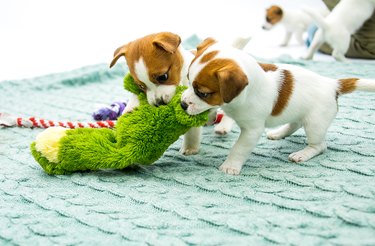 Conclusion
It's recommended that you clean your pet's toys once a month, or more frequently if you can tell the toy needs it. The most effective way to keep your pet's toys clean is to make disinfecting them a regular part of your cleaning routine, to prevent the build up of any dirt, food matter, or other debris. Pantry staples like white vinegar will go a long way in cleaning the surface of toys, but always make sure to use hot water when cleaning and rinsing in order to kill germs and remove any cleaning product residue. Broken toys can present potential safety hazards, like broken pieces of plastic toys, shredded rope bones, or stuffed toys with small, hard pieces hanging off, like the eyes or nose of a toy bear, which a pet could choke on. If your pet's toy is torn beyond repair, it's best to toss it and replace it, or keep it in an out-of-reach spot if it holds sentimental value for you.