With the ease and affordability of microchipping your pet, it's easy to overlook the importance of getting your dog an ID tag to wear on her collar. But should your pet get lost, having your phone number readily available to anyone who finds her will save you hours or days of worry by eliminating the time it takes to get the dog to a vet or pet shop where the microchip can be read.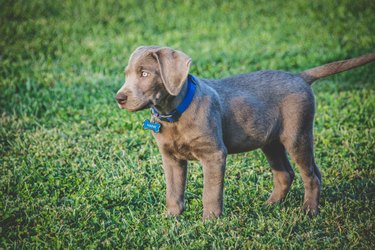 If your dog gets lost while she's with you on vacation, this can be crucial, turning what could be a stressful time spending extra days trying to locate your dog into a momentary inconvenience. Not to mention, saving your pet the stress of dealing with unfamiliar people, surroundings, or even a trip to the dog pound.
The best dog ID tags resist wear, attach securely to the collar, and hold up well over the course of time. Check out our Cuteness favorites.
Polished stainless steel tags not only look classy, but they will also last for your pet's lifetime. Unlike brushed aluminum tags, the deeply engraved stainless steel won't bend, break, or become illegible from wear over the years. They're also one of the most economical ways to outfit your dog with pet identification, leaving more in your budget for dog toys, bedding or other pet supplies.
GoTags stainless steel pet ID tags hold up to 8 lines of text — four on the front and another four on the back. That means there's room for extra info besides your pet's name and your phone number. Let people know if your pet needs medication or has special issues such as blindness or deafness.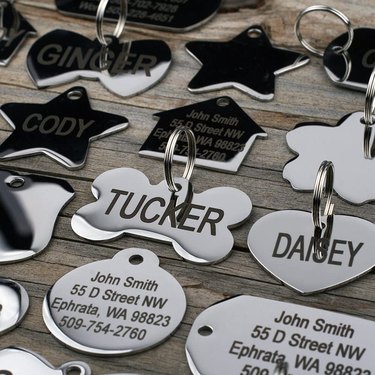 Jingly dog tags working your last nerve in the middle of the night? Although you can buy rubberized cases to muffle the sound of dog tags clanging together, tags designed for silence offer a no-fail, ready-made solution.
GoTags slide-on pet ID tags slide right onto your pet's collar with a curved design that compliments the contours of your dog's neck. Four sizes and two styles accommodate many types of single-thickness nylon dog collars.
If you're partial to martingale or adjustable snap-together styles, choose the open-ended style that hooks securely along the collar body. On buckle collars, the close-ended style lets you feed the collar through the tag's metal slots. Be sure to check your collar's width accurately—four sizes fit collars from 3/8-inch to 1 inch in width.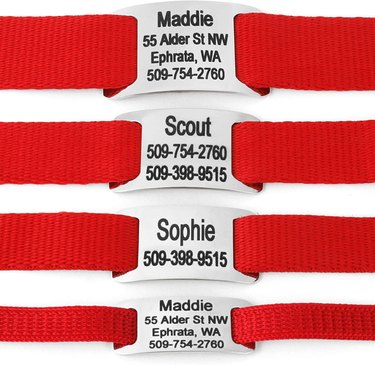 Ramp up the glam with a glitzy charm-style ID tag. The best jewelry-style pet ID tags are deeply engraved in polished stainless steel, which has a finish that won't rub off and discolor like gold-plated tags.
Order up a Rhincol stainless steel heart ID tag framed with glittery rhinestones. The highly-polished stainless steel tag is about the size of a quarter and comes with your pet's name engraved in script on the front and your contact information on the back.
Or provide your pooch with a glittery paw print tag when you buy a TedYoho custom pet ID tag. Choose your pet's favorite color for the sparkly paw print—there's red, blue, gold, purple, pink, and silver. The shiny stainless steel back holds up to four lines of text.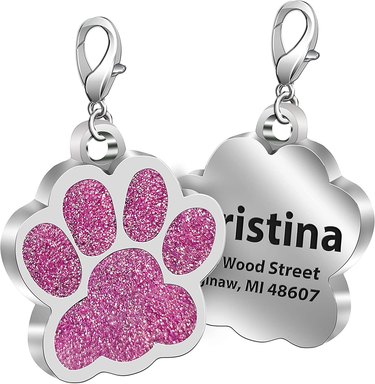 If bling is too glitzy and straightforward just seems too boring, try a funny ID tag by If It Barks. Tags featuring a cartoon pup and monikers such as "Call my people" and "Oh crap, I'm lost" add a little levity to one side of the stainless steel tag. The flip side has your contact info.
Select from over 25 different tags. Provide would-be rescuers with a tongue-in-cheek warning, such as "Can't hold my licker" or "Bed Hog." Or let people know important pet info such as "I'm blind," "I'm deaf," "I'm friendly," or even "My mom is single."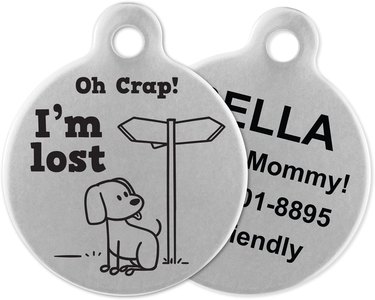 Express your creative side with M JJYPET personalized pet ID tags. Deeply engraved stainless steel tags come in round or rectangular shapes with artful designs that include floral designs, woodsy elements, outdoor themes and more.
Black, gold-tone, or polished stainless steel backgrounds offset the artistry, which leaves room for up to three lines of text on each side.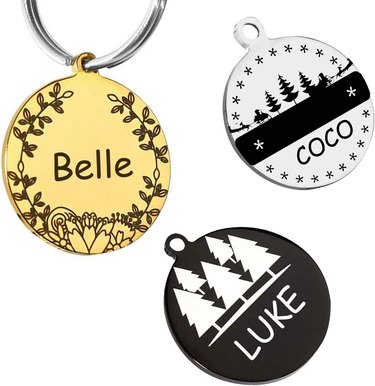 Like a smartphone for dogs
Every minute counts when your pet is lost and the Intellitag PetNotify smart pet ID automatically calls, texts, and emails you to let you know when someone has found your pet. The engraved stainless steel carries your pet's name, their PetNotify ID number, and your phone number if you wish.
For a few bucks a month, you can enroll in PetNotify's smart services for your pet. Upload all your pet's feeding instructions, veterinary records, food preferences, and contact numbers for groomers, dog walkers, and such. Add a list of backup contacts to be notified if you can't be reached, or set alarms for your backup contacts to get notified to care for the dog if you're not able to return home on schedule. There's also an SOS button on the tag you can press to notify your contacts that you and your pet are in need of help.