​Disclosure: At Cuteness, we are committed to being the go-to resource for pet owners and animal lovers. We only recommend products we think our audience will love. If you purchase something by clicking on one of these links, we may receive a small commission of the sale and the retailer might receive some data for accounting purposes.​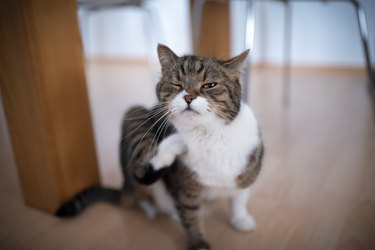 It's inevitable that your cat will get fleas at some point in her life. Fleas are everywhere, especially in the summer, and they tend to cling onto animals for dear life.
Aside from making you and your cat itchy, fleas can also spread diseases and parasites. If your cat has fleas and you don't notice, she could develop a tapeworm or heartworm. And if she's allergic to fleas, she may not only itch incessantly, but she may chew her hair off her legs, lose her hair around her head, tail, and neck, and have small scabs around her neck and head.
Thankfully, flea prevention can stop a flea infestation before it begins and protect your cat from getting sick and feeling uncomfortable. You can pick up some flea prevention products on Amazon now and ensure your cat will be safe. Just remember to ask your vet which products are OK before making a purchase.
Flea medicine for cats of all sizes
TevraPet FirstAct Plus Cat Flea and Tick Treatment is for cats 1.5 pounds and up. It kills fleas, flea eggs and larvae, and ticks and lice, and it's fast acting, long lasting, and waterproof. It includes a three-month supply and you can apply flea drops once every 30 days. It also contains fipronil and (S)-Methoprene, which are the same active ingredients as Frontline Plus for cats. TevraPet's flea prevention for cats has 2,442 ratings on Amazon and an average of four out of five stars.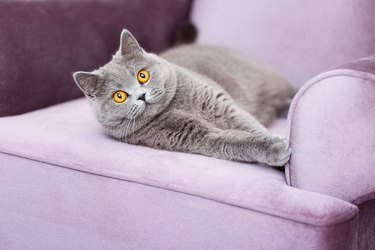 Flea prevention for large cats
Specifically formulated for cats over 9 pounds, Advantage II Flea Prevention and Treatment for Large Cats comes with six monthly doses. This medicine is fragrance-free and waterproof after 24 hours, and it starts working within 12 hours of application to protect your cat for up to 30 days. It kills fleas through contact, which essentially means that the fleas don't have to bite your cat in order to die. Additionally, it protects your cat from flea eggs and larvae. This medicine has 32,487 ratings on Amazon and a 4.5 star average.
A cat-friendly spray for the indoors
Sometimes, topical treatment for fleas is not enough. To prevent fleas from biting your car, you can spray Cedarcide Original, which is completely safe for cats and other pets, humans, and your home. You can spray it directly on your cat as well as yourself, your clothing, and your furniture (just test a small area prior to spraying it everywhere). Along with killing fleas, it will also take care of mosquitoes, ants, mites, and ticks. This product has 962 ratings on Amazon and an average of 4.5 stars.
A yard spray that's safe for cats
Fleas breed outdoors. If your cat likes to go outside, she's likely getting infested in your yard. To prevent fleas from spreading, you can use an outdoor spray that's safe for your cat and other pets. One good choice is called Wondercide Natural Products - Ready to Use Yard Flea, Tick and Mosquito Spray, and it has 4,835 ratings on Amazon and a four-star average. It treats up to 5,000 square feet and can be used on grass, patios, siding, vegetables, bricks, flowers, and paint. You can spray it to stop a current infestation or prevent one from occurring. Plus, it doesn't contain any harsh chemicals, and it's made from sustainable, plant-based ingredients.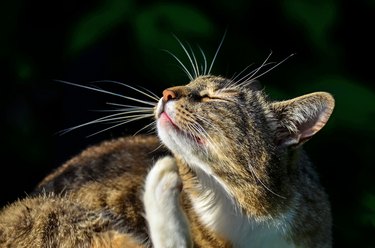 You can keep your cat clean and flea-free with Adams Plus Flea & Tick Shampoo with Precor, which kills fleas, flea eggs and larvae, ticks, and lice. It's made with coconut extract, oatmeal, aloe, and lanolin, and an Insect Growth Regulator that can kill and prevent flea development for up to 28 days. It is safe to use on cats and kittens 12 weeks and older, and it has a pleasant and fresh scent. Amazon shoppers love this shampoo, which has an average of 4.5 stars and 7,270 ratings.
Another way to prevent fleas is to invest in a flea collar for your kitty. ShengKou's Flea and Tick Collar for Cat has an average of 4.5 stars on Amazon and over 900 ratings. The flea and tick collar can get rid of internal and external fleas and parasites, ticks, and other pests, and it's made using an all-natural formula. It can fit any cat, and it's waterproof if your cat likes to spend a lot of time outside. The manufacturer just recommends taking it off before giving your cat a bath as it will shorten the protection time.
Always check with your veterinarian before changing your pet's diet, medication, or physical activity routines. This information is not a substitute for a vet's opinion.