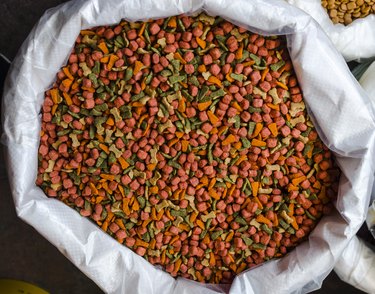 ​Disclosure: At Cuteness, we are committed to being the go-to resource for pet owners and animal lovers. We only recommend products we think our audience will love. If you purchase something by clicking on one of these links, we may receive a small commission of the sale and the retailer might receive some data for accounting purposes.​
Keep your dog's dry kibble at its freshest by storing it in an airtight container. The best dog food container is one that your pet or rodents won't be able to gnaw into and has a wide opening to avoid a mess when pouring food in.
Amazon's Choice and the No. 1 Best Seller in Pet Food Storage is IRIS USA Airtight Food Storage Container MP-10. The BPA-free food-quality container has snap-lock latches to keep out moisture and insects, essential to storing pet food safely according to the Food and Drug Administration. The containers stack, letting you organize not only your dog's food but other pet supplies such as treats, cat food, litter, and more.
The containers come in 12-quart, 33-quart, 47-quart, and 69-quart sizes. The three larger sizes are on casters to move them around easily with the largest size roomy enough to hold a 50-pound bag of dog food. Dog food should be stored with its original bag around it whenever possible, according to Cummings Veterinary Medical Center to help retard mold. The spacious containers leave enough room to slide bag and all inside for themost secure storage.
The see-through airtight bins latch securely and sit on a rolling base, making it easy to slide the unit away into the closet or pantry. Available in 12 colors, its easy to match your pet's personality or your kitchen decor. The product is an Amazon Best Seller and has 79% five-star reviews.
If you have a large dog — or more than one — you'll want to avoid running to buy food every few days. That's how a Gamma2 Vittles Vault Outback Stackable 60 lb Airtight Pet Food Storage Container can help. Not only can the entire contents of a 50-pound bag of dog food fit inside, but it's also got room for 10 extra pounds, so you can fill it up when you start running low.
The vault top twists into place with several turns, meaning even the most enterprising pooch won't be able to nose it open to nibble between meals. Or buy several and stack them outside in your barn or storage shed — the airtight, moisture-controlling design won't let in insects or animals and the rugged BPA plastic won't shatter if they get knocked around.
Unless you know you'll be able to buy your pet's exact brand of food on your vacation, you'll want to pack their food along with you. Be sure to remember bowls and a measuring cup also. TIOVERY Pet Food Storage Container includes all of those in one travel-sized airtight dispenser.
The pourable container holds about 3.5 pounds of dog food, which can last even large dogs for a weekend getaway. The food-grade dispenser comes with a measuring bowl that fits over the pourable spout, and an expanding bowl you can clip onto the unit's carrying handle. Order a couple extra to store cereal, nuts, or other dry finger foods for serving mess-free snacks to the kids on a road trip.
Store your dog's food and dispense it using your smartphone with an innovative food storage container/feeder combo. The PetSafe Smart Feed Automatic Dog and Cat Feeder received the 2020 Pet Innovation Award for Electronic Feeders/Waterers Product of the Year with this product that can work with Alexa, iPhone, or Android.
The container holds up to 24 cups of food and will dispense feedings from 1/8 cup to 4 cups. Schedule it for up to 12 feedings per day or tell Alexa to give your dog a treat-sized portion.
Make the most of space in a small apartment with an elevated bowl set with storage box. The IRIS USA Elevated Feeder comes in three sizes for small, medium and large dogs. Each size has an airtight food storage container directly beneath the elevated bowls.
The large container holds up to 47 pounds of food and has two removable 2-quart stainless steel bowls elevated 15 inches off the ground to prevent dog neck strain. Smaller sizes hold 13 pounds with 1-quart bowls with 9 inches of elevation and five pounds of food with 1-pint bowls and 6-inch elevation. All three sizes come in a choice of three colors to match your decor.
Always check with your veterinarian before changing your pet's diet, medication, or physical activity routines. This information is not a substitute for a vet's opinion.