​Cuteness may earn compensation through affiliate links in this article.​
Brushing your dog's teeth is critical. When you take care of your dog's teeth, you are helping to prevent tartar buildup, gingivitis, tooth loss, and bad breath. If you don't take care of his teeth, an infection can spread to his kidneys, liver, and heart, so you should take doggy dental hygiene seriously. No matter what age your dog is, you can start brushing and ensuring he will live a long and healthy life.
Here are some essential dog dental hygiene tips from veterinarians, along with recommendations for products you can use to keep your dog's teeth clean at all times.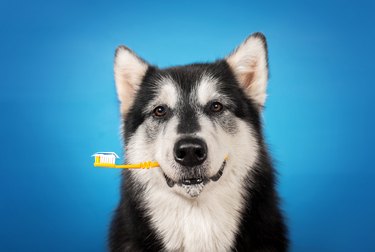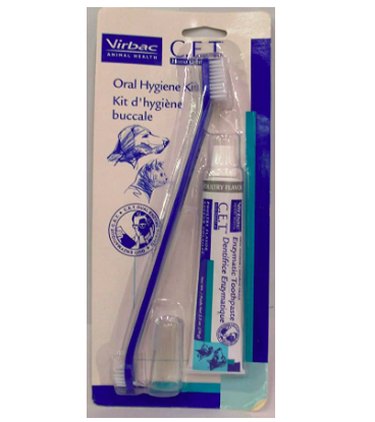 Dr. Michelle Burch, a doctor of veterinarian medicine at Safe Hounds Pet Insurance, encourages dog owners to use the Virbac C.E.T. Oral Hygiene Kit, which comes with enzymatic toothpaste in poultry flavor, a dual ended, soft bristle tooth brush, and finger brush slips you can use over your finger if your pup doesn't like the toothbrush.
"The oral hygiene kit is suitable for dogs of all ages and sizes," says Burch. "The kit provides a dual-ended soft bristle toothbrush along with a finger brush to determine which will be best to use with your dog."
Try a toothbrush your dog will love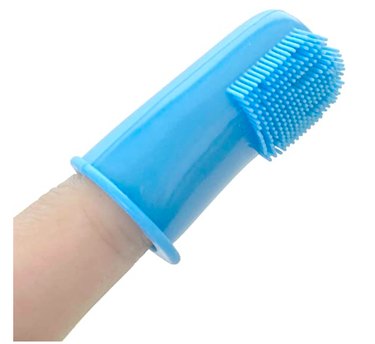 "Toothbrushes formulated for dogs are more angled than human brushes," she says. "If your dog won't allow you to utilize a toothbrush, try a finger brush that makes for easy access. I recommend Pet Republique Cat & Dog Toothbrushes, which come in a pack of six."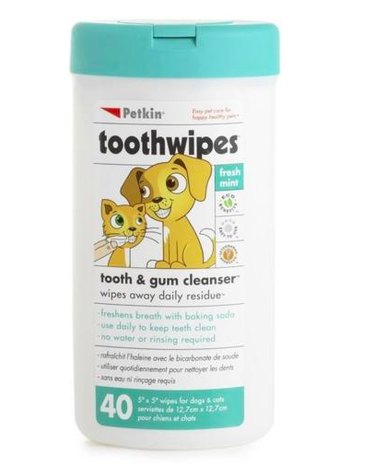 If you can't get to the doggy dentist, then invest in some tooth wipes, like Petkin Fresh Mint Dog & Cat Plaque Tooth Wipes. "It is important to note that the best way to remove plaque and tartar and maintain your dog's optimal oral health would be a professional dental cleaning under general anesthesia with your primary care veterinarian," says Barrack. "Dental wipes are also an alternative when brushing isn't an option. These Petkin Fresh Mint Tooth Wipes are available for dogs and cats, and [they are] a great option."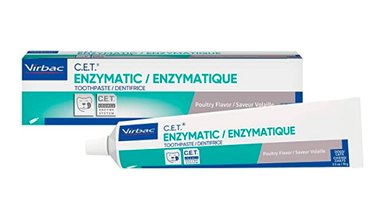 Dogs wouldn't like the taste of toothpaste, so manufacturers make toothpaste in delicious flavors instead. Burch speaks highly of Virbac CET Enzymatic Toothpaste.
"I recommend using the C.E.T. Toothpaste with your dog's toothbrush for daily cleaning of their teeth," she says. "The enzymes in this toothpaste are formulated to decrease plaque formation, promote fresh breath, and clean the mouth. C.E.T. Toothpaste comes in beef, poultry, and vanilla mint flavors to please any dog's palate and make brushing easier."
Good Housekeeping listed Virbac's C.E.T. Toothpaste as one of the best dog toothpastes of 2021, writing in their review, "This veterinary-approved toothpaste is safe for both cats and dogs, and is antibacterial, plaque-removing, and tartar-preventing."
Another good option is Vet's Best Enzymatic Dog Toothpaste, according to Barrack. This toothpaste is made of natural ingredients like baking soda, enzymes, aloe, neem oil, and grapefruit seed extract, and it comes in an easy-to-use squeeze tube.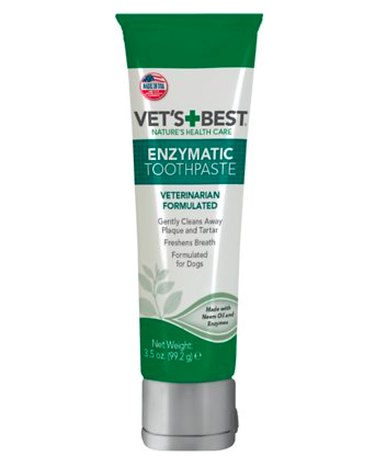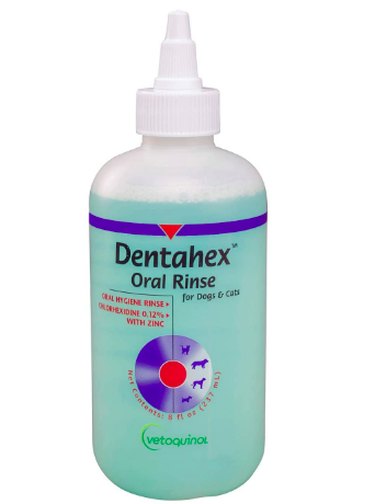 Brushing and wiping down your dog's teeth are important, but so is rinsing out his mouth with oral hygiene rinse. "I recommend using the Vetoquinol Dentahex Pet Oral Hygiene Rinse to decrease plaque formation by freshening your dog's breath," says Burch. "[You should use] the rinse after each meal to help encourage the best dental health for your pet."
Give your pup dental treats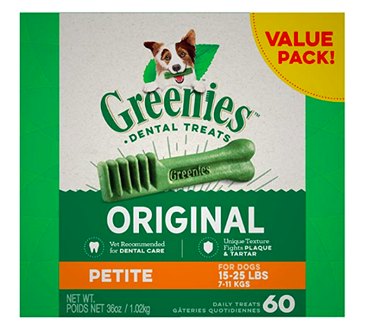 To keep your dog's teeth clean and strong in between brushings, give him tasty treats, like Greenies Original Petite Natural Dental Dog Treats, which clean down to the gum line to fight tartar and plaque and freshen your dog's breath. They are made with natural and easy-to-digest ingredients, and are veterinarian recommended as well as Veterinary Oral Health Council accepted.
"Greenie Dental Treats help to keep your dog's mouth healthy with their specifically formed texture," said Burch. "The treat's texture removes tartar and food particles from the teeth, similar to a toothbrush. I recommend feeding one Greenie treat once a day to your dog."
Canine Journal agrees that Greenies are great for your pup, saying, "These Greenies dental sticks for dogs help fight plaque and tartar build-up to keep your dog's oral hygiene in check. If they love to give you lots of kisses you'll like these too since they help with bad breath."
By using the right doggy dental treats, oral rinse, toothpaste, and toothbrush, as well as brushing your dog's teeth regularly, you can prevent him from becoming ill and keep his teeth looking healthy and clean throughout his life.
Always check with your veterinarian before changing your pet's diet, medication, or physical activity routines. This information is not a substitute for a vet's opinion.