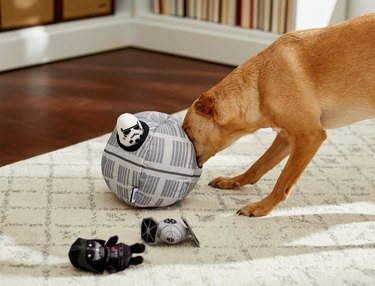 Don't be surprised if you get a "May the fur be with you" when people see you or your dog playing with any of these toys. With May 4 around the corner, whether you're at the dog park or in your front yard, you can let everyone know you're on the good side with these 10 adorable Star Wars toys for dogs.
1. Star Wars Yoda Ballistic Nylon Plush Squeaky Dog Toy
Your pup can learn from a true Jedi master when they have this Star Wars Yoda Ballistic Nylon Plush Squeaky Dog Toy. The ballistic nylon cover means that it's made from the same material that the flak jackets worn by World War II airmen were made from – in other words, it's heavy duty! It is filled with soft stuffing though, so keep an eye on your puppy Padawan while they have it. It's also got two squeakers inside.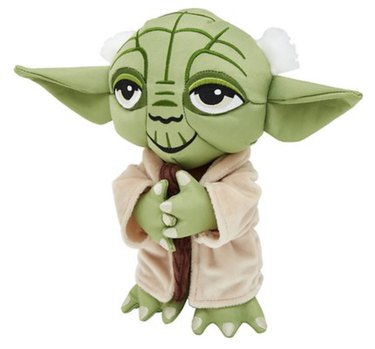 2. Buckle-Down Star Wars the Child in Carriage Plush Dog Toy
This adorable Child in Carriage plush toy is made from a special felt that makes it non-abrasive. This means your dogs can chew on it but not damage their teeth. It's filled with polyfiber stuffing and a squeaker, of course, so it's fun and cute. It's sized nicely for chewing or throwing for a game of fetch.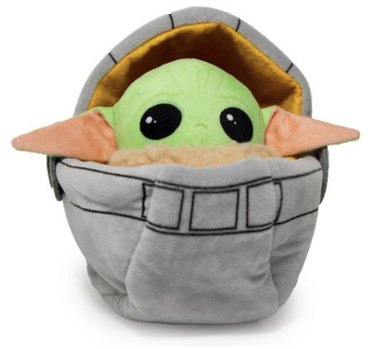 3. BB-8 Buckle-Down Plush Star Wars Dog Chew Toy
For anyone (and their dog) who's fallen in love with the adorable rolling droid from the newest Star Wars film trilogy, this plush BB-8 dog chew toy is a must-have. Made from a durable, high-quality canvas that's non-abrasive and won't wear down your doggo's teeth, it's squeaky, fun, and easy to spot, thanks to its bright orange trim. The only thing is, you need to wash it by hand.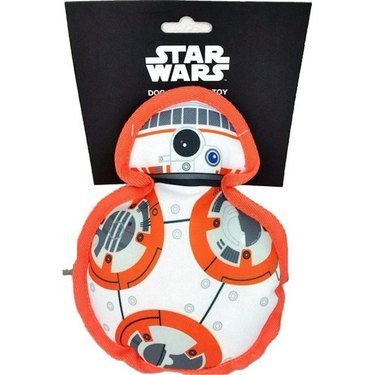 4. Star Wars Darth Vader Flat Plush Squeaky Dog Toy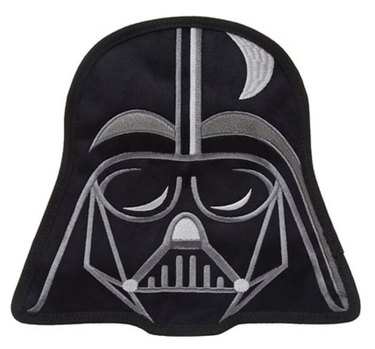 You'll enjoy seeing your furry friend destroy Darth Vader's helmeted head when they play with this Darth Vader dog toy. It's flat and stuffing free, so it's a bit safer for dogs who might be likely to swallow stuffing, though you should always supervise your dog when they have a chew toy. It's got Darth Vader on one side and a "Rule the Galaxy!" graphic on the back. The shape makes it easy to catch and carry and there are four squeakers inside.
5. Star Wars Death Star Hide And Seek Puzzle Plush Squeaky Dog Toy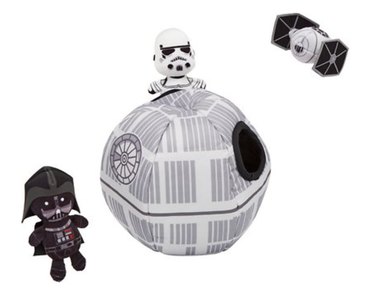 Most viewers cheer when they see the Death Star destroyed in "Return of the Jedi." In this case though, you'll want to keep it safe for a long time so your dog can keep playing with this Death Star-shaped plush puzzle toy. This Chewy-exclusive toy comes with a Death Star base that holds three squeaky toys: Darth Vader, a Stormtrooper, and a TIE Fighter. Hide them inside the Death Star base or play with each one on their own. The Death Star is 8.5 by 8.5 inches and is recommended for medium and large dogs.
6. Star Wars Death Star Fetch Squeaky Tennis Ball Dog Toy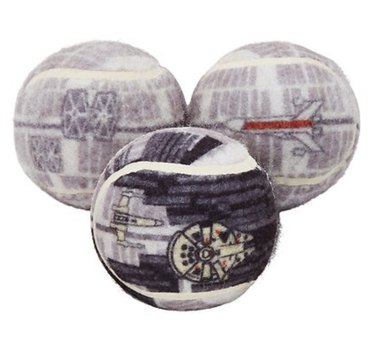 You really can never have enough tennis balls, especially if your pup Padawan enjoys fetch. These classic tennis ball favorites are imprinted with the image of the Death Star and also features X-Wings, TIE Fighters, and the Millennium Falcon. They have built-in squeakers, for an easy game of fetch, catch, or just chew. Comes in a three-pack and are slightly smaller than official tennis ball dimensions at 5 x 5 x 2.5 inches.
7. Star Wars Jabba the Hutt Latex Squeaky Dog Toy
If you ever watched "Return of the Jedi" and thought that Jabba the Hutt looked like one massive, slimy rubber chew toy, it looks like you're not alone. The folks at Disney have decided to turn the giant, slug-like alien into a chew toy, and he looks all too happy to play the part. Made from a soft and smooth, dog-friendly latex, this chewy Jabba is squeaky, squishy, and way cuter than the harsh former crime lord on Tatooine. We'll take this Jabba over movie-Jabba any day.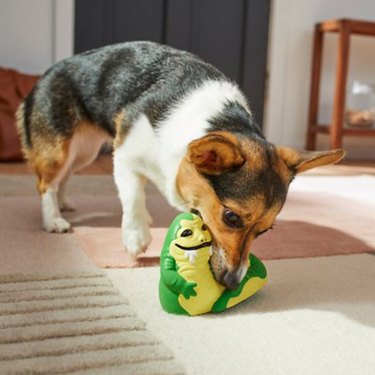 8. Star Wars Stormtrooper Plush with Rope Squeaky Dog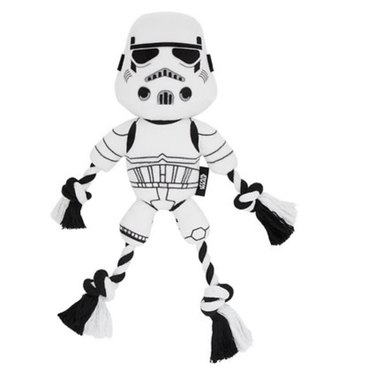 You won't feel bad watching your dog chew up and toss around this bad guy. This Stormtrooper toy is plush and soft, has ropes and squeaks, so even though Stormtroopers are bad in the movies, they are excellent in toy form. This toy has rope arms and legs and a soft cover with plush stuffing and two squeakers inside.
9. Star Wars Millennium Falcon Ballistic Nylon Plush Squeaky Dog Toy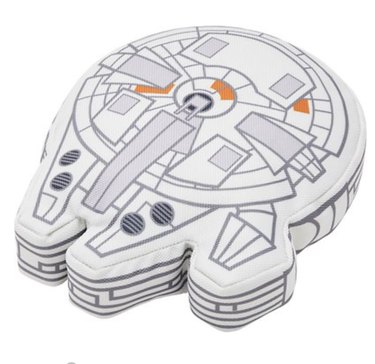 Everyone's favorite spaceship lives on and this time the Millennium Falcon Plush Squeaky Dog Toy it's made of ballistic nylon – that's a high-tech material made for servicemen's jackets – and while it's a plush toy the material makes it really durable. It's got two squeakers inside and is a good flat shape and size that makes it easy to hold and carry at 10 x 8.5 x 3 inches.
10. Star Wars Chewbacca Round Plush Squeaky Dog Toy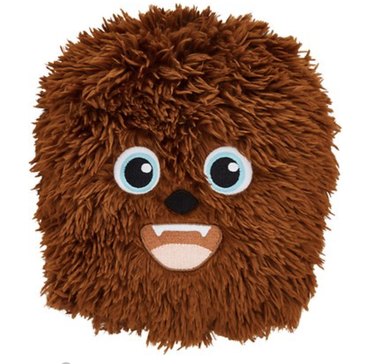 Chewbacca is a perennial fan favorite, and this Star Wars Chewbacca Dog Toy will go on to become one of your dog's favorites too. This one has all the characteristics of a good dog toy: It's plush with a soft cover that works for chewing or snuggling, it's got a squeaker and is stuffed with crinkle paper for a variety of sounds and textures.