Chances are you have your favorite Disney movie. Is it the Star Wars films, or the Toy Story movies? Whichever character or storyline it is that you love the most, you can bring that fun home and share it with your pet when you choose a toy from either the Chewy Disney collection of the Shop Disney new store of Disney-themed pet essentials. Here are our picks for 10 Disney dog toys that are "paw-sitively perfect" for your pup.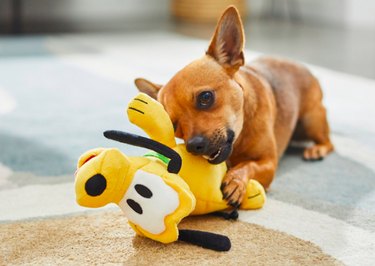 1. Star Wars Death Star Hide And Seek Puzzle Plush Squeaky Dog Toy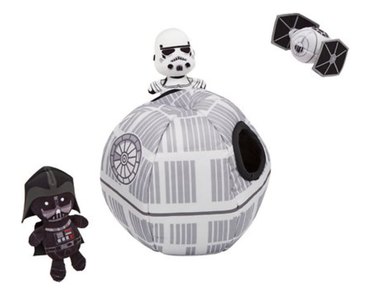 The Death Star is sooo adorable! That's not something any Star Wars fan is likely to say, at least, not until they bring home this plush puzzle toy in the shape of the Death Star. This Chewy-exclusive toy comes with a Death Star base that holds three squeaky toys: Darth Vader, a Stormtrooper, and a TIE Fighter. Your dog will have a blast trying to find each toy, and you'll love watching it. They don't recommend this plushy, soft toy for heavy chewers, so watch your dog when they've got this toy (and really, with any chewy toy, especially a new one). It's 8.5 by 8.5 inches and is recommended for medium and large dogs.
2. Pixar Aliens Round Plush Squeaky Dog Toy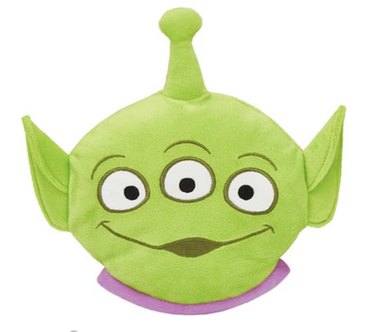 Most dogs who love squeaky toys REALLY love squeaky toys, and sometimes it seems like you're constantly needing to replace them. This is one cute one that's also affordable but has lots of different places to chew on. Your furry leader can chew on the antenna or the pointy ears of this alien from Toy Story. The nice thing about a squeaky toy of this size and shape is that it's easy to be a fetching toy as well. The cover is made of soft polyester that's fun to chomp on but soft on their mouth. This fun toy is available only from Chewy.
3. Fetch for Pets Star Wars Chewbacca Squeaky Plush Dog Toy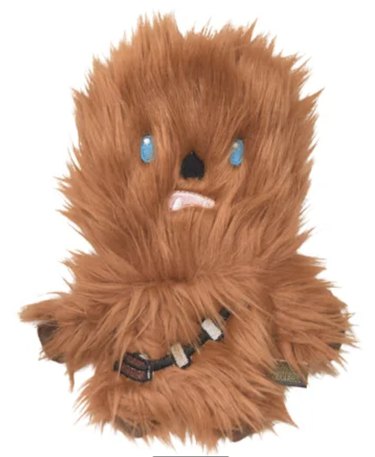 Star Wars fans might be tempted to buy this Chewbacca Squeaky Plush Dog Toy and put it on the collectible shelf. But it's actually made for dogs and will keep your pet happy for hours on end. It's soft, but has no stuffing so it's not something they can easily pull apart and swallow (though dogs should always be supervised when they have a toy). With his across-the-body bandolier and blue eyes set inside long brown hair, there's no mistaking that this toy is your favorite Wookie It's made from cotton and polyester. This one is suitable for light to medium chewers and has a light squeaker.
4. Marvel's Ironman Plush with Rope Squeaky Dog Toy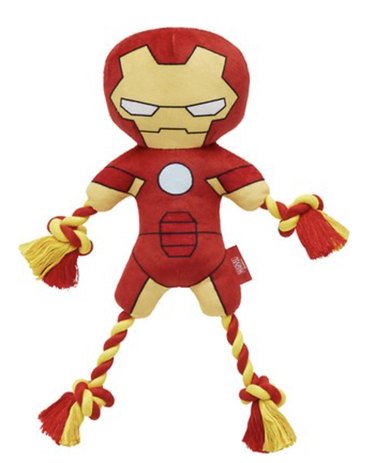 In this timeline, Ironman won't be using his special suit to combat crime and terrorism. Instead, he'll be your best friend's sidekick for chewing, playtime, and squeaking. This Marvel Iron Man toy combines a plush, squeaky body made of polyester and the classic cotton ropes for arms and legs. Your pup (or you) can squeak him, toss him, play tug of war, or fetch with him. Spot clean this toy, which is not recommended for aggressive chewers.
5. Minnie Mouse with Easter Egg Plush Squeaky Dog Toy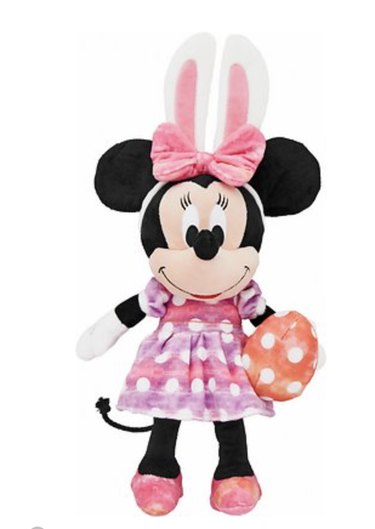 Easter may come around only once a year, but you and your dog can have magical Easter fun anytime with this plush squeaky toy with both Minnie Mouse and an Easter egg. There's a squeaker inside Minnie, and the egg detaches so that it can be its own fetch toy, or to switch up the toy and keep things interesting. It's filled with soft stuffing, so it's not recommended for dogs who chew a lot. The material is polyester, which can be spot-cleaned.
6. Disney Princess Pet Toy Ball Set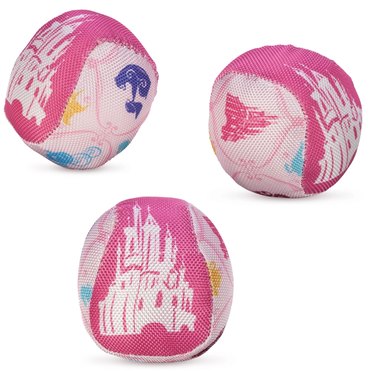 Not every dog likes to play fetch but those that do typically LOVE it. Most dogs have a tendency to want to chase things. Even if your dog likes to go after the ball but doesn't like to bring it back, playing with more than one ball can get them into the habit of returning to you with the first ball. While there are no characters depicted on this three-piece ball set, there's no mistaking where your loyalties lie. Screened with Disney princess symbols and the unmistakable castle image, you can let everyone know that your furry friend is a true Disney princess with these baseball-style but softer toys that also squeak. Each ball is 3 inches in diameter, so it can easily fit in their mouth.
7. Hitchhiking Ghosts Chew-Toy Balls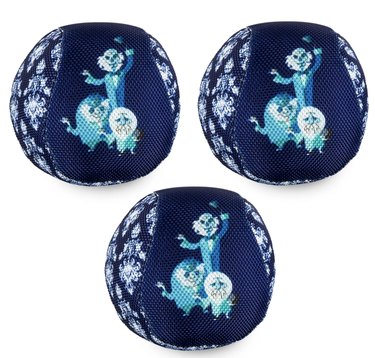 If you want something more geared toward the male lead in the Disney movie that is your life, go for these Hitchhiking Ghosts Chew-Toy Balls, which feature the hitchhiking ghosts from The Haunted Mansion. Each ball is 3 inches in diameter so it can easily fit in their mouth, and it's a color they can see, unlike tennis balls, which probably blend into the grass and looks like all one shade for most dogs.
8. Star Wars BB-8 Ballistic Nylon Plush Squeaky Dog Toy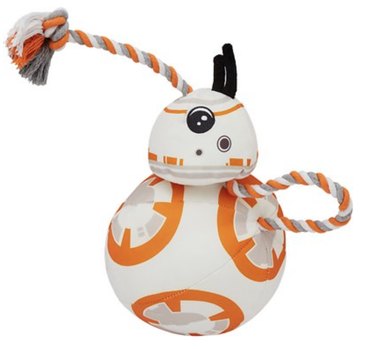 This droid BB-8 is one of the most recognizable and popular new Star Wars characters. In the form of this rope toy, both you and your dog will love it. The toy's two-piece design features a head and body with cotton/poly rope running through them, and they're connected by hook-and-loop fasteners. You can take the two pieces apart and play with each one separately to keep things exciting. Each one is filled with soft stuffing, and has the rope and a squeaker deep inside.
9. Pixar The Claw and Aliens Hide and Seek Puzzle Plush Squeaky Dog Toy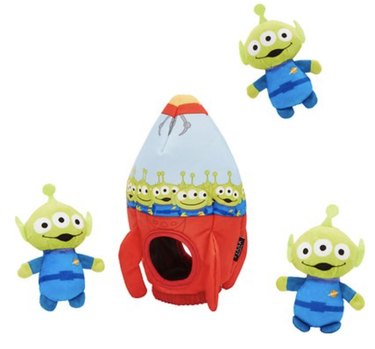 The Pixar aliens are always so cute, but not more so than in the form of this adorable hide-and-seek Pixar Claw alien puzzle toy, available exclusively at Chewy. Hide the three Pizza Planet aliens inside the rocket base. Each little green man squeaks, and will give your pup squeaks of delight as they try to find them. It's made of polyester and nylon, which can be spot-cleaned. These are soft toys filled with stuffing that aren't recommended for chewing – keep them just for playtime.
10. Disney Pluto Plush Squeaky Dog Toy, Medium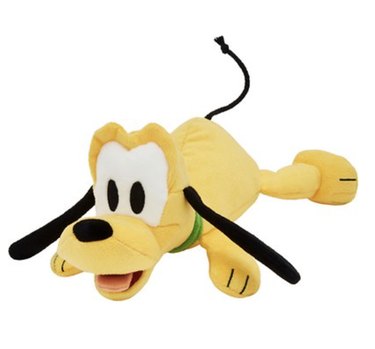 Last but certainly not least is a Disney classic. Good ol' Pluto. This Pluto plush squeaky chew toy, a Chewy exclusive, is the perfect friend for your best friend. He's soft, stuffed and snuggly, and also has three squeakers plus crinkle paper for a variety of sounds and textures. It's made of polyester, which can be spot-cleaned. Only use this toy for playtime rather than as a chew toy, because the three small squeakers inside could be a choking hazard if they chew through it and are unsupervised.