Rising temperatures at the end of winter are a welcome end to cold temperatures, snow, and ice that can keep us cooped up inside and unable to enjoy time outside with our best buddy. But hot summer temperatures can be unpleasant and even dangerous to dogs. While they can enjoy lounging in a hammock or going for a hike as much as we do, the problem is that dogs can't sweat like we do to cool ourselves off.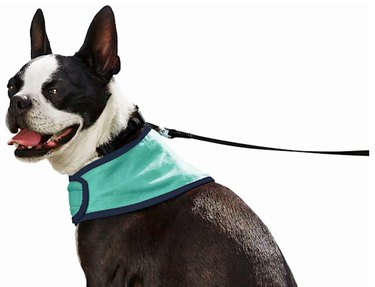 According to the American Kennel Club, dogs do have sweat glands, but they're not the same as ours and they function a little differently. We have sweat glands all over our bodies, but since dogs are covered with fur, their sweat couldn't evaporate if sweat glands were located under their fur. Instead, dogs have two types of sweat glands: merocrine glands and apocrine glands.
Merocrine glands are located in a dog's paws. While they function similarly to human sweat glands, this isn't enough to keep a dog cool. Although apocrine glands are also considered sweat glands, their main function is to release pheromones that help a dog identify other dogs by scent, not helping your dog cool off. The Humane Society says the best way to cool a dog off or keep a dog cool in hot weather is to limit exercise on hot days, provide ample shade, and keep your pet from overheating through a combination of cold water and cooling products. Read on for five of the best dog cooling products we've found.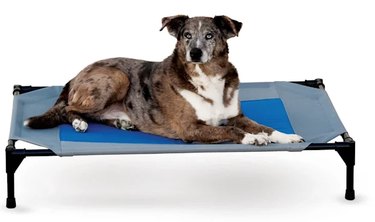 This cooling cot helps keeps your pet cool, even on hot days. The center cooling pad is sewn into the cover, but is spot-washable. Water is optional, so this can be a year-round bed. The elevated frame allows for air to circulate underneath, which can also help keep your dog (or cat!) cooler. The large size is 42 inches long by 30 inches wide, and weighs 6 pounds without water. K&H also makes a medium-sized cooling dog bed with assembled dimensions of 25 inches long by 32 inches wide.
2. Caldera Hot & Cold Insert Dog Beds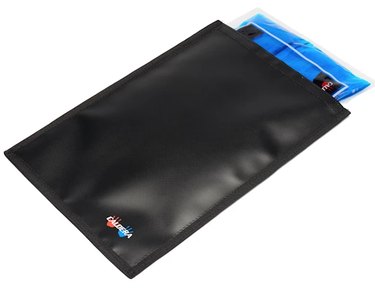 Some dogs would rather lay on a pad or bed right on the floor than be elevated. If you have one of those dogs, then try this cooling pad instead. Caldera makes this pad with non-toxic, FDA-approved inserts that can be placed in the freezer to provide a cool spot of relief to an overheated pet. The inserts can be added to the bed, cot, or pad that your pet already has. Each insert is constructed using a 40-ounce truck tarp material, which is both chew- and scratch-resistant. The insert can be used over and over again. Best of all, the pad itself can also be microwaved to provide warmth to an arthritic elderly pet or to help your pet warm up after a cold walk. At 11.5 inches long by 16.5 inches wide, this cooling pet bed is suitable for small and medium-sized dogs. To use as a cooling pad, place the insert into your freezer for at least an hour.
3. Good2Go Cooling Dog Bandana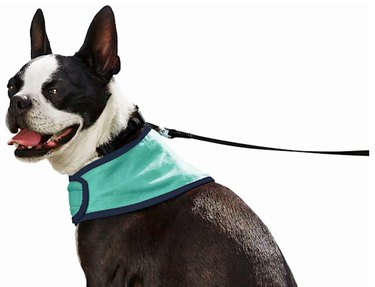 You probably already have a bandana to provide your dog with a dapper spot of color as you go about your day. With this Good2Go bandana, your dog can stay cool and look sharp at the same time. The simple design calls for nothing more than a dip in some cool water to be activated. Then, it just wraps around your dog's neck like a collar. As the water evaporates, it keeps your pet cool. Since it doesn't have to be placed in the freezer ahead of time, all you need is a little bit of water to help your pet cool off whenever you need it. An adjustable hook and loop closure provides a secure and comfortable fit. It's available in three sizes, to suit your extra small, medium, or extra large dog. Good2Go explains that this cooling bandana is more than just a typical bandana because its outer material is 100 percent polyester. Within that is a cooling pack solution which contains a small amount of glycerin, to keep the coolness working overtime.
4. Ruffwear Swamp Cooler Evaporative Dog Cooling Vest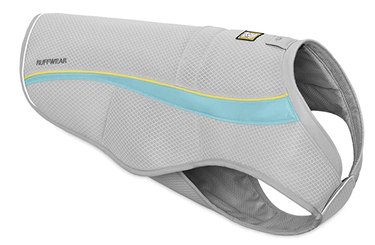 If your dog wants more than a bandana to keep them cool, try this vest from Ruffwear. The Ruffwear Swamp Cooler uses evaporation to keep your dog cooler, which is the same process that works when we humans sweat. All you need to activate the cooling power of the Swamp Cooler is to soak it in water, wring out, and place it on your dog. As the water evaporates, it cools your dog from the outside in. While Ruffwear doesn't say to freeze it, some users have stated that they froze it lightly once wet for even more cooling power. It works under harnesses and with leashes thanks to the integrated leash portal. Two side clips make it easy-on, easy-off, and its reflective trim not only reflects the sun's rays but gives your dog high visibility. The Swamp Cooler is available in six sizes, from XX small to X large. In between uses, you can machine-wash this vest in cold water on the gentle cycle and air dry.
5. Chilled Pet Cooler Bowl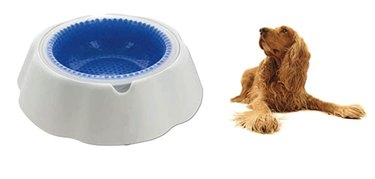 You could put ice cubes in your dog's water bowl, but an easy alternative is to use a water bowl with a freezer insert that keeps your dog's water cold for hours. Simply place the bowl's removable core in the freezer for a couple of hours, then insert it back into the bowl. Fill the bowl with 16 ounces of fresh water and the frozen insert will keep it cold for up to eight hours. The base of the bowl measures 9.5 by 9.5 inches and is 2.75 inches deep. A slide-resistant base makes it suitable for any floor.
6. Nylabone Chill & Chew Toy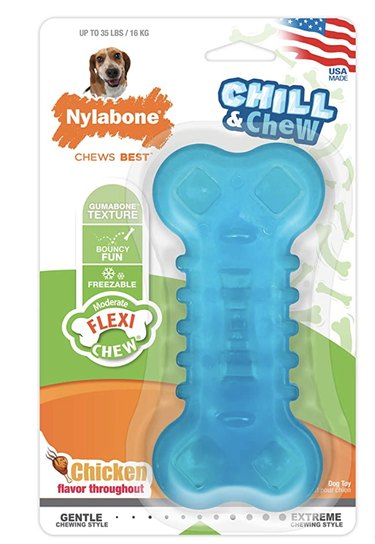 Even though it's hot, your dog won't lose his desire to chew. A freezable chew toy does double duty: gives them something to play with and keeps their mouth cool. This Nylabone chew toy can be frozen, and it has a treat pocket which can be filled with a spreadable treat like peanut butter — freeze it before or after the peanut butter goes in for an extra long-lasting treat. The toy itself also tastes like chicken, so there's a good chance your dog won't be able to resist it. This bone measures 6 inches long, nearly 3 inches wide, and 1.25 inches high. It's made for moderate chewers and all dogs who love to chill. Nylabone makes many different chill and chew toys to satisfy dogs of all sizes and from light to aggressive chewers.
Always check with your veterinarian before changing your pet's diet, medication, or physical activity routines. This information is not a substitute for a vet's opinion.