If you live in an area where you've seen more cats out for walks with their owners, you're not imagining things. People are starting to take their cats for walks on leashes. For almost as long as cats have been sharing spaces with humans, there's been a perception that cats don't go for walks, aren't really trainable, and should be kept inside for their own safety and that of the local wildlife.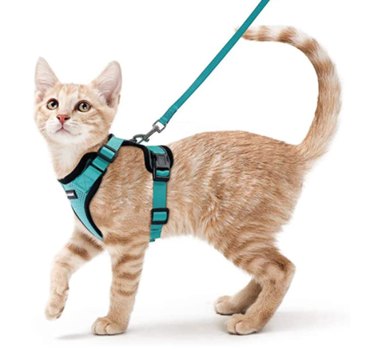 Veterinarians do recommend that cats stay indoors. The American Veterinary Medical Association strongly encourages reducing the number of free-roaming abandoned and feral cats, arguing that free-roaming cats experience shortened life span, more disease, and threats from cars and predators. They also say that free-roaming, abandoned, and feral cats cause the deaths of hundreds of millions of birds, small mammals, reptiles, amphibians, and fish. But walking a cat on a leash is different. The New York Times even got into the fray recently by publishing an opinion piece that stated a cat kept confined indoors is like "a tiger robbed of his dominion."
Cats on a walk are able to see and experience the outdoors while restrained so that they can't escape, chase prey, or get into fights with other cats. If you do train your cat to walk with you, the right leash and harness will make the activity more enjoyable for both of you. The Royal Society for the Prevention of Cruelty to Animals (Australia) says if you do decide to walk your cat on a leash, it is crucial that you attach the leash to a harness rather than just a collar because cats can easily slip out of a collar.
Before you take your cat outdoors, make sure they are vaccinated against diseases they may encounter, they are neutered or spayed in case they escape, and they are identifiable through a microchip in case they become frightened and escape their harness. Whether you're looking for the best overall harness for walking cats or the best on a budget cat harness, read on for some of our top picks.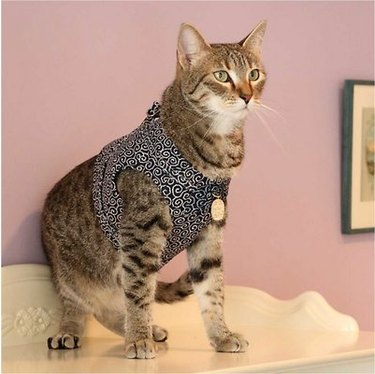 We liked the style, fabric print, size, and features of this best overall cat harness. The soft cotton fabric means it's less likely to irritate your cat, and the kimono print gives it an eye-catching style. Cats can squirm out of a thin harness, so the width of this fabric makes it less likely that they'll be able to remove it. It's adjustable and stretchy enough that it should fit most cats, but check the size of your cat's neck and girth to be sure.
The one-size-fits-all size is designed to fit a chest girth of 16.9 to 18.5 inches and a neck size of 11 to 12.6 inches (note that it doesn't go around your cat's actual neck, but below the neck on the chest, and the chest girth measurement is more of a waist measurement). The crowning feature is a stylish bow and gold charm. The print is available in different colors in a beautiful traditional Kimono print.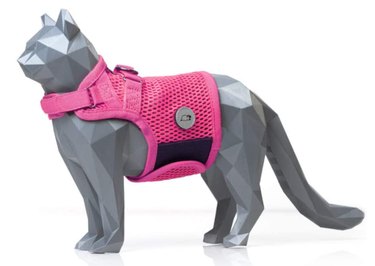 This harness has a wide strap that goes around your cat's waist and a smaller strap that goes around the cat's neck. Its wide velcro pad around the waist and adjustable neck feature mean that it should fit all sizes of cats. The mesh is sturdy yet breathable and is a design not likely to let a cat escape from it. Since the strap goes around the cat's neck, this would be best for a cat who is not already wearing a collar.
A D-ring at the top of the harness serves as a leash attachment. This harness can be hand-washed in cold water. It is available in three sizes (small, medium, and large, for neck sizes from 7 to 14.5 inches and chest sizes from 11 to 21 inches) and five colors: Midnight Blue, Pink Peony, Strawberry Red, Jet Black, and Glacier Silver.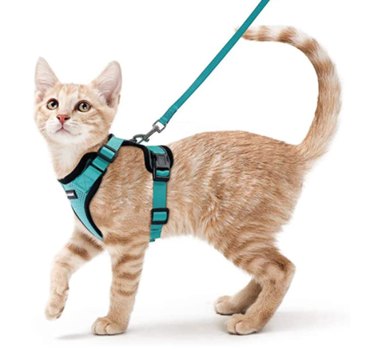 Some cats don't mind wearing harnesses that are attached with velcro, but the velcro can make a loud sound when it is opened — especially when the velcro is very sturdy, as it should be — that can frighten your cat when you try to take the harness off them. Because this harness fastens only with buckles, it can alleviate that potential problem. It's fast and easy to put on. The wide Y-shaped straps across the chest spread the feeling of the harness around so it doesn't pull in any one place, and your cat can't get out of it on his own.
The harness fits large to extra large cats, but for safety, your cat's head circumference should be at least 11 inches or your cat may slip out. It's lightweight, at only 3.5 ounces, so cats who don't like other more bulky harnesses may like this one. This harness comes with a leash, and most don't, so that's also a nice feature.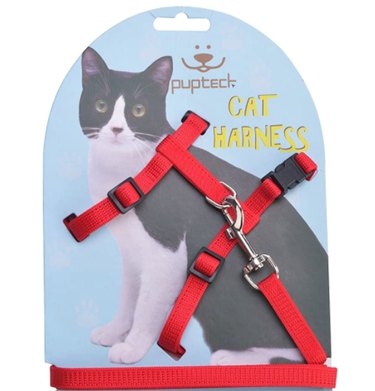 At only $10, this is a nice choice if your cat is already comfortable in a harness and you don't need to have something that is thicker or escape-proof. It's also a nice option if you just want to put something on them while you drive to the vet so that they don't have to be in a carrier. Take care though, as some cats are able to squirm their way out of harnesses that are made with thin straps like this.
This harness has a neck and waist strap, both made of nylon, that attach with squeeze lock-type buckles. This harness works best if your cat is under 12 pounds — also measure your cat's neck size to be sure it is at least 7 inches. The straps can be adjusted individually, so you can ensure a better fit. It's available in eight colors, including one that's rainbow and two with reflective stitching. If you need two harnesses, you can choose from three sets of two harnesses that together are only $14, or $7 per harness.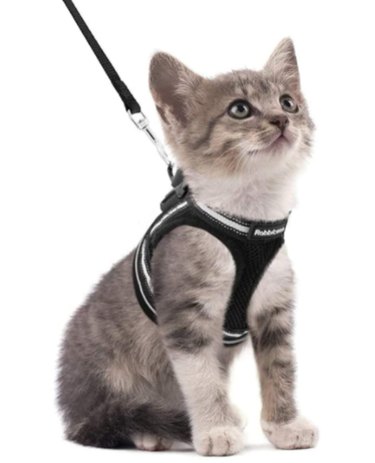 While pretty much any cat can be trained to enjoy walking on a leash, most experts agree that cat owners will have the best results if they start to teach their cats about walking on a leash from the time they are kittens. If you have the opportunity to leash-train a kitten, you'll need a harness that's especially small for them, and extra soft too.
This highly rated kitten harness is sized for extra small cats with a neck girth of a minimum of 6.6 inches and a chest girth of 9 inches. This one also includes a nylon leash. Breathable mesh, safety buckles, and adjustable straps give your kitten a secure fit for your daily walks. The vest design means it is easy for your cat to step into with their front legs, so it doesn't have to go over their head, which many cats don't like.
It's getting more common to see pet owners walking both their dogs and their cats. If that's you, and you want to give your indoor cats a safe experience outdoors, a well-fitting harness and sturdy leash are the way to go. Some cats are escape artists, especially until they get used to the feeling of a harness, so be sure to let your cat investigate and wear the harness indoors before a while before you try it out in your neighborhood. Happy walking!