If you're welcoming a new adult cat into your life and home, congrats are in order for both of you! Adopting or taking in an adult cat is a great service, and while it's surely exciting for you, it might be a little overwhelming for your new feline friend, depending on their circumstances. Unlike kittens, who are experiencing everything for the first time, many adult cats have a routine and some preferences down, so adjusting to a new one may take a little time. Fortunately, there are some things that can make the transition as smooth as possible, like the items featured in this list, which includes all the basics for adult cat care.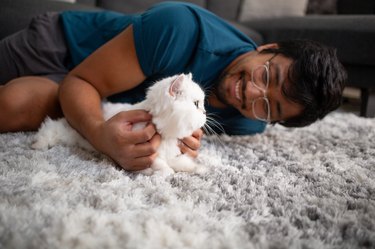 Preparing for a new adult cat
Adult cats, like all pets, have a few basic needs that must be met, including food and water, shelter, and mental and physical stimulation. Having some of these items at home and ready for your new cat to use can help them build a routine right away. As far as the essentials go, quality food and durable food and water dishes top the list as they are daily needs. Additionally, a litter box and litter are just as important and should be set up before your cat arrives.
From there, it's all about making your cat comfortable. Cats love privacy and quiet spaces, so setting up a bed or area for them to retreat to will most likely be used. If you're keeping your cat indoors, enrichment is an essential part of tending to their mental, emotional, and physical wellness. Items like toys, scratching posts, cat trees or towers, and window perches will go a long way in keeping your cat's instinctual needs met. If you're adopting your cat from a rescue or animal shelter, asking staff or volunteers what they've noticed about their personality can help you find the best items for them.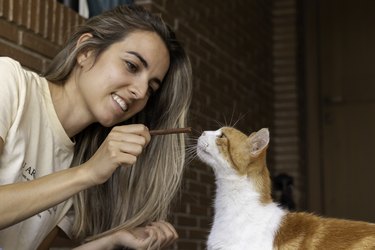 Like any living thing, cats need proper nutrition, which can be obtained from quality cat food. These foods should meet their protein, carbohydrate, and fat requirements, and offer vitamins, minerals, and fatty acids, according to the Cornell Feline Health Center. While people can survive on vegetarian diets, cats cannot, being the obligate carnivores that they are, so animal products are necessary to meet a cat's dietary needs. Cat food can be offered as dry kibble or wet food, the latter of which is higher in water content and protein, and the former usually being more affordable and easier to dispense.
Our Pick: Purina ONE Tender Selects Blend
A great dry food to offer any adult cat is this blend by Purina One. It contains bites in two different textures—crunchy kibble and soft, meaty morsels. This food uses real chicken as the first ingredient and was formulated by vet nutrition experts to contain added vitamins, minerals, and other nutrients, like omega-6 fatty acids for healthy eyes, and prebiotics for gut health. It's free of artificial flavors and preservatives and contains zero fillers, so your feline will stay fuller for longer. While this food is safe for use among all adult cats, be sure to consult your veterinarian if shopping for a senior cat with medical issues, like diabetes, kidney disease, or issues affecting the teeth or mouth.
Our Pick: Wellness® Minced Cat Food
If wet food is what your cat prefers, this minced-texture food from Wellness is a healthy and relatively affordable option to consider. This food is available in five flavors, including tuna, turkey, salmon, chicken, and turkey and salmon, and uses real meat as the first ingredient for a protein-rich meal. Additionally, this food is formulated with cranberries to promote urinary health, which is very important to consider in adult cats, as well as carrots for antioxidants, and flaxseeds for the benefits it offers to the skin and hair. This is a grain-free formula that contains no artificial ingredients and is an especially great choice for active cats in their early adult years.
Food and water bowls for adult cats
Regular feeding is one of the best ways to help a cat feel comfortable in a new space, and having food and water dishes that your cat loves can make mealtime extra enjoyable. When shopping for a food bowl for your feline, it's recommended that you look for fairly shallow dishes that you can clean easily. Having plenty of fresh water to offer cats is a very important aspect of their healthcare as well since many cats are prone to urinary tract diseases later in life. Some cats enjoy running water from an automatic fountain, although a water bowl that holds still water will work just fine too.
Our Pick: Kitty City Raised Cat Food Bowl
This raised cat food bowl rests higher up on the ground than standard bowls, making eating more comfortable for your new best friend. The dish rests on a hollow base that allows the bowl to balance and is designed to tilt forward slightly thanks to uneven sides that won't force your cat to perch over the bowl, but rather, sit right in front of it. To keep your cat's whiskers from becoming bent while they eat, this bowl is crafted in an oval shape that's wide enough for their face to fit in. It's made of dishwasher-safe, pet-safe plastic, and holds 6.5 ounces of food. As an added value, this item comes sold as a set of two, making it a smart buy for multi-cat homes.
Our Pick: Catit Flower Plastic Cat Fountain
Cats love to sip from constantly moving sources of water, which is why you might see them lingering near the kitchen sink, or licking from a dripping faucet. You can offer your cat an endless stream of fresh water with a cat water fountain like this one by Catit. Water is circulated through this BPA-free fountain using a small pump, which sends it to a daisy design fountainhead at the top. It contains two filters—a cotton mesh filter, an active carbon filter, and an ion exchange resin water softener to provide great-tasting water that never gets stagnant.
Not every cat will require or even appreciate a cat bed—so long as they have a soft surface to rest on, many of them will be happy. Some cats, however, really love having a spot that's all their own, in which case, a cat bed can be a great thing to supply them with. Cat beds come in a range of sizes, prices, and styles. When shopping for a cat bed, look for materials that are machine-washable for easy cleaning, especially if someone in the home has allergies.
Our Pick: MyChiby Organic Wool Cat Cave
Cats love their quiet time and their privacy, and cats acclimating to a new environment with all new family members will likely look for a space to retreat to for the first couple of weeks. This handmade cat bed is made of eco-friendly boiled wool by crafters in Nepal and is sized to support cats up to 15 pounds. The cave design offers a safe, cozy hiding space for cats to rest in, and is accessible by a cutout in the front, which can be expanded if your cat needs a little more room to fit through.
Our Pick: Furhaven ThermaNAP Quilted Faux Fur Self-Warming Pet Bed
Some felines may seek to rest on a soft, flat surface that's not hidden away but lays close to their cat owners, like over the back of a couch or on the bed. This cat bed pad is self-warming using your cat's own body heat, which is retained through a layer of insulating fiber batting and mylar. The surface of the bed is available in 15 colors, prints, and materials, and is machine-washable. As this bed is self-warming, it can be especially ideal for older cats, senior cats, and cats with arthritis.
Many people believe that because some cats can be more independent and aloof than their canine counterparts, they don't need help keeping themselves entertained. Outdoor cats can keep themselves occupied, but if you have a new indoor cat in your home, you'll want to provide an assortment of toys to keep their days interesting. The right toy will depend on your cat's personality and preferences, but generally, toys that your cat can bat around, pounce on, or claw at are fairly safe bets.
Cat teaser toys are a tried and true playtime item that's beloved by so many felines, and because it's interactive, it provides a great opportunity for new pet parents to bond with their new buddies. This cat dancer is designed with a stuffed bird toy at the end that's dressed in blue or purple feathers to entice your cat. It's filled with catnip and crinkle material, all at the end of a dangling string. This toy engages your cat's natural hunting instincts, encourages exercise, and keeps cats mentally stimulated thanks to its erratic movement.
Our Pick: Catnip Felted Balls
Another toy that gets cats moving is small balls that they can chase, like these, which are made of felt. These toys contain catnip to encourage play without the mess of using loose herbs. You can purchase these balls in packs of two or four. The tins they're packaged in contain a catnip pod at the bottom which recharges the balls, providing herb-induced fun over and over again. You can even pick the color of the balls when you order, and have red, orange, yellow, green, deep blue, purple, gray, pink, and sky blue to choose from.
Choosing the right cat litter will depend on your own personal preference and your cat's preference. Clumping litters are a good option to start with as they're offered in a variety of prices and sizes, and many are formulated to help with certain elements of litter box maintenance, like odor control and scooping. Crystal cat litter is more expensive than clumping litter, but does control odors very well, and offers more time in between cleanings. Alternatively, other types of litter, like pine, pellets, paper, grass, and walnut shells, are also available for purchase if those are more appealing to you and your cat.
Our Pick: Arm & Hammer Clump & Seal Multi-Cat Complete Odor Sealing Clumping Cat Litter
If you're not sure which type of cat litter to buy and you don't have a self-cleaning litter box at home, then a clumping litter is a good place to start that's guaranteed to work (for the record, there are several self-cleaning litter boxes that do work with clumping litter as well). This is a low-dust litter that claims to keep unpleasant odors under control for up to seven days thanks to its baking soda formula, and moisture-wicking Micro-Granules, which dehydrate pet waste on contact. The litter itself is made of plant-derived materials, which help to form solid clumps that are simple to scoop.
Our Pick: Fresh Step® Crystals Silica Cat Litter
Another type of litter to consider is crystal cat litter, which can be used in manual boxes, and is often called for when using self-cleaning litter boxes. Crystal litter is the gold standard for eliminating odors thanks to silica crystals that absorb bad smells. This type of litter is also essentially dust-free, won't track as much through the house, and lasts longer—this litter controls smells for 30 days, so refilling it will take less time and money in the long run.
Litter boxes for adult cats
Of course, great litter is only as effective as a great litter box, and finding the right one can help guarantee bathroom break successes on your cat's part, and make living with a box full of waste more pleasant for you. There are so many types of litter boxes to choose from, including top-entry boxes, covered boxes, uncovered boxes, high-side boxes, self-cleaning litter boxes, and boxes that use filters to help control odors. The right box will depend on the space you have to designate as a kitty restroom, along with your cat's preference. If you have a senior cat or a cat with limited mobility, an uncovered box that they can step onto may make using a litter box easier for them.
Our Pick: Van Ness Pets Odor Control Large Enclosed Cat Litter Box
This covered litter box is a great option if your looking for a no-frills litter box that won't break the bank but will help you control odors. It snaps together in seconds and is made of polypropylene that's coated with nonstick material for easy cleaning. The top of the hood is fitted with a zeolite air filter to help minimize unpleasant smells, and the whole thing is finished with a see-through swinging door in the front to offer a little privacy and serve as a third step in fighting bathroom odors.
Our Pick: PetSafe® ScoopFree® Self-Cleaning Litter Box
If you're looking for some help keeping your litter box free of waste, a self-cleaning option is a great way to do that. This product is beloved by many cat owners for its ease of use, odor-controlling capabilities, and cleanup (this litter box uses disposable crystal litter trays which you do need to buy specially for this box, but the trays allow you to clean up in seconds). There's no scooping needed with this litter box, and it's built with sensors to detect when your cat has left the box before it gets to work to ensure your cat's utmost safety.
Enrichment for adult cats
In addition to offering ample food, fresh water, and a warm, dry shelter for your cats to retire in, enriching their lives by meeting their natural needs is an incredibly important aspect of cat care. Studying your cat's behavior will be the best way to understand what items might provide the greatest enrichment to their lives. Many cats love to engage in their hunting instincts by pouncing on things or gazing out windows, while others may prefer to scratch surfaces or climb high up in the air. Offering your cat the ability to indulge in these instincts will result in a happier cat.
Our Pick: SmartCat The Ultimate 32-in Sisal Cat Scratching Post
One thing that many cats get in trouble doing is scratching furniture. Cats do this to trim their claws and spread their pheromones, not realizing that they're destroying their owner's things. Providing a designated area for them to scratch can eliminate this frustration while still allowing them to meet their own needs. This cat scratcher is wrapped in durable sisal that can stand up to a cat's claws and teeth, measures 32 inches high, and is fitted with a 16-by-16-inch wooden base to keep it from toppling.
Our Pick: K&H Pet Products EZ Mount Cat Window Perch
This may not be a piece of cat furniture needed for every cat parent, but if you know that your new friend loves to gaze at the world outside, offering them an elevated space of their own to do that is an incredible gift. This window perch affixes itself using four extra-strong suction cups to support up to 50 pounds of weight. The resting area is fitted with a machine-washable cover, and the entire unit can fold up so blinds or curtains can be pulled shut at the end of the day.
When bringing your adult cat to their new home, it's best to have some staple items in place already, like food and water bowls, high-quality cat food, a litter box, and plenty of litter. Keeping some small toys around for them to explore on their own may help them feel more comfortable, as will a designated private area when they're feeling like they need a little alone time. To add to their overall enrichment, filling their space with mentally stimulating items like water fountains, window perches, and cat scratchers will be doing them a wonderful service, although if you're feeling overwhelmed, or just on a budget, you can certainly save those later items for another time if you decide to add them at all.