When you're going on a hike or traveling with your dog, you want to ensure he stays as hydrated and healthy as possible. However, lugging along his regular water bowls can get messy and weigh you down. What you need instead is to invest in a water bottle for your dog that will be lightweight and specially designed for dogs to drink from.
Learn about the best water bottles available before going on your next trip.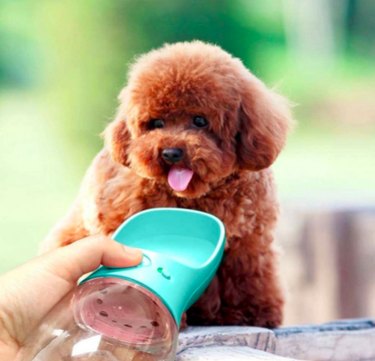 Hydration basics for your dog
Dogs need to drink a certain amount of water per day so that they are properly hydrated and their bodies function well. When you're traveling or on a hike, this is especially critical, as your dog can easily become dehydrated. Generally, your dog needs an ounce of fluids per pound of body weight each day. A 10-pound dog will need more than a cup of water every day, but puppies and active dogs need more water than adult dogs. If you notice that your dog is drinking less or more than usual, then you should contact your veterinarian, especially if this behavior is accompanied by coughing, diarrhea, lethargy, and a decreased appetite.
Wet dog food can provide some hydration, as it is about 80 percent water. If your dog is on an all wet food diet, then he's not going to need as much water as opposed to a dog that's on an exclusively dry food diet. Dry food usually only contains 10 percent water. It's critical to always pack clean and fresh water for your dog and to not let him drink from natural water sources, as they can harm him. For instance, blooms of blue-green algae can be toxic and fatal for your dog. If your dog isn't drinking enough water, then you can try different types of water like filtered water or bottled water, as well as add beef or chicken broth or ice cubes to his bowl of water or get him a pet water fountain.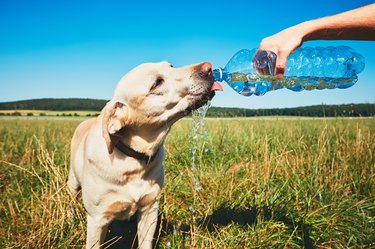 1. Yicostar Dog Water Bottle
The Yicostar Dog Water Bottle can hold 20 ounces of fresh water, which should be more than enough if you're taking your pup out for a day trip or hike. It's BPA-free, lead-free, and made of quality silicone and PET plastic, making it very safe for your dog. It comes with a convenient collapsible dog bowl to pour the water into, as well as a waste bag dispenser for picking up poop. This truly is an all-in-one product.
‌Best Feature:‌ This water bottle is made of only high-quality materials and is BPA-free, so you don't have to worry about using plastic.
2. Iesotc Pet Water Bottle
The ultra-cute Iesotc Pet Water Bottle for Dogs comes in a variety of different colors including blue, pink, and yellow, and is both a dog water bottle and bowl. All you do is press the water bottle with one hand and the water flows into the bowl. It has a sealed silicone gasket inside the cover to ensure that it doesn't leak, and it is BPA-free. The bottle comes in several sizes including 14, 18, 21, and 28 ounces.
‌Best Feature:‌ The sealed silicone gasket is a handy feature because it allows you to rest assured that the water won't leak all over your car or bag.
3. MalsiPree Dog Water Bottle
If you have a puppy, then you could consider getting the MalsiPree Dog Water Bottle. This bottle holds up to 12 or 19 ounces of water and allows you to put unused water back into the bottle by pressing the water key. It's made of high-quality food-grade material, making it safe, and you can use it with one hand. You press the water key to fill the water in the bowl and then release it to stop the water.
‌Best Feature:‌ You can use one hand to fill the bowl, which will come in handy when you're holding your dog's leash in the other hand.
4. PupFlask Large Dog Water Bottle
If you like going on hikes or long walks with your dog, this large-capacity stainless steel water bottle and dispenser ensures you have plenty of fresh water and keeps it nice and cold, too. Choose from a 27- or 40-ounce size and four colors: red, blue, green, or purple. It's easy to fill, features dishwasher-safe materials, and has a leak-proof seal to prevent accidents. The drinking cup is extra-wide and water that your dog doesn't drink drains back inside the bottle. It also touts a hand strap for carrying or attaching the dog water bottle to your backpack with a carabiner (not included).
‌Best Feature:‌ Holds plenty of water and is suitable for dogs of all sizes.
5. Enouvos 3 in 1 Portable Dog Water Bottle With Food Container and Waste Bag
This 3-in-1 dog water bottle comes with a 10-ounce water cup, a 3.5-ounce food storage cup, and poop bag storage, making it a great all-in-one water bottle for your next trip or hike. The water bottle has a secure leak-proof lock, and it's made with food-grade ABS material to keep your pup safe.
‌Best Feature:‌ You can hold your dog's water and food in the same bottle, and keep bags on hand for picking up waste. It's just so convenient.
Your dog needs to drink lots of water every day, especially if you're traveling or going hiking. With these five products, you can ensure they stay hydrated and happy wherever you go!