Everybody has heard the warning to not leave a dog in a hot car, but the truth is, dogs don't have to be in an enclosed area like a car to suffer from heatstroke. They can overheat just while walking if it's especially hot, or over a period of time if they are in the sun with no shade. Cooling vests are an effective option to equip your dogs to withstand hot temperatures and avoid heat exhaustion.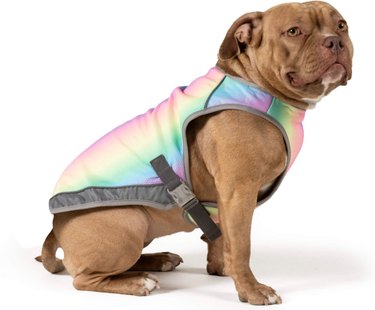 Dogs release heat differently
Since dogs are covered with fur, they can't sweat like humans do with our bare skin. Instead, they release heat by panting with their tongue out. As Calder Vets explains, they can only sweat through their paw pads. But if they are on a walk on hot sand, concrete, or asphalt, that doesn't work and instead can actually heat them up more.
The Humane Society warns that too much humidity can be as much of a problem for a dog as too high of heat. They say that when a dog pants to release heat away from their body and moisture from their lungs, high humidity doesn't allow them to cool off. Fans don't work for dogs either, because the fans don't really reach the part of the dog's body that sweats — their paw pads.
What you can do is provide ample shade and water (or frozen ice treats) and keep your pet cool with a cooling body wrap, vest, or mat. The best dog cooling vests for heat protection can often be soaked in cool water for an all-over body cooling effect.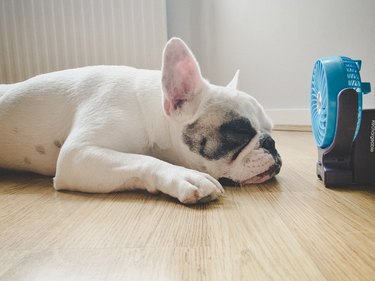 Warning signs of heatstroke in dogs
A dog's temperature should not reach over 104 degrees. Know the signs of dog heatstroke in your pet. Look out for the following:
Red gums turning to blue as the condition worsens
Excessive panting
Distressed behavior
Very high heart rate
Increased salivation
Being unable to stand
Becoming unresponsive
Seizures
If you notice any of the above signs, get your dog to shade and drape a cold cloth over them. Allow them to drink water but not gulp it, and call your vet immediately. Calder Vets says to never submerge your dog fully in cold water, even if you think they really need it.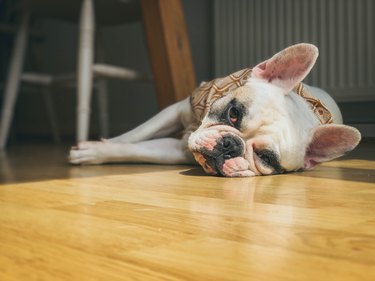 The Best Dog Cooling Vests for Heat Protection
Cooling vests are a smart option indoors or outdoors on hot days. Along with making sure your dog stays well-hydrated by providing ample fresh, clean water and including moist foods in their diet for extra hydration, equipping your dog with a cooling vest on especially hot summer days can be a major preventative measure against heat exhaustion. Below are some of the best dog cooling vests on the market.
1. GF Pet Elastofit Ice Dog Vest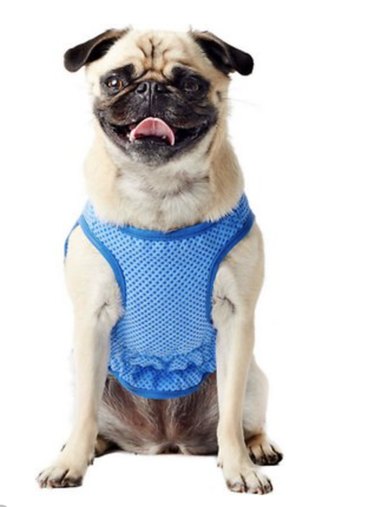 Some dogs love to play alongside their human companions, but they just don't like the sun or heat. Dogs with an insulating layer of fur are a little better off than dogs without this undercoat, but even then, they can easily become overheated. A vest like this one works easily because you simply submerge it in cool water then wring it out.
Once it's on your pet, the cooling vest keeps them cool for hours just using evaporation. This lightweight, anti-microbial fabric protects your dog from UV rays and sunburn, and is light and not bulky, so it doesn't interfere with their playtime or relaxation. Two adjustable Velcro closures and Elastofit technology ensure a fit that's snug yet comfortable. This one is available in numerous sizes, from extra-small to 4X-large.
Just wet it and wring it
Lightweight, anti-microbial fabric provides UV protection
2. Ruffwear Swamp Cooler Evaporative Dog Cooling Vest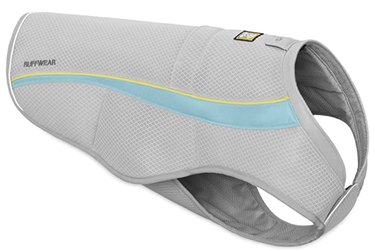 Ruffwear is a trusted brand for dog gear, and this Swamp Cooler is especially well-loved thanks to its three effective layers. The outer layer reflects heat and encourages evaporation. The middle layer absorbs and stores the water that flows to the outer layer. The inner mesh lining keeps your dog dry and comfortable. The vest, overall, also provides sun protection as well as keeping them cool.
This vest goes on with side-release buckles that make it easy to put on and take off. Like other Ruffwear gear, it is compatible with most dog harnesses, including others made by Ruffwear. Use the integrated leash portal when the Swamp Cooler is worn over a harness. Bonus: The vest is sewn with reflective trim for low-light visibility. If you want to attach a Ruffwear light like The Beacon (sold separately), this vest comes with an integrated light loop for attaching it.
Three effective layers reflect heat, absorb and store water, and keep your dog dry
Reflective trim is perfect for low-light visibility
3. SGODA Dog Cooling Vest Harness Cooler Jacket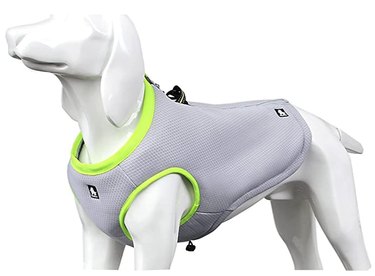 Most vests are activated by submerging in water. If you have this vest packed in your to-go bag or in your car, you can activate it by pouring a bottle of water over it and letting it soak in as much as possible. While a refrigerator isn't needed, if you have one, you can use that to make the dog vest even cooler for your pet. With a vest like this one, just soak it in water, then wring it out and place it in the refrigerator or place it right on your dog.
Even if you end up at the lake or beach and you don't have much shade, the evaporative cooling effect will help your pet. This one also has three layers of material to hold in water and allow for the cooling effect yet comfort next to the skin. There is a leash attachment point, so you can keep him near you, and the strap with reflective trim offers high visibility.
Evaporative cooling effect
Water-activated technology makes refrigeration optional
Easily adjustable
4. Canada Pooch Cooling Dog Vest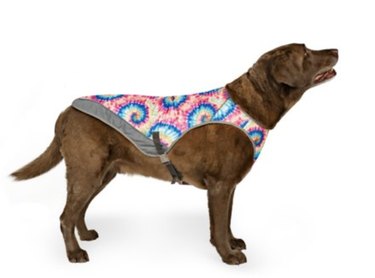 It's cool to be cool! It's also cool to be stylish. This cool vest does double duty, letting everyone know your dog is as laid back as they get while enjoying summer. All you have to do with a vest like this is apply water to it. The mesh fabric soaks the water in and then slowly releases it so that evaporation can do its cooling job.
The mesh layers allow for air circulation. This vest is fully adjustable around the belly area. Simply slip it on over their head and adjust the belly girth for the perfect fit. There's a slit designed specifically to attach a leash easily. Even better is that it's available in sizes of 8 inches to 32 inches, for any size your best friend happens to be.
Water-activated, making refrigeration optional
Mesh layers allow for air circulation
Cool tie-dye pattern
5. Kurgo Core Cooling Dog Vest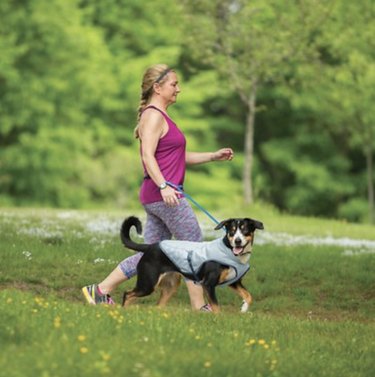 Mosts dog vests, like this one, have a similar shape — they cover your dog's back where the majority of their fur is. It also helps that the top of the dog's back is where the sun is likely to hit the most. Keep vests like this one moist and it can help keep your dog cool for hours. As the water evaporates, your dog's temperature will drop. These vests are almost infinitely reusable because all you have to do is reactivate them with water and hand-wash them when they need it.
This one is light in color, so it works extra to reflect light and heat rather than absorb it as a dark color would. As a bonus, unlike many other vests which must be hand-washed, this one is machine-washable.
Light in color and reflective, so heat bounces off
Machine-washable
A dog's natural cooling happens best when they pant, but that can quickly become overwhelmed on hot days since the rest of their body is covered with fur. A cooling vest can help keep your dog's temperature in check, but it's important not to rely on them. Cooling coats or vests work through evaporation, and they must be checked frequently because once the water dries up, the vests won't be cool anymore.