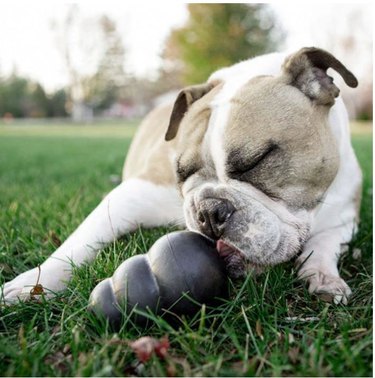 Brighten up your dog's summer by providing some cool and chewy refreshment that your dog will find entertaining as well. Freezing your dog's favorite treats inside a rubber treat-dispensing toy increases the amount of time your dog takes to get them out and eat them, giving them hours of fun.
For pups cutting their teeth, frozen toys are also ideal for soothing your dog's gums and engaging their natural chewing instinct while teeth are emerging. The added relief from the numbing effect of a frozen toy also reduces the chances of your dog turning elsewhere — such as your shoes or furniture — to indulge the urge to gnaw.
If your dog's specialty is destroying the "indestructible," freezing canned dog food or other treats inside a heavy-duty rubber toy can give your dog extended chewing enjoyment. Always supervise your pet, however, and remove any toy that should begin to break apart.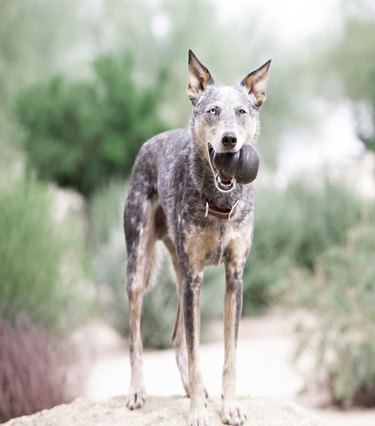 Freeze the Kong Extreme Dog Toy filled with canned food or add bits of fruit dogs can eat and fill it with water. You'll get a frozen treat that will stand up to even the most enthusiastic chewer.
The Kong Extreme Dog Toy is designed for power chewers and comes in sizes up to XXL. Its irregular shape adds an unpredictable bounce to the rubber toy when you use it for a game of fetch.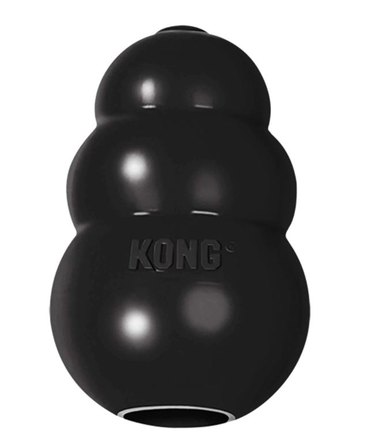 2. Arctic Freeze Fetch Food Cooling Teether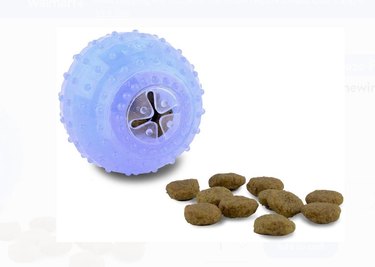 Have a ball with your pup when you play a cool game of fetch with the Artic Freeze Fetch Food Cooling Teether. The ball's interior chamber is filled with purified water, so keep it in the freezer when it's not in use and it will be ready for summer fun at a moment's notice.
Pop in a few treats for a tasty reward. Frozen diced banana fits easily into the toy's treat slot. You can also pop in a chew stick to mix things up and give your dog a melange of textures, temperatures, and flavors.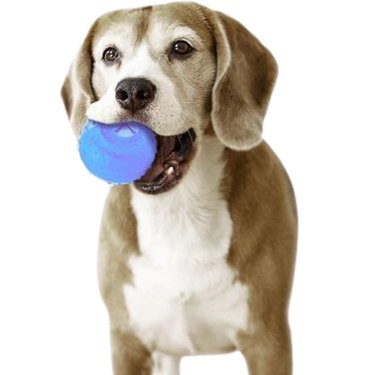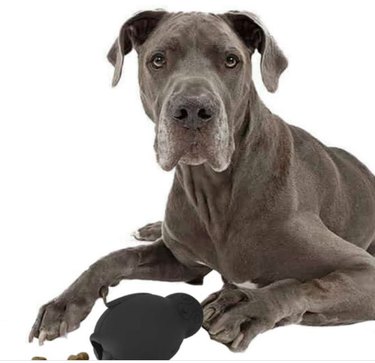 Summertime is synonymous with frozen treats from the freezer, and your dog will appreciate a "pupsicle" all her own. Chill the Gucho Penguin treat in the freezer and let your dog enjoy a cool chewing sesh gnawing on this beef-flavored toy.
Better yet, fill the penguin with mashed potatoes, pumpkin puree, or other freezable dog-friendly food and put an end to your dog's summertime blues. The Gucho Penguin is appropriate for teething pups as well as adult dogs.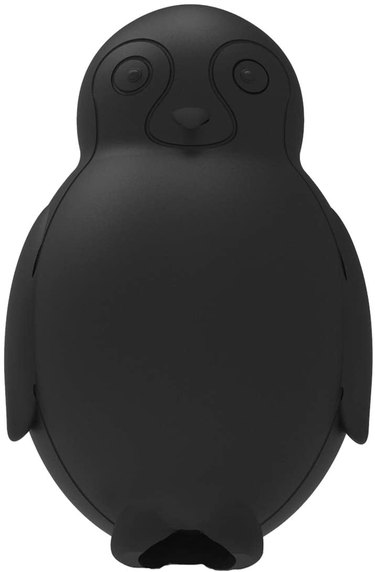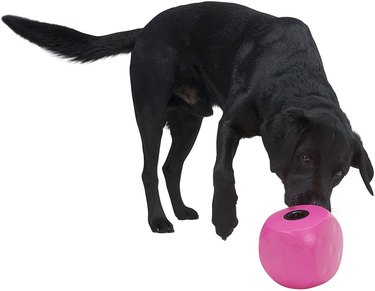 Your dog will have a blast rolling the Buster Food Cube around to get it to dispense kibble or other hard treats. Up the reward factor by putting a few frozen treats inside such as blueberries, chopped strawberries, or diced bananas for some delicious outdoor play.
Just pop the treats in through the hole in the top and then turn the cylinder to distribute them into different treat compartments inside the toy. The toy can be disassembled to wash in the dishwasher.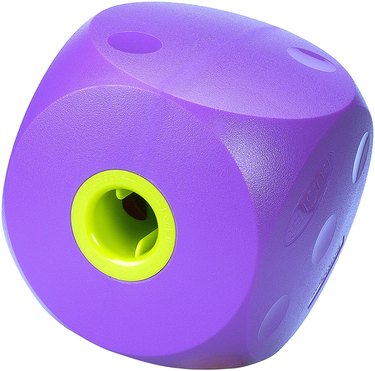 5. Sikrofegen Natural Rubber Chew Ring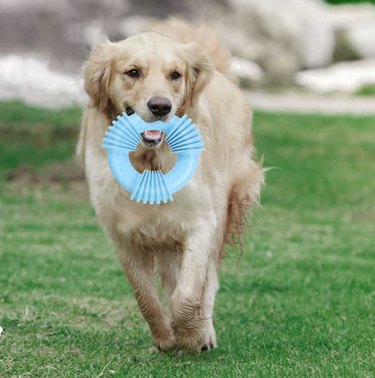 Make your dog a sweet treat such as pureed fruit and smear it in the rough grooves of the Sikrofegen Natural Rubber Chew Ring. Then put it in the freezer and take it out whenever your dog needs some yum time to beat the heat.
The toy has three rough areas, meaning that you can smear each with a different flavor such as mashed banana, pureed pumpkin, and peanut butter for a special summertime dessert. The rugged rubber toy can go through the dishwasher after your pup is done with her treat.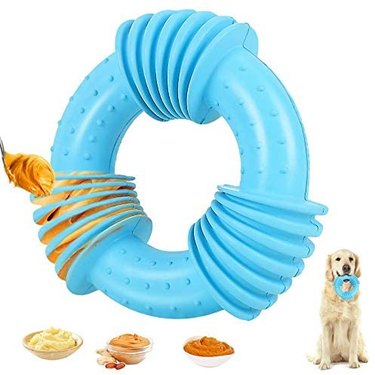 6. G.C 3-in-1 Fill N' Freeze Dog Chew Toy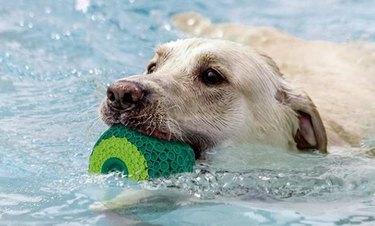 The versatile G.C 3-in-1 Fill N' Freeze Dog Chew Toy is sure to be one of your dog's favorite summer activities. The floating ball can be used for chasing and playing fetch on land or water. The textured surface helps keeps your dog's teeth clean.
Fill it with water and freeze it for a refreshing treat that helps your pet stay hydrated. Put in the plug, let the water melt, and it becomes a dog squirt toy.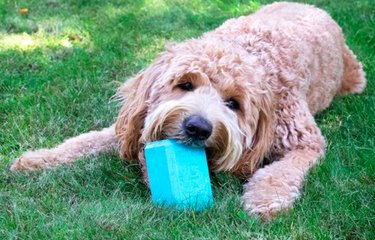 Keep your dog's frozen treat toys filled and ready to go when you buy the Chew King Chill Fill. These freezable dog toys stack on top of or next to each other to maximize freezer space. Just put your dog's dry kibble inside, add a little water to moisten, and then pop it in the freezer.
The toy slows down fast eaters, so you can serve summertime supper in a frozen form. Freeze dinner ahead for a week. Pick up a few extras for snacks or for a special dessert for your pup.
Non-toxic rubber stands up to your dog's vigorous efforts, and a vent hole at the bottom prevents his tongue from getting stuck from the suction.
Frozen treat considerations
Just like humans, dogs appreciate a cool treat on a summer day, but popsicles, ice cream, and other frozen goodies meant for humans can be harmful to your dog and make them sick. Dairy, xylitol, and sugar are just a few ingredients that can upset your dog's digestion and potentially be dangerous for them.
Freezing a few dog toys can help cool your dog while offering safe alternatives to snacks meant for humans. Treat-dispensing toys made of food-grade rubber won't crack or shatter when frozen. Your dog will have to work for the frozen goodies inside, avoiding the tendency to gorge and make herself ill.