Are you or your kids bored this summer? If you're looking for something fun to do with your dog, the American Kennel Club has organized a Trick Dog Competition again this year! Dog tricks aren't just a silly thing to do with your dog, in recent years tricks have become a competitive sport. With tricks, the competition takes place completely online with competitors recording videos doing tricks with their dogs and then submitting those videos to be judged. The 2021 Competition has categories for kids, teens, and adults to compete in with their dogs! Your dog must first earn the Elite Performer title to be able to enter, but you can do that virtually, too.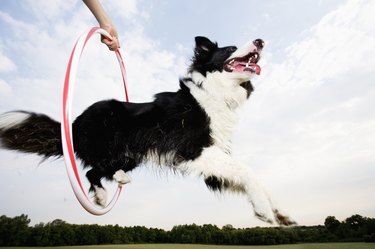 Trick Dog Competitions are a flexible and inclusive sport that is great for dogs of all ages and sizes. The two primary organizations that certify trick titles are The AKC (American Kennel Club) and Do More With Your Dog (DMWYD) . Both organizations allow dogs of any size, breed, or mix of breeds to compete. Titles start at novice for both organizations and then extend through Grand Champion for DMWYD and Elite Performer for AKC. Competitive trick training is rooted in theories of Positive Reinforcement training. Dogs should never be forced or punished while training. Instead, they are rewarded with treats and toys. Trick training is great physical and mental exercise for dogs and is a fantastic way for people and dogs of all ages to bond and spend quality time together. Contrary to the old saying, older dogs can learn new tricks and often thrive in tricks as a sport because it's so versatile and can include skills that aren't high impact and hard on aging joints.
The American Kennel Club is currently holding their annual Virtual Trick Dog Competition with submissions open now until October 1st. The competition is open to dogs anywhere in the country and the competition is being held virtually. People and dogs interested in competing will develop routines and record videos of their performance to submit. The competition also has a division specifically for kids/teens (junior handlers) who are interested in competing with their dogs.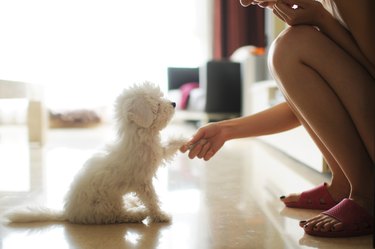 If you're an adult interested in entering the competition your dog must have also earned up through their Elite Performer Trick Title with AKC by October 1st in order to be eligible to compete. The Elite Performer title and the earlier titles (Novice, Intermediate, Advanced and Performer) can be earned via submitting videos online to any AKC evaluator a list of which can be found on the AKC website. Important to note that kids/teens are able to compete in this year's contest with their family dog regardless of if the dog has ever earned any trick titles previously! If you're wanting to enter the competition your dog will need to be registered with the AKC. Mixed breed/All American dogs can be registered via the AKC's Canine Partner Program which allows for mixed breed dogs to compete in AKC performance sports like trick titles, agility, obedience, and more!
Junior Handler Competition
The 2021 AKC Virtual Trick Dog Competition is a fantastic summer activity for kids or teens looking for something to do with their dog before going back to school. The contest is also a great entry point for kids who are interested in learning more about how to get involved with training dogs, or dog sports. For the junior handler competition there are several divisions based on age. Competition for Junior Handlers are broken into the following categories: 9 years old and younger, 10–13-year old's, and another competition for 14-17 year old's. Any kid and dog can get involved, and kids entering the competition with their dog do not have to perform a structured routine with a storyline (unless their dog has already been a competitive trick dog and earned their Elite Performer title). Instead, kids can record their dog performing at least 10 tricks but not more than 15 tricks. Once submitted to the AKC, the videos will be judged on the accuracy of tricks, how difficult they are, their handling, creativity, entertainment value and overall impression.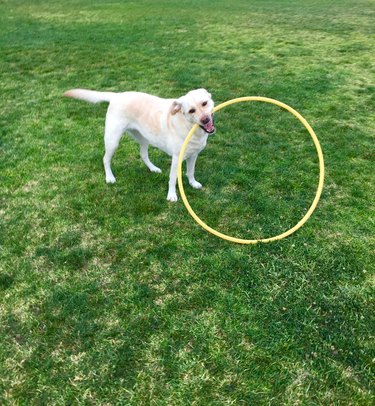 For adults entering the competition you and your dog will need to have earned trick dog titles through the Elite Performer level. If you haven't started your trick title journey yet don't worry there's still time! You have until October 1st for your dog to earn that title and submit your competition routine and information for how to start earning titles is available from AKC. For the 2021 Competition adult competitors must put together a routine of tricks that tells a story to perform with their dog. Music and props can be incorporated into the routine – props are particularly encouraged. The submitted routine must incorporate at least 10 tricks (tricks can be of any level) and routines can be a maximum of six minutes in length.
The AKC's virtual trick dog competition is open from July 1st through October 1st, 2021. To enter, you'll need to complete the Entry Form which includes your information, your dog's information, the list of tricks your dog is performing and a link to the video (uploaded to YouTube) so the judges can watch. Entering the 2021 AKC National Trick Dog Competition is free for adults and junior handlers. If you're interested in learning more you can read all the rules and information here for adults, and here for kids. If you're looking for ideas of tricks to add to your dog's trick routines, peek-a-boo, and dancing are great tricks to consider! Winners of the 2021 AKC National Trick Dog Competition will be announced in January 2022.