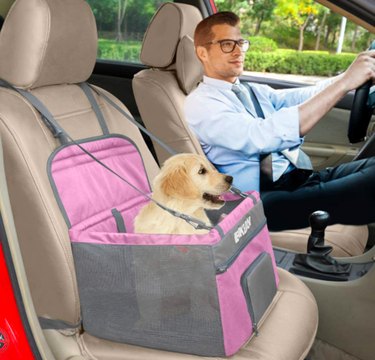 As if driving wasn't dangerous enough, having an unattended dog in the front or back seat can at best be a distraction, and at worst, a major safety hazard. If you've got a small dog that you take with you when you drive, a dog car seat is a worthwhile investment that increases both your dog's and your safety while driving.
Some surprising statistics
According to a survey conducted by AAA and Kurgo, nearly a quarter of respondents admitted to taking their hands off the steering wheel or using their arms to hold their dogs in place when putting on the brakes. Nineteen percent admitted to doing so in order to prevent their dogs from climbing from the back seat into the front seat, and 18 percent admitted to reaching into the back seat to attend to their dog while still driving. A considerable 65 percent of dog owners in the survey admitted to engaging in at least one potentially distracting activity with their dog while driving. As it turns out, dog-related distractions while driving are quite common.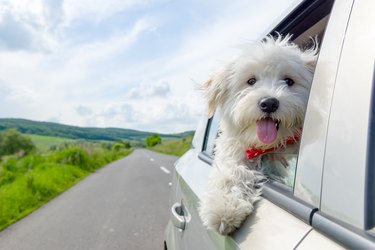 If your dog is small enough to fit, not only can a car seat be quite comfortable, but it can also provide your dog with a sense of security. Car seats and safety harnesses can be especially beneficial to nervous dogs with car anxiety. Best of all, your dog will be safe, secure, and prevented from jumping into your seat or distracting you while driving. Securing your dog in a dog car seat (or with a dog seat belt and harness, if your dog is larger) is the best thing you can do for both your own and your dog's safety while driving.
We've laid out the most important aspects and features to consider when shopping for a dog car seat and highlighted the best options.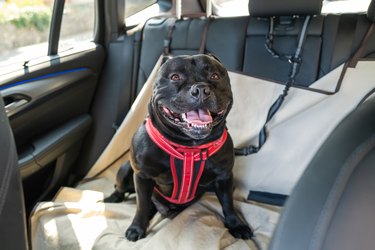 Important factors to consider
‌Safety features and protection:‌ Above all else, safety and protection are the main reasons to get a dog car seat. The two safety features that you absolutely must consider when buying a dog car seat are:

‌How the dog car seat is attached to the actual car seat:‌ The dog car seat should have a solid attachment to your car's actual seat and should work equally well on back seats and front seats. Many pet booster seats are designed for you to put the seat belt through and lock safely. Other seats might allow an extra belt to be attached to the car headrest for added security.

‌How your dog is restrained inside the booster seat:‌ The best dog car seats should include adjustable security leashes to attach to your dog so they remain safely seated while you're driving.
‌Size and comfort:‌ The less cramped and more comfortable your dog feels in his car seat, the less anxious he'll be, minimizing distractions. Some seats are even roomy enough that a small dog can spread out or curl up for a nap. Many seats will also be soft or padded to remind your dog of his favorite bed and keep him comfortable.
‌Usability, setup, and storage:‌ Some dog owners buy a dog car seat but rarely use it, except for long car trips. To avoid this, look for a car seat that is easy to set up, remove, and put away. Some of the best car seats are quickly removable using buckles, and many are easy (and pliable enough) to fold up and store in your trunk. However, some sturdier options may not allow this.
‌Ease of cleaning:‌ Look for car seat materials that are designed to be resistant to dirt, mud, water, and pet dander, such as Oxford cloth. This way, a simple wipe-down with a damp cloth will go a long way in making the seat look new again.
With these aspects and features in mind, here are the five best dog car seats for small dogs:
1. K&H Pet Products Bucket Booster Pet Seat
K&H Pet Products is a brand well-known for its high-quality construction and orthopedic designs. Their pet booster seat fits right in, given its comfortable-yet-firm foam bolster and plush, quilted fleece cover. It also has some of the best safety design features we've seen that don't sacrifice comfort for functionality. However, while the seat is soft, it doesn't really fold like some other car seats do. The smaller seat is 20 inches wide, 14.5 inches deep, and 16 inches tall, while the larger seat offers an extra 4 inches in width. The larger seat can fit two small dogs or one medium-sized dog.
Enhanced safety system using two restraining leashes
Easy setup on both front and back seats
Elevated to give your dog a better view
The front dips down so your dog can climb in easily
Washable and easily removable cover with plush quilted interior
The back of the seat is contoured to fit more snugly against your car's seat
2. Kurgo Skybox Pet Booster Seat
This elevated booster car seat offers your dog a better view and is the perfect size for one small dog—not so big that it crowds your car, but still comfortably roomy. It's equipped with all-steel nesting buckles and metal supports for structural integrity, plus it comes with a dog seat tether to attach to a dog harness, which is generally a more comfortable way to secure your dog than mere seat belts. The whole seat is 16 inches wide, 12 inches deep, and 8 inches tall. While it can technically support dogs up to 30 pounds, dogs with longer bodies may not fit as well. For this reason, the manufacturer recommends the seat for dogs up to 20 pounds, as their bodies tend to be more compact.
Securely attaches to front seat or back bench seat
Booster seat is significantly raised up, providing your pup with a view
Fully collapsible and easy to install
Reversible pad to remain clean and fresh
Machine-washable liner
Two zippered pockets on the sides, perfect for treats and small toys
3. Henkelion Small Dog Car Seat
The big draw with this dog car seat is its waterproof, breathable PVC mesh and Oxford cloth material that work together to keep your dog dry, reduce the risk of odors, and even make it easier to clean. It's also the most affordable car seat on this list. The seat includes a metal rod in its design so it won't accidentally collapse with your dog's movements. The only caveat is that the seat isn't padded like some other dog car seats—but there is enough room for a small cushion. The car seat measures 16.5 inches wide, 12.6 inches deep, and 9 inches tall.
Two safety belts to prevent sliding
Adjustable straps that fit most vehicles
PVC breathable mesh and Oxford fabric keep your dog dry
Easy to assemble, fold, and store
Front storage pocket for small items like snacks and dog medicine
Machine-washable on gentle cycle in cold water with suitable detergent
This sturdy dog car seat may not look as luxurious as some other car seats upon first glance, but its thick cushion and fleece material definitely deliver on the comfort front. Better yet, the seat features a patented restraint system that evenly disperses force on your dog's body during sudden stops or braking, keeping your dog secure and minimizing discomfort. It also offers ample room (enough to fit two small dogs) and is similar in size and shape to a dog bed—making it the perfect choice for long car trips. The only downside is that it doesn't fold up. The seat is 24 inches wide, 12 inches deep, and 10 inches tall.
Can serve as car seat or dog bed
Patented dual-strap restraint system disperses force of sudden stops
Leak-proof and odor-proof, with structure made from sturdy plastic
Spacious and comfortable design
Can fit two small dogs (total 30 pounds)
Built-in cushions with machine-washable fleece cover
5. Utotol Dog Car Bed and Car Seat
This luxurious dog seat also works perfectly as a dog bed for small dogs, featuring a design that evokes a plush armchair rather than a regular car seat. It's thoughtfully designed with storage bags on both sides and to be easily installed in all car and seat types. This is one of the best dog car seat options for long drives such as a cross-country road trip. Your dog may very well consider the seat its bed away from home. One model measures 21.7 inches wide, 21.7 inches deep, and 11.8 inches tall at the back, while the slightly smaller model measures 21.7 inches wide, 19.7 inches deep, and 11.8 inches tall at the back.
Super soft and comfortable, yet resistant to wear and tear
Ideal for long car trips (soft enough to serve as dog bed)
Machine-washable cover
Can be installed in all car and seat types
Quick and straightforward setup
Storage bags on both sides for small items
Regardless of which dog car seat you go for, it's a good idea to get one if you have a smaller, excitable dog. Not only will you keep your dog more secure, but also minimize dog-related distractions while driving. If you've got a larger dog that won't fit in a traditional dog car seat, there are also other options for safely securing him, such as dog seat belts and seat harnesses. Most dog seat belts aren't very expensive, either, so they're worth the investment in both of your safety.