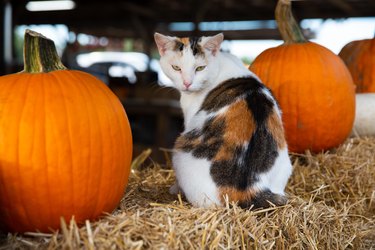 Pumpkin spice up your cat's life by spoiling them with some seasonal treats. While pumpkin might not be the first ingredient you think of when shopping for delicious and nutritious cat treats, its fiber-rich content makes it an excellent choice for felines that struggle with mild constipation, diarrhea, or hairballs. This superfood is also loaded with vitamins and minerals to support your cat's immune system, eyesight, bones, and teeth.
Add a little spice to your cat's evening routine by purchasing some pumpkin-infused treats. Here we've rounded up five healthy options to reward your cat with when they've been a ​gourd​ boy or girl.
1. Tiki Cat® Crunchers Cat Treats Grain Free, High Protein
Chicken is the first ingredient in these crunchy cat treats made with dried pumpkin. Each treat has less than three calories, so you don't have to worry about overindulging your feline. Added salmon oil and flaxseed contribute to healthy skin and a shiny coat, while the pumpkin aids digestion. If your cat is sensitive to pea flour, a legume, you may want to skip these chicken and pumpkin-flavored snacks.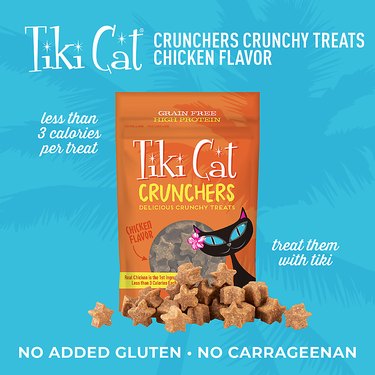 2. Fruitables Healthy Low Calorie Tuna and Pumpkin Crunchy Cat Treat, 2.5-oz. Bag
Shaking a bag of these crunchy treats will make your cat come running. They're created using simple ingredients like chicken, tuna, and pumpkin, and contain less than two calories per treat. Flaxseed—another pet-safe superfood—is also sprinkled in to promote digestive health and a lustrous coat. Several reviewers noted that they were pleasantly surprised by how much their picky eaters liked these healthy treats.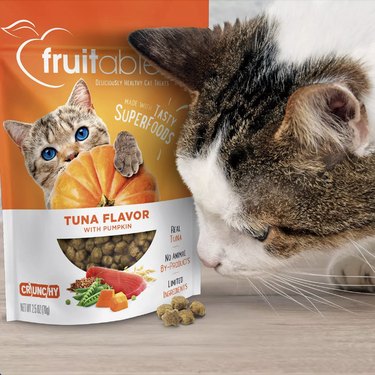 3. Vitakraft Meaty Morsels Chicken with Pumpkin Recipe Soft Cat Treats, 1.4-oz. Pouch, 4-Count
Only one of the treat bags in this two-pack contains pumpkin, so you've got a back up if your cat turns his nose up at the ingredient list. There's no added sugar, artificial colors, or flavors, and each oven-roasted treat has just seven calories. Plus, the soft texture of the bites makes them perfect for concealing a pill if your cat is on medication.
4. Emerald Pet Feline Dental Stixx With Chicken and Pumpkin, 3.6-oz. Bag
Not all cats are natural-born chewers, but if yours is, spoil them with these tasty chicken and pumpkin-flavored dental sticks. They're American-made and free from sugars, salt, and animal by-products. The ridges help clean between your cat's teeth and massage their gums for better overall dental health. The design of the 11-ounce pack also keeps the treats fresh for longer if you're looking to buy in bulk.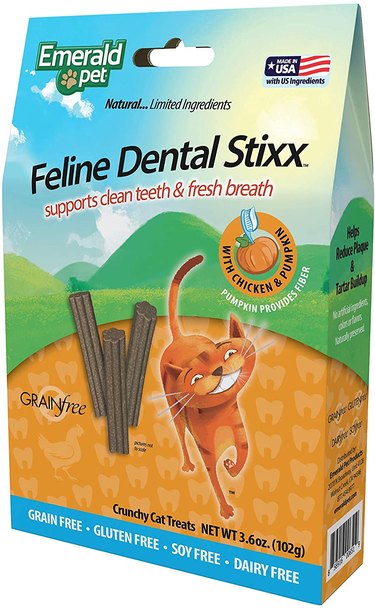 5. Instinct Freeze-Dried Raw Boost Mixers Cat Food Topper, 5.5-oz. bag
Whether sprinkled on top of dry food or given as a special treat, these chewy morsels will help regulate your cat's digestive system. Raw ingredients, including chicken, pumpkin, and sweet potato, are freeze-dried to lock in freshness and flavor, and additives like apple cider vinegar and chicory root promote the absorption of vital nutrients. These food toppers are made right here in the USA without grains, wheat, soy, artificial flavors, or preservatives.