Loathed by dogs and loved by humans, slow feeders are designed to curb speed-eating, which can trigger a number of health and safety issues. Maze-inspired bowls are the most common type of slow feeder, featuring ridges and valleys that require your pup to maneuver their kibble around with their nose or tongue before ingesting it.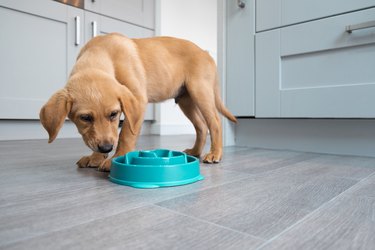 When shopping for a slow feeder for your dog, it's important to consider the shape of their snout, the amount of food they consume at mealtime, and the materials the product is made from. While putting together our roundup of slow feeder bowls, we carefully selected products that were nontoxic and BPA-free, dishwasher safe, and complete with slip-resistant backing. But before we delve into the best slow feeders on the market, here are a few reasons to make the switch from a plain 'ole bowl to something a little more sophisticated.
The benefits of slow feeders:
‌Reduces the Risk of Bloat:‌ According to the American Kennel Club (AKC), large and giant-breed dogs are particularly susceptible to bloat, which is a rare but potentially life-threatening disease that causes a dog's stomach to fill with air and cut off circulation to the heart. Fast eating increases your dog's risk of developing bloat, but a slow feeder can extend mealtime by making it more of a challenge.
‌Curtails Regurgitation After Mealtime:‌ If your dog scarfs down his food, only for it to come right back up minutes later, he's probably eating too much too quickly. Dogs that eat their meals around other dogs are also susceptible to speed-eating (and thus regurgitating) due to perceived competition. Separating dogs during mealtime and switching to slow feeders are AKC-recommended ways to slow eating habits and keep food down.
‌Makes Dogs Feel Fuller for Longer:‌ Dogs that chew and properly digest their food tend to eat less and feel more satisfied than those who gobble it up. Introducing a slow feeder that makes mealtime a several minutes-long event allows your dog's stomach to catch up with her brain and receive the "I'm full" signal. This prevents overeating and makes your pup less likely to beg for treats later on.
‌Provides Mental Stimulation:‌ There was once a time when dogs didn't simply get their food out of a bowl, they had to hunt and forage for their meals. Puzzle-like slow feeders provide mental stimulation and enrichment by encouraging your dog to work for his food. Dogs that are exercised both mentally and physically are less likely to act out in destructive ways to relieve boredom or pent-up energy.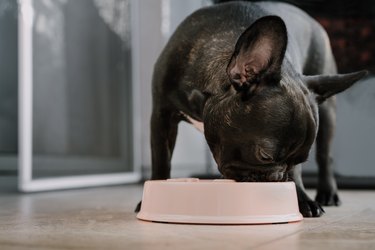 1. Outward Hound Fun Feeder Interactive Dog Bowl, Purple
The valleys in this interactive dog bowl are relatively shallow, making it appropriate for most dog breeds. The flower-shaped maze is a good starter slow feeder and isn't likely to frustrate your pup. The bowl is available in a two-cup or four-cup size and touts a slip-resistant base to keep it firmly in place while your dog is eating. The small bowl measures 8.5 inches in diameter and 1.75 inches deep, while the larger version spans 11.75 inches in diameter and 2 inches deep. It's made from durable plastic that's BPA-, PVC-, and phthalate-free. Plus, it can be thrown into the dishwasher for easy cleaning (just make sure it's placed on the top rack). Outward Hound sells nearly a dozen different slow feeder bowls, allowing you to challenge your dog by switching up the maze design from time to time.
2. ALLYGOODS Silicone Slow Feeder Dog Bowl
Made of food-grade silicone, this flexible bowl has a large suction cup on the bottom to prevent it from tipping onto the floor — something that pups will often do to out-smart slow feeders. The softness of the material makes it a good alternative to hard plastic if your dog is susceptible to rashes or chin acne. It comes in two different sizes, measuring 6.3 inches or 8.3 inches in diameter. Each hexagon-shaped compartment is 1.4 inches deep and 2.1 inches across. It's suitable for wet food, dry food, or a combination of the two. The recyclable feeder bowl is BPA-, PVC-, and ​​phthalate-free, and safe to use in the dishwasher or microwave. It doubles as an enrichment activity outside of mealtime and can be popped in the freezer like an ice cube tray if your dog enjoys long-lasting frozen treats such as banana slices or plain yogurt.
3. Mr. Peanut's Stainless Steel Slow Feed Dog Bowl With Silicone Base
Stainless steel is non-porous, rust-resistant, dishwasher safe, and practically indestructible. And because it doesn't crack like plastic or chip like ceramic, it's less likely to harbor harmful bacteria. This food-safe stainless steel slow feeder by Mr. Peanut's also happens to be nontoxic and BPA-free. The small size holds 1.25 cups of kibble, while the medium holds 2 cups, and the large holds about 3 cups. The slip-resistant base is made of food-grade silicone, and the bowl's circular design encourages your pup to "chase" their food. While this might not be the most challenging maze, the 2.4-inch valley should slow down your pup's mealtime and ward off frustration.
4. Frisco Bone Shaped Ridges Slow Feed Bowl, 3 Cups
This affordable slow feeder holds up to three cups of dry food and is ideal for medium or large breeds. Beyond the typical ridges, there are bone-shaped and circular obstructions to further challenge your dog. The slow feeder is made of sturdy, BPA-free plastic and comes in fuschia or turquoise, making it difficult to misplace. It measures 1.5 inches deep and 9 inches in diameter and has a slip-resistant base. Again, because the valleys in this bowl aren't super deep, it can be used by short or long-snouted dogs. While it's dishwasher safe when placed on the top rack, it can't be microwaved or put in the freezer.
5. EveryYay Take It Slow White Slow Feeder Dog Bowl, 1.6 Cups
Many of the slow feeders on the market come in obnoxiously bright colors. If neutrals or muted pastels are more to your liking, EveryYay offers slow feeders that will fit your home's aesthetic. This off-white bowl is comprised of BPA-free melamine and is safe to use on the top rack of the dishwasher. The slip-resistant pads hold up well and the curvilinear maze design provides mental stimulation. Designed for small or medium dogs, the bowl holds just over a cup and a half of kibble. It measures 1.42 inches high, 6.54 inches wide, and 6.14 inches in diameter. If this size isn't right for your pup, EveryYay also sells a 2.5-cup slow feeder with a snake-like maze design.