Dirty paws are a year-round nuisance. No matter the season, there's a 100 percent chance that your pup will track in salt, mud, grass, sand, or some other type of undesirable debris after a stroll around the neighborhood. While most of the bacteria that pets bring into our homes is harmless, in rare instances, dogs can spread leptospirosis, toxoplasmosis, and E. coli to human household members—underscoring the need to clean both the visible and invisible schmutz.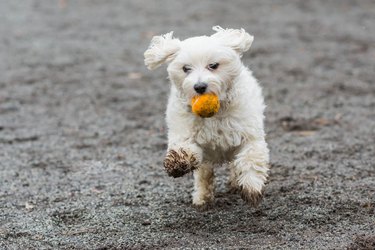 To maintain your sanity and the pristineness of your floors, it's important to come up with a paw-sanitizing solution that works for you and your dog. When compiling our list of the best paw cleaning products, we took the following factors into consideration:
‌User-friendliness:‌ Is it quick and easy to use? Are most dogs willing to clean their paws with this product?
‌Portability:‌ Can you keep it in the car or on your person when you take a trip to the dog park?
‌Effectiveness:‌ Does the product clean paws that are moderately dirty, assuming that a muddy pig pen-type situation would be worthy of a bath?
‌Size-inclusivity:‌ Is it suitable for most dog breeds and sizes?
If an old cotton towel hung by the door just isn't cutting it anymore, consider these hard-working paw cleaning products that stop dirt in its tracks.
1. Dexas MudBuster Portable Dog Paw Cleaner
Best suited for patient pups, the MudBuster is a tumbler-like container that uses soft silicone bristles to rid your dog's paws of dirt and grime. Available in three sizes and multiple colors, this portable paw washer made of BPA-free silicone can be purchased with or without a twist-off travel lid. The petite size is designed for up to 2-inch-wide paws, the medium for up to 2.5-inch-wide paws, and the large for up to 3.5-inch-wide paws. Ensuring a snug (but not constricting) fit is essential, otherwise, the bristles won't be able to target the dirt wedged between paw pads. While this product performs as promised, the biggest downside is that you have to replace the water with each paw if you're aiming for squeaky-clean results. The optional travel lid allows you to fill up the MudBuster with water before heading out the door, however, bringing an additional water bottle is probably necessary.
2. Dog Gone Smart Dirty Dog Shammy Towel
If the towel-by-the-door situation works fairly well for your pup, but you're looking to upgrade to something more absorbent, a microfiber shammy is a hardwearing alternative. Twenty times more absorbent than a cotton towel, this shammy with dual hand pockets allows you to quickly dry your pup's paws and coat. It features a hanging loop for easy storage and can be thrown in the washing machine on a warm, gentle cycle. The shammy provides an all-over clean, which is especially useful if your dog comes in from the backyard with mud all over his belly ‌and‌ paws. While it comes in three colors (grey, brown, and blue), there's only one size, which might not be practical for extra-large breeds.
3. Earth Rated Compostable Unscented Wipes for Pets
Grooming wipes are certainly the quickest option for cleaning your pup's paws, but they're not always the most sustainable. Enter Earth Rated, a Canadian company that makes cruelty-free pet products, including 99% bio-based wipes that are certified compostable. Alcohol-, paraben-, and sulfate-free, these hypoallergenic wipes are made with skin-soothing ingredients like shea butter, aloe vera, and chamomile. They're gentle enough to be used daily and come in lavender-scented or unscented packages, the latter of which is truly odor-free. These 8-inch-by-8-inch wipes also have a quilted texture to withstand sharp nails. The package's snap-in-place closure helps to lock in moisture and makes the wipes easy to retrieve without ripping them to shreds or winding up with multiples. Aside from cleansing paws, they could be used to freshen up your pup between baths or wipe their bum after a walk.
4. PUPMATE Paw Cleaner, No-Rinse Waterless Shampoo
This 6.8-ounce shampoo-dispensing bottle with a detachable brush head is a hassle-free way to cleanse your dog's paws. There's no need to rinse with water after you're done shampooing, simply wipe their paws dry with a towel to remove dirt and other debris. The soft silicone brush gets into all those hard-to-reach areas and can be removed for washing. Equipped with a snap-on lid, it's safe to transport the paw cleaner in your purse or car. The formula consists of natural, hypoallergenic ingredients, but it does have a mild rose scent that might be off-putting to sensitive noses. The no-rinse cleaning method is ideal for fidgety or nervous dogs that won't sit still for paw plungers like the MudBuster.
5. Dog Gone Smart Runner Dirty Dog Doormat
Another low-maintenance cleaning option is to purchase an absorbent doormat and train your pup to wipe their paws as they come inside. Available in six sizes and 13 different colors, these microfiber mats and runners dry ten times faster than a traditional doormat. Each product touts a grams per square meter (GSM) absorption rate of 3,000, compared to 300-400 for a cotton towel. The rubberized, non-skid backing works on all flooring types and prevents the mat from sliding around when your dog comes barreling through the door. There are three doormat sizes, ranging from 23-by-16 inches to 35-by-26 inches, and one runner size that measures 60-by-30 inches. The paw-printed mats are machine washable, but they should be air-dried rather than tumble-dried. They're also multi-purpose—place the mat under a water bowl if your pup is a messy drinker or on the seat of your car to protect the upholstery.