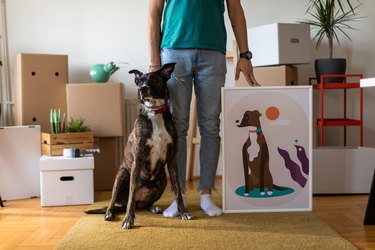 As a pet parent, there's perhaps no better gift to receive—or let's be honest, give yourself—than a custom portrait of your dog or cat. Capturing their unique personality in a piece of art is a great way to celebrate the joy your cat brings to the family or memorialize a beloved dog that has passed away. There are hundreds of talented artists specializing in pet portraiture on Etsy, which can make choosing the right shop a time-consuming process. Understanding that art is subjective and everyone has their own taste, we've compiled a list of 10 highly regarded Etsy shops that represent a variety of aesthetics, from pop art to line art and everything in between.
Custom line drawing ugly portraits
Looking for a portrait that's as goofy as your pet? DUglyArt creates custom pet drawings that you can download as a high-resolution file or have printed and shipped to your door. These intentionally ugly line drawings feature up to eight subjects, including people, pets, or a combination of the two. Prepared in just three to five business days, the custom portraits are a hilarious way to capture your pet's personality. There's an option to upgrade to a watercolor version if you prefer a splash of color, and each order comes with free international shipping.
Pet portraits and art prints
Bluelune's custom pet portraits are inspired by neo-traditional tattoos, characterized by saturated colors, bold lines, and two-dimensional subjects. Choose from an 8-by-10-inch or 11-by-17-inch print that you can frame yourself. A mustard yellow circle serves as the backdrop to your pet's likeness, and their name is scrawled on a banner surrounded by tropical leaves. Beyond cats and dogs, artist Carrie Reddington has created illustrations for the pet parents of a bearded dragon and a pair of rats.
Custom pet and human vector portraits
These incredibly detailed vector graphics look almost like oil paintings (but come at a fraction of the cost). There are dozens of background colors to choose from and you can even make a special request based on the photo you submit, like removing your cat's collar or adding a bowtie. Purchasers receive a digital file that they can then print on pretty much anything, whether it be a poster, coffee mug, sweatshirt, or throw blanket. Plus, the images are typically delivered within one to two days via a Google Drive link.
Custom watercolor pet portraits
Honor your pet with an original watercolor painting by California-based artist Haana Yoo. Akin to picture book illustrations, these custom portraits are painted on high-quality watercolor paper in 5-by-7-inch, 8-by-10-inch, and 9-by-12-inch formats. Purchasers are asked to submit a couple of photos of their pet in addition to information about their personality, as Yoo goes to great lengths to capture each subject's spirit. There are a number of portrait styles to choose from but each features a banner with your pet's name in handwritten lettering. Although orders ship within five to 10 days of placement, the artist also sends a scanned image file of the painting as a digital preview.
Custom pet and human line drawings
If minimalist art prints are more to your liking, GestuelStudio's custom pet portraits will blend in seamlessly with your gallery wall. ​​These hand-drawn portraits are available as digital files or printed on matte poster paper in a variety of sizes, ranging from 9-by-11 inches to 24-by-36 inches. There are 12 color options to choose from (all tasteful, muted hues) and the text underneath the illustration is also customizable, allowing you to display your dog's embarrassing nickname or the date she joined your family. Before the piece is finalized, the artist will send you a proof and ask if any edits are needed.
Custom pet portraits in several styles
Maximalists will adore these brightly-colored pop art illustrations sold in digital, paper, and canvas formats. You can select pop art colors or your pet's natural colors, but there is a limit of one subject per portrait. All species are welcome (including hedgehogs) and the artist offers unlimited revisions until you are completely satisfied with your Andy Warhol-style portrait. Those who order a physical print will also receive a digital file should they wish to post it on their pet's dedicated Instagram account.
Pet drawings, illustrations, and art prints
Whether you've got a lone wolf or a menagerie, Arizona-based illustrator Ceebee will capture your crew in the best light. Simple yet striking, these custom pet portraits are drawn in black ink and then filled in with color and markings. They're sold with either a heart or solid-color background and you can opt to include your pet's name under their image. The most affordable option is the 4-by-7-inch print, but sizes extend up to 11-by-14 inches. A digital download version can also be purchased if you're looking for something larger or want to have t-shirts made for your dog's birthday party.
Watercolor pet portraits and stickers
Australian artist Cameron Atkin sells whimsical watercolor portraits that promise "incredible attention to detail, down to the stray hairs and colored spots that make your best friend unique and special." You can include up to three pets in each portrait, which comes in two standard sizes. Purchasers rave about how communicative the shop is (Atkin will even send you a photo of the piece while it's in progress) and there's free shipping to the United States and Canada.
Custom pet portraits in the style of famous artists, movies, sports teams, and more
The custom pet portrait market has been saturated with Renaissance-style artwork depicting dogs and cats as royalty. While hilarious, these portraits are no longer as novel as they once were. For a newer take on the art history trend, try a van Gough-inspired watercolor painting of your pet, complete with a swirling blue background or a bandaged ear and a pipe. If Vincent isn't your favorite artist, this shop also creates pet-centric replicas of "Girl with a Pearl Earring" and "American Gothic."
Ever wondered what your dog or cat would look like with the Disney treatment? AdventuresOfRubi cartoonifies your pet in the cutest way possible, showcasing up to four of your furry friends. You can opt to receive a digital file or a physical copy, and the artist will share a proof with you one to two weeks after placing your order. Minor revisions are welcome and you can customize the portrait's background color to complement your home decor. One of these adorable prints would be a great gift for the Disney lover in your life—a rush order add-on is also available for $10 if you're pressed for time.