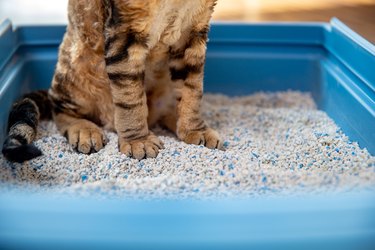 Choosing a discreet spot to hide your cat's litter box is not always an easy task, especially if you live in a small space. While you could tuck it under a table or behind the bathroom door, most pet owners appreciate a hidden-in-plain-sight option that tamps down on scattered litter and foul odors. Cats too like to do their business in private, preferably in a sheltered space away from perceived threats.
Litter box enclosures, which often take the shape of furniture or decorative objects, are a great way to satisfy the needs of both cats and humans. When shopping for a litter box enclosure, it's important to consider the style, functionality, and durability of the product. For example, an enclosure made of plastic might serve you better than solid wood if your cat tends to pee with wild abandon. Taking all of these factors into account, we've compiled a list of the best cat litter box enclosures that are sold on Amazon.
Best Overall Cat Litter Box Enclosure
If your decor style leans toward mid-century modern, this two-door cabinet will make the perfect addition to your home. Available in four finishes, the cabinet can accommodate a standard-size litter box or pet bed. There's a circular opening for your cat on one end and ventilation holes on the other to fend off lingering odors. Since both doors swing wide open, cleaning out the litter box is a breeze. Once assembled, the wood cabinet measures 30 inches high, 22.75 inches wide, and 16.5 inches in diameter. Display plants, books, or picture frames on the tabletop to disguise the cabinet as just another piece of furniture. While the instructions lack detail, most customers agreed that it was easy to assemble.
Best Small Space Cat Litter Box Enclosure
The faux foliage won't purify the air around your cat's litter box, but this clever contraption does include a carbon filter to neutralize odors for up to 12 months. The sturdy plastic base is BPA-free and comes in a soft gray or vivid white color. Artificial leaves are paired with polished river rocks that conceal the carbon filter. Families with small children or curious pets might want to secure the river rocks using hot glue. The square-shaped opening measures 9.5 inches in diameter to fit cats both large and small. The artificial leaves are more realistic than similar products on the market, but some purchasers have complained that cleaning the base can be difficult as you have to disassemble it to access those hard-to-reach places. The product weighs only nine pounds and measures 20 inches long, 20 inches wide, and 36 inches high, making it a smart choice for small-space dwellers.
Best Multi-Purpose Cat Litter Box Enclosure
A litter box that doubles as a functional piece of furniture, this solid wood bench blends seamlessly with contemporary style decor. The cat-shaped opening is an adorable touch, and can be positioned on the right or left side depending on your preference. The interior of the bench features an optional divider panel that prevents kitty litter from being kicked out onto the floor. It can be adjusted to fit the size of your cat's litter box, and there are ventilation holes to prevent the bench from absorbing any unpleasant odors. The double doors make it easy to replace the litter, although the bench is fairly low to the ground, which could be uncomfortable for some pet owners. This enclosure is on the smaller side, measuring 29.7 inches wide, 20.1 inches deep and 21.8 inches high. It can support up to 185 pounds and features a built-in rack for hanging a hand towel, clean-up cloth, or rubber gloves.
Best Budget-Friendly Cat Litter Box Enclosure
The best budget pick on our list, this end table is solidly built and can be assembled in about 20 minutes. The instructions are easy to follow and the product comes with extra hardware should you misplace a screw during assembly. Its sleek design includes tapered legs, textured paneling, and a shelf to house books or remotes. The shape of the opening is welcoming to cats and the interior can accommodate most litter box sizes, however, a high-sided model is recommended to prevent litter from getting kicked around. Tidying up is hassle-free thanks to the swing-out door but you should consider adding a liner if your cat often "misses the mark." Urine can cause damage to the end table, which is constructed out of solid wood and particleboard. The exterior of the enclosure measures 19 inches wide, 20.9 inches deep, and 26.6 inches high, so if you've got a hefty cat, this end table might be a bit too cramped.
Best Cat Litter Box Enclosure for Large or Senior Cats
For some farmhouse flair, look no further than this stained wood cabinet with X-panel doors. It does not include legs so it sits low to the ground to benefit senior cats or those with mobility issues. The interior divider can be used to keep litter contained or it can be completely removed if your cat prefers a spacious environment. Clean-up is painless thanks to the double door design but the interior should be wiped down frequently to ward off pungent odors. At 31.5 inches long, 20.7 inches wide, and 19.4 inches high, it's fairly large and can function as a side table, nightstand, or decorative piece. Display artwork, plants, a lamp, or cat accessories on the tabletop, or allow your kids to use it as a bench as it can bear a weight of up to 132 pounds. That being said, it's made from particle board, which isn't as durable or long-lasting as solid wood.