Shorter days mean more walks around the neighborhood in the dark. But nighttime potty breaks come with additional risks—most of them attributable to low visibility. To stay safe, it's important to outfit yourself and your dog in reflective or illuminated gear. When selecting the best equipment for walking your dog at night, we took the following factors into consideration.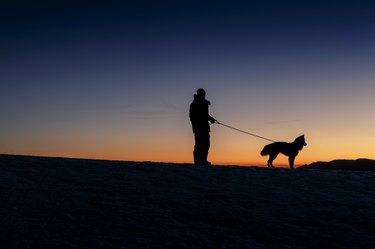 What to consider when purchasing dog-walking gear
‌High Visibility:‌ Is the product truly reflective and visible from hundreds of feet away? Does it help your dog stand out even in the daytime?
‌Rechargeable:‌ If the product incorporates LEDs, is it rechargeable to eliminate the need to purchase additional batteries?
‌Comfort:‌ Does the product feel good for both dogs and humans? Does it include extra padding, soft materials, or safety features?
‌Durability:‌ Does the product stand up to wear and tear? If it's intended for dogs, can it withstand chewing or excessive pulling on walks?
With these criteria top of mind, here are our top product recommendations for walks after dark.
The best reflective dog vest
Whether you live in a neighborhood without sidewalks and streetlights or want to keep your pup safe when hiking in the woods during hunting season, this waterproof vest provides maximum visibility with its neon color and reflective strips. Available in five sizes and colors, the vests can be seen from up to 500 feet away. They're constructed out of rip-resistant 300D Oxford Weave fabric (frequently used to make waterproof camping tents) and feature a soft interior to keep your pup comfortable during playtime. The only downside is that there's no opening for a D-ring, so you would have to put your dog's harness on over the vest if that's your preference.
The best reflective dog harness
A good harness can be hard to find, but this model includes all of the necessary features. It's made of flexible neoprene and has an extra layer of padding for a comfortable fit. The harness comes in coral, dark green, blue, and purple, complemented with reflective strips on all sides. There's a D-ring on the front and back, which is useful if you're training your dog not to pull on the leash. The straps are fully adjustable and the section that fits around your dog's chest has buckles on either side to keep it secure. Another perk is the handle on the back, giving you greater control in a reactionary situation or supporting an arthritic dog's weight when climbing the stairs.
The best reflective dog leash
Lined with nylon webbing and padded with polyester mesh, this ergonomic leash is an excellent choice for pups that are prone to pulling. The 3M reflective material enhances visibility and the nine mostly bright colors make it easy to spot. It's best to use a non-retracting leash, especially at night, to avoid potential dangers by keeping your dog close. This durable leash comes in two widths (⅘-inch or 1-inch) and lengths (3.6 feet or 6.5 feet), allowing you to choose the appropriate size for your dog.
The best reflective dog collar
Don't be fooled by the affordable price, this hardwearing collar is pull-tested to over 800 pounds. It's made of waterproof nylon, with a wide, 360-degree band of reflective fabric that makes it highly visible during the daytime and nighttime. The collar comes in eight vibrant colors and four sizes, and features a quick-release buckle should your pup ever get into an emergency situation. The D-ring is suitable for tags or a leash and the product is safe to throw in the washing machine if it starts to smell.
The best dog safety necklace
Satisfied with your dog's existing walking essentials but want to keep them safe after sunset? This super-bright LED necklace touts three solid color options (red, green, and blue), plus a color-changing Disc-O mode for dogs that like to party. It runs for up to 5.5 hours but is fully rechargeable using a micro-USB cable, which is not included but can be purchased for around $7 on Amazon. The necklace is made of a weather-resistant, flexible polymer that you cut to size to fit your dog (the circumference ranges from 12 to 27 inches).
The best dog safety light
If your dog is a master escape artist that would wiggle out of an LED necklace in seconds, try an LED safety light that clips onto their collar, harness, or jacket. This waterproof, rechargeable light has three settings, described as "slow flash, fast flash, always on," and three light colors (red, green, and blue). A six-inch standard USB charging cable is included with the product, and the indicator lights will alert you when the battery is still charging or running low. The safety light can be worn by both humans and dogs during activities like camping, hiking, surfing, or jogging.
The best rechargeable headlamp
Having a hands-free light source when you're picking up dog poop in the dark is a total game-changer. This lightweight headlamp with eight LEDs is extremely bright, allowing you to see up to 500 meters in the distance. It has a battery life of four to nine hours and comes with two rechargeable batteries, a USB charging cable, and a handy storage box. The lamp head can pivot 90 degrees and is resistant to snow and rain, although it cannot be submerged in water. There are eight different light modes, including a red SOS strobe to use in an emergency. The adjustable headband fits around the sides and top of your head.