Pet gates serve a variety of purposes—maybe you want to keep your dog out of the kitchen while you're cooking because they're always begging for scraps or prevent your cat from scratching the living room sofa while you're at work. There are numerous styles, functions, materials, and features to consider when choosing the pet gate that's right for you.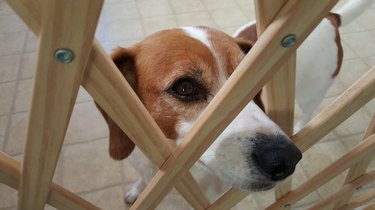 Do you want a gate that closes automatically behind you? Or one that transforms into a playpen for your puppy? How about an extra-tall gate that prevents your athlete of a cat from hurdling over it? These are just a few of the questions you should ask yourself before purchasing a pet gate for your home.
What to consider when purchasing a pet gate
‌Dimensions:‌ Pet gates come in lots of different shapes and sizes, so the first thing you'll want to do is measure the opening where you'll be placing it. Most models are adjustable and have a range of widths they can accommodate. Don't forget to factor in the hardware or mounting cups, and remember that some manufacturers sell extensions to expand the size of your pet gate.
‌Size and agility of your pet:‌ If you've got a large breed dog or a cat that likes to climb, a standard pet gate probably won't cut it. Most dogs can jump twice their height, while cats can jump five or six times their height, so take that into account when making a purchase. Your pet's personality should also factor into your decision—you might have a Great Dane who wouldn't even consider jumping over a six-inch barrier or a Russian Blue that's fond of scaling walls.
‌Pressure-mounted versus hardware-mounted:‌ Renters who don't want to damage the walls or those looking for something portable might opt for a pressure-mounted gate. A hardware-mounted gate, on the other hand, is a more permanent and secure solution that requires screwing into the wall—it all comes down to your personal preference.
‌Materials:‌ Frequent chewers should not be paired with a wood, plastic, or mesh gate. To discourage climbing, you might want to choose a metal gate with vertical balustrades that have less grip. If these issues aren't a concern, however, feel free to choose the material that best suits your home's aesthetic.
Now without further ado, here are the best gates for keeping your pet safe and your house disaster-free.
The best overall pet gate
A heavy-duty pet gate that's easy to install ‌and‌ complements most decor styles? Orvis' Easy-Mount DoorFrame Gate takes the cake with its steel construction that can stand up to persistent jumping and scratching. The door panel is wide enough for most humans to pass through and features a strong metal hinge that won't crack like plastic locks occasionally do.
The pressure-mount system ensures easy installation and no tools are needed. It comes in a matte black finish that fits with most home decor styles, and the distance between spindles is 2.5 inches. The small size measures 32 inches high and 28 to 34 inches wide, while the large size measures 32 inches high and 34 to 40 inches wide. There's also a five-inch extension panel (sold separately) for openings wider than 40 inches.
The best walk-through pet gate
Pet gates without a swinging door function can be a tripping hazard, even if you ran the 100-meter hurdles in high school. This steel-frame, pressure-mounted gate is intended for openings that measure 29.5 to 40.6 inches. It's 31 inches tall and has a double-lock safety release, which is a useful feature for clever dogs and cats. The door will close and lock automatically, but it can be left open if you push it all the way back. Installation is quick and easy and can be completed in about 10 minutes. The gate also comes with four wall cups that help to prevent damage.
The best design-forward pet gate
This breezeblock-inspired freestanding gate is best suited for small or obedient pets. It's fairly tall at 35 inches and can fit openings as wide as 81.5 inches. The gate is lightweight enough to move around the house—weighing in at just over 17 pounds—and can be used to block off a staircase, fireplace, or an entire room. The frame is made of solid wood and the hinges allow the gate to be folded up and stored away. It comes with 'feet' for additional balance, but the product is functional with or without them.
You don't have to spend a lot of money to securely block your entryway. This plastic gate requires no assembly and weighs only six pounds, offering a hassle-free solution. It stands 26 inches tall and can fit openings between 26 and 42 inches wide. The gate can function as a pressure mount with no tools required, or be installed using the included hardware to employ the handy swing gate feature. While it's not the most aesthetically pleasing design, it gets the job done of restricting your pet to a specific area of the home.
The best pet gate for large dogs
Most large dogs require an equally large gate. This extra-tall, all-steel barrier measures 41 inches high and fits openings of 29 to 32 inches or 36 to 38 inches with the included extension. It utilizes a pressure-mount system and requires only a screwdriver and a pencil to set up. The pass-through door will close and lock behind you or can be kept open by pushing it past 90 degrees. There's also a dual-lock safety release to thwart escape artists. The only downside is the loud clanging of the metal door when it closes, but if you've got a household of barking dogs this is probably a non-issue. Choose from a black, white, or gray finish.
The best pet gate for wide openings
The popularity of open floorplans has caused a need for extra-wide pet gates. Often referred to as "superyards," these models can transform into playpens for pets or toddlers. This particular superyard is made of heavy-duty metal with a matte bronze finish and is designed to fit openings up to 144 inches wide. It can be hardware mounted or used as a freestanding barrier. The swinging door panel boasts a double-locking system for added peace of mind. The superyard won't scratch your floors and can cover even more ground if you purchase the two additional panel extensions that are sold separately.
The best freestanding pet gate
Sometimes you just need a pet gate that you can take anywhere. This stylish, freestanding barrier is 36 inches high and can stretch to 80 inches wide. It comes in a light gray or white finish and measures 1.57 inches between the spindles. The four panels fold up easily and the support legs help keep the gate firmly in place. It's not intended for voracious chewers or frequent gate-climbers, but it is tall enough to discourage most pets from escaping. The piece is lightweight and sturdy, and could even be used during the holidays to keep cats away from the Christmas tree.