If you've got a clever dog, chances are you're always on the lookout for ways to keep them mentally stimulated. Puzzle toys are a great way to challenge your dog's mind, rewarding them with a treat after they've completed a task like flipping open a compartment or nudging an object with their nose.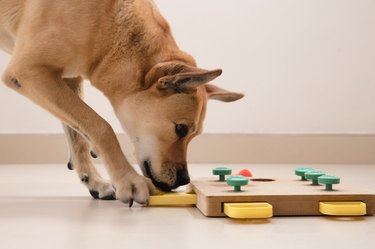 Dog training experts recommend starting with an easy puzzle toy, introducing more difficult brain games as they learn to master each skill. If you present your pup with a puzzle that's too hard, they may get frustrated and lose interest. Here we've compiled a list of the best puzzle toys by their level of difficulty, starting with a sushi-themed interactive toy that employs flippers and working our way up to a three-step puzzle that would stump most toddlers (but perhaps not your brainy Border Collie).
But before we get into our top picks, here are five benefits of puzzle toys for dogs:
‌It taps into their natural instincts:‌ Sure, your pup's food might come from a bag that's delivered to your front door, but a puzzle toy allows them to use their hunting and foraging instincts to sniff out tasty treats.
‌It helps to relieve boredom:‌ Mentally unstimulated pups will sometimes act out in destructive ways to relieve their boredom. According to the American Kennel Club, mental exercise can be even more tiring than physical exercise for a dog. Working out the noggin with a puzzle toy results in a calmer, happier dog who is less likely to shred your slippers to smithereens. However, a puzzle toy is not a babysitter—you should always monitor your dog while they're playing as the parts could be potential choking hazards.
‌It teaches them new tricks:‌ As your dog ages, it's important to keep their mind active—and yes, old dogs can in fact learn new tricks. A recent study from the University of Washington found that inactive dogs were over six times more likely to develop dementia than those that exercised frequently.
‌It strengthens your bond:‌ A puzzle toy is a fun way to bond with your dog, whether they're newly adopted or your long-time BFF. In most cases, your dog will learn to use the puzzle by observing you—leading them to think of the two of you as a powerhouse treat-hunting team.
1. OurPets Sushi Treat Dispensing Puzzle Dog & Cat Toy
Does your dog eye your maki longingly every time your order takeout? Treat them to their own "sushi" dinner with this interactive toy that's perfect for beginners. Training-sized treats are placed in the compartments and covered with sushi-shaped flippers. Your pup must then use its paw or nose to nudge the attached sushi pieces out of the way. Made of polypropylene and thermoplastic rubber, the puzzle is hand-washable. It's suitable for small, medium, and large dogs (although not extra-large breeds), and holds up well to frequent chewing.
2. SPOT Seek-a-Treat Flip 'N Slide Treat Dispenser for Dogs
Another puzzle toy for first-timers, the SPOT Seek-a-Treat features flipping and sliding components that conceal treats. It's shaped like a puzzle piece and can be connected to other brain games made by the company. The primary colors are intended to "captivate your dog's attention" and the non-slip bottom prevents the puzzle from scratching your floors. It can be used by dogs both large and small, and some purchasers have even gifted the puzzle to their mini pig or rabbit. While it's not particularly difficult to master, the Seek-a-Treat is a good introduction to brain teasers for your pup.
3. Nina Ottosson by Outward Hound Dog Tornado
Think your dog is ready to level up to an interactive puzzle? The Dog Tornado combines physical and mental exercise as they must use their paws or nose to discover three layers of hidden treat compartments. It comes with three bone-shaped treat covers with scent holes to further challenge your pup. The puzzle is suitable for all sizes and ages and is made using food-safe materials that are free of BPA, PVC, and phthalates. While it's not dishwasher safe, it's easy to clean using soap and water.
4. Nina Ottosson by Outward Hound Brick Puzzle Game Dog Toy
There are two ways to sniff out treats in this intermediate-level puzzle toy. The red blocks can be flipped open to uncover a reward, but sliding them side to side reveals yet another layer of goodies. To make the puzzle more challenging, pet parents can place the bone-shaped blocks between the red flippers. The Brick Puzzle Game is made of polypropylene and can be hand-washed using warm, soapy water. It's recommended for small to medium-sized breeds, but supervision is always recommended as the removable parts could be a choking hazard.
5. PupPod Rocker Training Treat Tossing Camera Dispener & Puzzle Dog Toy
If you're worried that your pup will quickly outgrow a single-use puzzle, consider a high-tech enrichment toy. The PupPod Rocker includes a puzzle toy, a treat-dispensing camera, and a smartphone app. The toy has five levels that prompt your dog to complete a variety of tasks like tapping for a treat or practicing impulse control by intentionally ignoring a particular sound. Treats come out of the camera, not the toy, so you can place them several feet apart to keep your dog active throughout the day. The mobile app allows you to see what your dog is doing while you're not at home, change the sounds the toy makes, and monitor treat and battery levels. Your pup can even earn badges as they advance through the training levels.
6. Nina Ottosson by Outward Hound Dog Worker
Dogs that are too smart for their own good should often be presented with new challenges to ward off boredom. If other puzzles have proved no match for your intelligent pup, try this three-step brain game that requires them to rotate the flippers, nudge the blocks with their nose, and spin the center wheel to reveal a treat. There are no removable parts, which creates a safer playtime experience, and the puzzle is made of a composite plastic and wood material that's BPA, PVC, and phthalate-free. The 'Dog Workers' puzzle comes in two colors and can be cleaned using warm water and mild soap.