Fall temperatures are dropping, and with winter approaching, you may be wondering whether or not your dog needs winter clothes to stay warm. While the short answer is "It depends," if you and your dog live in a particularly cold climate (among other factors), the right winter coat can help keep your dog safe and comfortable in frigid weather. We've done the paw-work and narrowed down a list of the best winter coats and jackets for dogs so you can decide what suits your dog's needs most.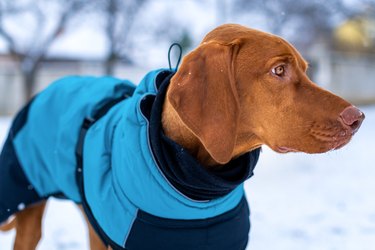 Does your dog need a winter coat?
The most important factors in whether or not your dog needs winter clothes are: Your dog's size, the length of their fur, the temperature or climate they're in, and how long they'll be exposed to such low temperatures.
In general, dogs are equipped with enough fur to keep them warm enough during the winter—provided they're not spending too much time outdoors in freezing temperatures.
Smaller dogs have a harder time retaining body heat than larger dogs, so they will benefit more from winter clothes in sustained cold temperatures than much larger dogs. Older dogs with weakened immune systems are also more likely to need an extra source of warmth.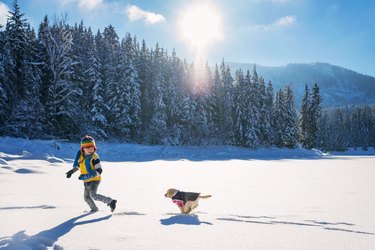 Certain long-haired breeds, such as Chow Chows and Pomeranians, are especially well-suited to cold temperatures with their long and thick fur. However, naturally short-haired breeds such as Dalmatians and Italian greyhounds, as well as short-haired breeds originally from warmer climates, such as Chihuahuas and Chinese crested dogs, are much more likely to need winter clothes in cold temperatures.
Typically, most dogs won't need to wear protective clothing in temperatures above 45 degrees Fahrenheit, but again, if your dog is small or short-haired, that could change things. If your dog isn't going to spend more than 10 minutes outside in freezing or near-freezing temperatures, protective clothing probably isn't necessary. But, if you're spending all day in the snow, for example, a good winter coat and boots are a smart option.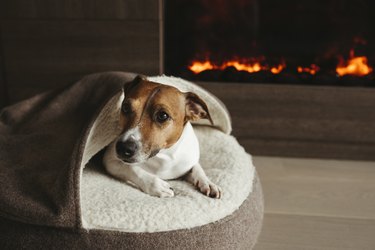 Tip
Remove your dog's winter clothing once you've gone back indoors, as wearing a heavy coat inside can easily lead to overheating. In general, removing clothing items from pets after they are no longer needed also helps prevent chafing and irritation of the skin.
What to consider when purchasing a winter coat for your dog
When shopping for a cold-weather coat for your dog, keep these considerations in mind:
‌Coverage:‌ Does the coat leave a significant portion of your dog's torso exposed? If you're in a particularly cold climate, does the coat help cover the neck and ears?
‌Warmth:‌ How well does the cut of the coat and its materials help your dog retain body heat?
‌Waterproof:‌ Is the coat made of waterproof materials like Gore-Tex, nylon, or waterproof canvas (especially useful in snowy climates)? Or, does the coat at least contain a waterproof outer layer?
‌Range of motion‌: Can your dog move around easily while wearing the coat? Ideally, they should still be able to run, in case they need to escape a dangerous situation.
‌Ease of putting on:‌ How easy is it for you to put the coat on your dog? Is the process comfortable for them? Does it take a long time?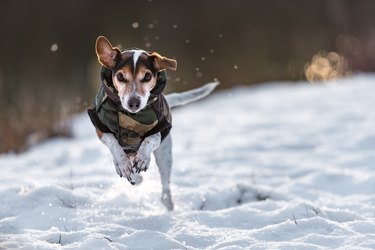 1. GF Pet® Winter Sailor Dog Parka
This winter coat for dogs is both stylish and functional. Made from nylon, polyester, and luxurious Sherpa fleece, the coat features a faux fur-trimmed fleece hood that will also keep your dog's neck warm, so coverage is excellent. Water repellent and easily adjustable, the coat boasts a patented Elasto-fit® technology that makes it stretchable and easy to fit on dogs of different sizes. Thoughtful extra touches include deep pockets with contrast pocket tabs and hood tabs. The coat is available in multiple sizes ranging from extra-extra-small to 3X-large, suitable for dogs under 7 pounds and up to 100 pounds. It comes in burgundy or aqua, both of which have contrasting trim colors.
2. RUFFWEAR Powder Hound Dog Winter Coat
Apart from keeping your dog warm in cold temperatures, the standout feature of this coat is its flexibility and stretchiness, which not only allows for extra comfort but also lets your dog keep their full range of motion. Featuring a polyester protective shell that's weather-resistant and packed with a warm layer of synthetic insulation, your dog will definitely keep warm. Another plus is the short-sleeved design of the jacket, providing more coverage than just your dog's torso. A full-length zipper makes it easy to put on and take off, while reflective trim offers visibility in low-light conditions. It's available in sizes ranging from extra-small to extra-large as well as three colors: Blue Atoll, Forest Green, and Sockeye Red.
3. EzyDog Element Dog Jacket
This dog winter jacket scores an A+ when it comes to water resistance, thanks to its polyester shell made from 600 Denier material with Oxford panels. It's one of the tougher jackets on the list, designed to withstand the elements and not snag on branches. To keep your dog cozy, the inside features non-pilling fleece that's super soft and comfortable. Its unique stretchable neck opening made from Neo-Xpand™ material makes it easy to slip on and offers ample chest protection while also allowing your dog to move freely and comfortably. Other features include a reflective trim to help with visibility, as well as a waterproof zipper on top for attaching a leash. It's available in sizes ranging from extra-extra-small to extra-extra-large.
4. Alpine All-Weather Dog Coat
This dog winter coat is designed to be comfortable in all weather conditions, making it ideal for dogs living in wet, snowy climates, as well as those in cool, dry areas. The coat's layers are designed with extra fiber fill to provide ample warmth and protection. The tough, waterproof exterior is made of polyester, while the interior is lined with thick, warm fleece to keep your dog's body temperature stable in cold weather. Meanwhile, a faux fur-lined collar with a neck cinch keeps the snow from penetrating the coat while your dog is rolling in it. Adjustable straps and a covered D-ring access hole make it easy to put on and connect to a leash. It also has reflective night safety straps and trim for visibility in low-light conditions. The coat is available in sizes ranging from X-Small to Medium.
5. Kurgo Loft Jacket Reversible Dog Winter Vest
This stylish and reversible dog vest is lightweight and flexible, ideal for the active outdoor dog. Made from rugged ripstop nylon that won't make your dog itchy, and stuffed with Polytech fill, it's water-resistant and durable. Since the jacket only covers your dog's torso, it's probably ideal for dogs living in chilly climates without heavy snowfall, but it's certainly enough coverage to keep your dog warm in cool temperatures without overheating. It's easy to slip on and off and features reflective piping for low-light visibility. The vest is available in sizes extra-small through extra-large and comes in eight different colors and patterns.
While they're not winter coats or dog boots, these other items are also good to have on hand:
Bonus #1: Frisco Fleece Dog Snood
This dog snood (which takes its name from a type of fabric hairnet) protects your dog's neck and ears from the cold—a smart choice for dogs living in harshly cold climates, especially ones with lots of heavy snow. Made from polar fleece, it slips over your dog's head easily and comes with an adjustable toggle and three ribbon tabs to hold it in place. It's customizable so your dog can wear it as a neck warmer or an entire head cover, and available in three sizes running from extra-small/small to large/extra-large. Choose from black or red fabric.
Tip
Remember to take the snood off your dog once you go indoors to prevent overheating. If you're living in a chilly but not particularly harsh climate, your dog may not need one.
Bonus #2: Dog Gone Smart – The Original Dirty Dog Shammy Towel
If you forgot to put on a winter coat before your dog plays in the snow and they come home wet and soggy, this super-absorbent microfiber shammy dog towel will have them dry in no time. It's 13 inches wide and 31 inches long, giving you plenty of surface area to work with. It's machine-washable; just hang it up to dry. If your dog gets wet from cold water, sleet, or snow, you can help prevent hypothermia by drying them with this highly effective towel. Choose from gray or brown.