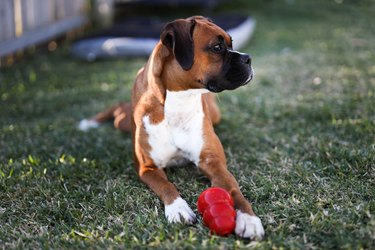 Treat dispensing toys are a great way to keep your dog occupied for a few minutes to a few hours. If you can't make it through a Zoom meeting without being interrupted by your puppy who firmly believes that ball is life, a treat-dispensing toy can help to relieve his boredom. Some toys are even designed to slowly release an entire meal of kibble, which reduces the risk of bloat or regurgitation for speed eaters. Before we get into our top picks, here are a few tips to keep in mind when purchasing a treat dispensing toy for your dog:
​Start with an easy-to-master toy:​ Treat dispensing toys have various levels of difficulty and if you start with something too challenging, your dog might become frustrated and lose interest. To keep them engaged, use high-value treats and show your dog how the toy works. Some toys have adjustable openings to increase the difficulty, but you can also opt for slightly larger treats or wet food for longer-lasting fun.
​Consider the material:​ When selecting the treat dispensing toy that's right for you and your pup, you'll want to consider how tough of a chewer they are and the type of flooring you have in your house. Soft, rubbery toys are quieter on hardwood floors but aren't particularly durable. Hard plastic toys can often stand up to voracious chewers but might disturb your downstairs neighbors if you live in an apartment building.
​Always supervise your dog during playtime:​ It can be tempting to fill a toy with treats and head out the door, hoping your dog will entertain herself while you're at a yoga class. But any toy can become a choking hazard if your dog is able to break it into pieces. Be sure to choose the right-sized toy and treats for your dog, and keep an eye on them while they're playing.
Think your pup is ready to work for their treats (and provide you with a moment's peace)? Here are the best treat dispensing toys on the market in 2021.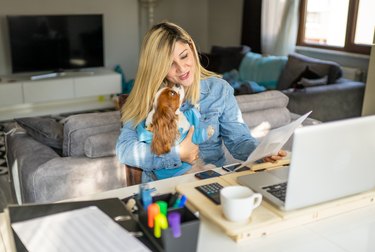 The Best Wobbling Motion Treat Dispensing Toy
KONG Wobbler Dog Toy, Small or Large
There are a number of treat dispensing toys that employ a wobbling motion to make the process a little more challenging, but the KONG Wobbler is the pick of the litter thanks to its durability and easy-to-clean interior. It's made in the U.S.A. out of FDA food-approved plastic polymer, a hard plastic that's unlike the rubbery KONG Classic. The top of the toy twists off, allowing you to fill the bottom with treats or kibble. The small size has a ½-cup capacity, while the large can hold an entire cup of kibble. The goodies fall out gradually as your pup uses their nose or paws to knock it around. Once it's been emptied, the KONG Wobbler can be placed on the top rack of the dishwasher.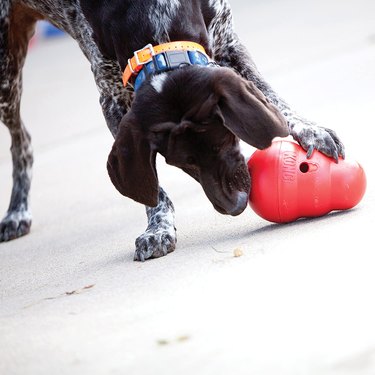 The Best Treat Dispensing Toy for Hardwood Floors
Planet Dog Orbee-Tuff Snoop Treat Dispensing Tough Dog Chew Toy
The sound of a plastic toy being slammed against the hardwood floor is enough to drive anyone to their wit's end. Made of recyclable, non-toxic plastic that's surprisingly squishy, the Orbee-Tuff Snoop Dog Toy is quiet enough that your dog can play with it while you're on a Zoom call. Treats are lodged into a deep crevice, which pops out for easy access, and the toy has an unexpected bounce that your dog will love. The translucent material is BPA and phthalate-free, and treated with peppermint oil for a minty scent. All Planet Dog toys are made in the U.S.A. and the company gives back to organizations that support pets and the environment.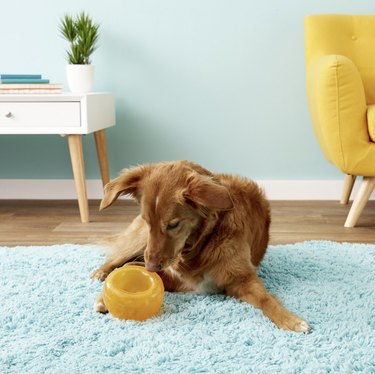 The Best Treat Dispensing Toy for Feeding Your Dog an Entire Meal
Premier Pet PetSafe Busy Buddy Tug-A-Jug
Mealtime turns into playtime with the 'Tug-A-Jug,' a kibble or treat-dispensing toy that makes your dog work for their food. To shake a morsel loose, the dog must pull on the rope while holding the bottle down with its paw. As it's a multi-step process, this toy is best suited for intelligent dogs or those with puzzle experience. The textured rubber ball near the bottle's opening helps to clean teeth and gums as your dog plays. The mealtime-extending Tug-A-Jug is available in three different sizes based on the dog's weight, and the largest version can hold up to three and a half cups of kibble. It's made of durable, non-toxic materials and the bottle component is dishwasher-safe. If you've got hard-surface flooring, wrapping an old sock around the bottle might help to save your sanity — while it's impressively hardwearing, 'quiet' is not a word we'd use to describe the Tug-A-Jug.
The Best Treat Dispensing Toy for Tough Chewers
Starmark Treat Dispensing Chew Ball Tough Dog Toy
Pet parents of voracious chewers know just how challenging it can be to find a toy that will last more than a couple of days. This bright green ball is "virtually indestructible" and can be used to dispense approximately a cup and a half of treats or kibble. The hole sizes are adjustable, allowing you to use whatever goodies you happen to have on hand. It's dishwasher safe and made of soft, durable rubber that's easy on a dog's teeth. Even when it's loaded with treats, the ball bounces surprisingly well, making it a useful (and rewarding) training tool for fetch.
The Best Treat Dispensing Toy for Puppies
Omega Paw Tricky Treat Ball - Large
Soft enough for teething, the Omega Paw Tricky Treat Ball features a vinyl textured surface. It's a good beginner toy for food-motivated puppies and features a bright orange hue that makes it easy to spot. The ball can be loaded with dry kibble or treats and comes in sizes small, medium, and large. We suggest purchasing the large size as it's easier to fill with treats and won't get stuck under furniture. It's relatively quiet, won't scratch your floors, and bounces well. The ball is durable enough to withstand moderate chewing, but not recommended for dogs that regularly destroy their toys.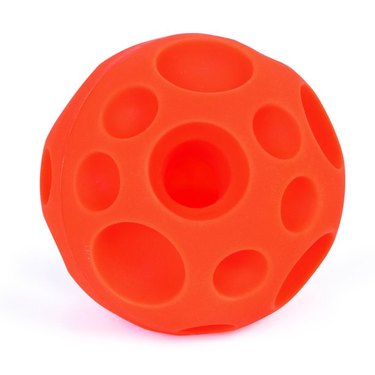 The Best Long-Lasting Treat Dispensing Toy
Starmark Treat Dispensing Pickle Pocket Tough Dog Toy
Some treat dispensing toys will keep your dog occupied for a couple of minutes, tops—but this weird-looking pickle pocket is not one of those toys. Designed to "provide hours of mental stimulation and physical activity," the toy is made of a material that's stronger than rubber and free of latex, vinyl, and phthalates. It can be filled with treats, kibble, or something sticky like peanut butter or pureed pumpkin for long-lasting fun. Like all of Starmark's products, this toy is exceptionally hard wearing and intended to last for years. The company even makes wave-shaped dog treats that fit perfectly into the pickle pocket.
The Best Treat Dispensing Toy for Freezing
Repetitive licking releases endorphins in a dog's brain, which calms them down while providing a distraction from the stressor. If you've got an anxious pup (or simply want to reward them on a hot day), the West Paw Zogoflex Toppl is a great toy for frozen treats like wet dog food or plain Greek yogurt. Made in the U.S.A. from non-toxic, recyclable materials, the toy is dishwasher safe and FDA-compliant. The inner spikes of the Toppl keep treats in place, but you can also purchase the opposite size (it's sold in small or large) to interlock them and create a puzzle-like experience. The toy is intended for moderate chewers and bobs around to keep your dog entertained while they 'hunt' for food.