When we hear the terms "scent work" or "scent games," most people think of dogs, but cats also have a great sense of smell and enjoy getting opportunities to use it! Although dogs have a much better sense of smell than cats, cats have a sense of smell that is significantly better than we do. Cats rely on their sense of smell to understand the world around them, and can possibly even sniff out disease in humans. Providing your cat opportunities to utilize their sense of smell is a fun way to provide enrichment into your cat's day and encourage your cat to be more active.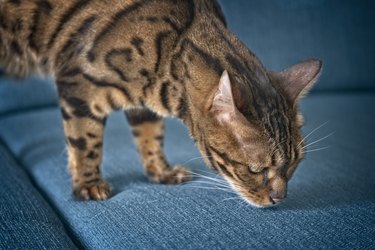 Scent games as enrichment for cats
It's important for your cat's physical and mental health to ensure they have opportunities to stay active. Providing your cat with access to catios, or cat trees in the home can be helpful with encouraging your cat to stay active, play safely and explore. You can also purchase or create games and puzzles that require them to use their sense of smell to solve them. Not only is it fun to watch your cat explore new games, but it can also help prevent boredom, which can also decrease destructive or negative behaviors in your home.
Bored cats can easily become depressed or destructive, leading them to become cats who look for things around the house to chew, scratch, or even begin eliminating outside of their litterbox. These behaviors which most owners find very challenging can often be prevented in otherwise healthy cats, by ensuring that they are getting enough mental and physical stimulation in their daily routines.
Encouraging your cat to use their sense of smell is mentally stimulating to them. An easy option for adding scent games into your cat's day is to use cat toys designed to be filled with treats. Treat releasing balls and cat puzzles are easy to purchase online or at local pet supply stores. They can be filled with dry kibble, catnip, or cat treats for your cat to search for them. Most require your cat to stick their paws inside to "fish" the treats out or, push parts of the puzzle to access the treats. Cats will use their sense of smell to locate the treats and they will often expend a lot of mental energy, strategizing how to get the treats out from the different compartments. When you have a cat or kitten eager to play, these toys can be a great way to entertain them. If you sometimes don't have time to play, you can pull a puzzle out and give it to your cat.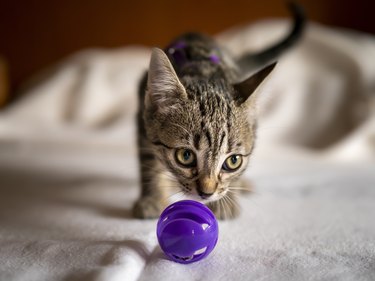 One of the easiest ways to create scent games for cats is to use things you already have around the house. Boxes work especially well for creating a "sniffari" in your living room. All you need are some empty boxes and cat treats. You can use boxes of any size — empty cereal boxes, shoe boxes, or small shipping boxes, all work well for this activity. Spread the boxes out around your room and drop some catnip, kitty treats, or cat kibble into the boxes. Once you've put the treats or kibble into the boxes, bring your cat over to the search area and encourage your cat to explore the boxes. Very quickly, your cat will realize that there are treats in the boxes and they will start exploring and "hunting" for them.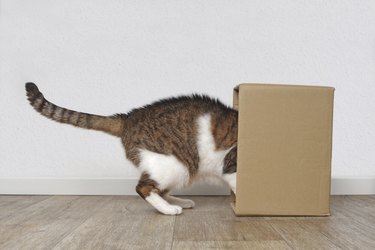 For this interactive scent game, you'll need a mini cupcake tin, ping pong balls. You will also need cat treats, catnip, or bits of your cat's kibble. To play this game, you'll want to drop some of the treats into the mini cupcake tin cups. You can then put ping pong balls on top, and into all the cupcake openings. Then, present the mini cupcake tray to your cat. Your cat will use their sense of smell to figure out which cupcake cups have treats in them, and then can bat at the ping pong balls to reveal the treats!
Most cats of all ages enjoy opportunities to play, think, and explore. These scent activities provide an easy way to add stimulation and play into your cat's regular routine and help prevent boredom. Cats are naturally inquisitive, and most will begin to understand and enjoy scent games whether purchased, or DIY created at home with supplies you have around the house.