Cats have excellent personal hygiene—some spend up to half the day grooming themselves—but they're not exactly known for keeping their litter box areas spick and span. Whether your cat has bad aim when relieving themself, kicks litter with gusto to cover up waste, or suffers from health problems that result in frequent accidents, chances are your floors could benefit from a hard-wearing litter mat.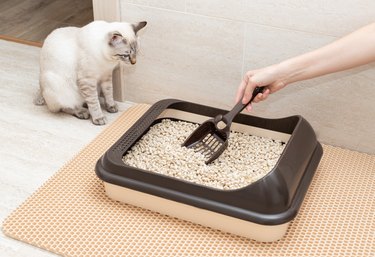 Before you click 'add to cart' on the first result in your online search, identify the biggest pain points for you and your cat. Do you want to prevent litter from scattering throughout the house? Protect your hardwood floors from urine? Provide a soft surface that your cat will actually walk on? These are all important questions to ask yourself.
What to consider before purchasing a cat litter mat
‌Material:‌ Litter mats come in a variety of materials, including silicone, plastic, microfiber, and PVC. If you need a waterproof mat to prevent damage to your floors, silicone is a solid choice. A textured surface can curb tracking and clean your cat's paws of clumpy litter but might be off-putting to a sensitive feline.
‌Cleaning Routine:‌ The mat's material will also determine how easy it is to clean. Some pet parents prefer microfiber mats that can be thrown in the wash, while others prefer plastic mats that can be vacuumed. If you live in an apartment building, you might opt for a mat that can be wiped down with disinfectant and paper towels, but if you own a single-family home with a yard, you might be inclined to hose off the mat outside and hang it up to dry.
‌Size:‌ Don't forget to measure your cat's litter box and the area where you'll be placing the mat. It can be positioned underneath the litter box or in front of the opening. A jumbo-sized mat that provides floor coverage on all four sides of the litter box is a suitable option for a messy cat, but if one oversized mat simply isn't enough, you could buy a few of them and place them side-by-side.
The best overall cat litter mat
This cleverly designed mat has a top layer with extra-large holes for trapping litter and a plastic-coated, water-resistant bottom layer to repel urine. Great for enthusiastic litter kickers, the mat's hexagon-shaped crevices prevent litter from being tracked throughout the house. A corner of the mat peels away, allowing you to easily pour litter back into the box or clean up any accidents. If you've got a particularly messy cat, adding a puppy pee pad between the two layers is recommended. The plastic surface is soft on sensitive paws and the mat can be hosed down outside for easy cleanup. If the 30-by-23-inch version is too small for your needs, the mat also comes in size jumbo, measuring 32-by-30 inches.
The best cat litter mat for protecting floors
If your cat frequently "misses the mark," this silicone mat with a ⅛-inch thick raised edge will help to keep their urine from leaking onto the floor. Although it's intended to be a pet feeding mat, the 100% waterproof, slip-resistant design makes it an excellent choice for cat owners who want to protect their floors. Simply place the mat underneath or beside the litter box to collect stray litter particles and other messes. The mat comes in six sizes and 17 colors, featuring raised dots on the topside to prevent tracking. The abrasive surface makes it a little harder to clean by hand (you have to hose the mat down versus wiping it with a paper towel), but it is dishwasher-safe.
The best cat litter mat for easy cleaning
Made of waterproof, FDA-grade silicone that's resistant to bacteria and urine stains, this durable litter mat can be cleaned using a broom, vacuum, or sponge. The raised edge prevents litter or urine from making its way onto the floor and a side spout allows you to fold the mat to empty its contents. The grooved surface corrals litter but isn't uncomfortable under a cat's paws. This mat is available in two sizes, 27-by-22 inches or 38-by-26 inches. The backside is anti-slip but flexible enough that it won't damage hardwood floors. It's also free of phthalates and doesn't come with a California Prop 65 warning label. The light gray color also blends well with most decor styles and isn't a distraction.
The best cat litter mat for large areas
In need of an extra-large—scratch that, jumbo-sized—litter mat? Measuring 47 inches long, 33 inches wide, and 0.45 inches thick, this heavy-duty mat stays firmly in place thanks to its non-skid and urine-proof backing. It's made of BPA- and phthalate-free PVC that's tough enough for multi-cat households. The mat's curly texture helps to remove any litter that's stuck to your cat's paws, and it can be vacuumed or shaken, although the latter cleaning method takes some elbow grease. While it's not machine-washable, you could hose it off outside or rinse it in the bathtub, just be careful not to clog your drain with clumps of litter. The mat is sizeable enough to use under a large litter box and features Smiling Paws' adorable cat logo in the bottom left corner.
The best cat litter mat for sensitive paws
Even the most discerning cat will have no problem walking on this plush, microfiber mat. At first glance, it looks like an ordinary bath mat, however, the ultra-absorbent strands are actually quite long, which helps to trap all kinds of litter. The backside of the mat is slip-resistant and waterproof—if your cat has an accident, simply throw it in the washing machine on a cold water, gentle cycle. Just be sure to air dry it so there's no shrinkage! To get rid of excess litter, you can use a handheld vacuum or shake it out over the litter box or trash can. The mat comes in two sizes, 31-by-20 inches, and 35-by-25 inches, and three colors, beige, gray, and navy blue. If you require a larger size, you could place two of the mats side-by-side.