Some dogs go through toys like it's their job. No matter how tough the dog toy claims to be, our fierce chewers are capable of ripping those lifetime guarantees to pieces. Besides wasting money on toys that don't last a week (and some not a full hour), the pieces dogs can ingest from crumbling toys can be choking hazards—not to mention that many dog toys are made with materials or coated with substances that should not be consumed.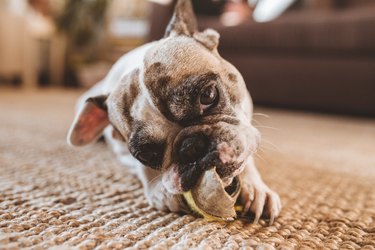 Before we get into our top picks for the most durable dog toys for heavy chewers, here are a few things to keep in mind when making such a purchase:
What to consider when purchasing a durable dog toy
‌Toughness:‌ Many companies will claim a toy is tough—but check for the caveats. Can it withstand prolonged chewing? How long is the toy expected to last? Keep an eye out for brands that rigorously test their products for safety and durability.
‌Type of Toy:‌ Not all dogs like the same thing. Do you need a toy made for fetch, tug-of-war, or simple chewing? Should the toy be suitable for a little bit of everything? Ultimately, this will depend on your dog's preferences and activity level.
‌Safety:‌ Many dog companies make toys with materials that are not meant to be ingested. Does the description say that it is made of nontoxic materials or whether it is FDA-compliant? If your dog is a vigorous chewer, we recommend choosing a toy made of BPA- and phthalate-free materials.
‌Sustainability:‌ Not all companies care to ensure that their dog toys are made with materials and methods that are safe for the environment. Does the description mention whether the toy is biodegradable or recyclable? Does it describe where and how their products are made?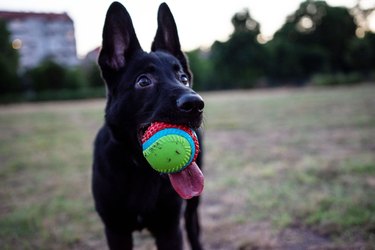 1. Goughnuts Virtually Indestructible Ring
The Goughnuts Virtually Indestructible Ring is shaped like—you guessed it—a donut. Based in L.A., the Goughnuts rubber engineers are also responsible for the rubber used in spacecraft. Unsurprisingly, their dog chew toys are the toughest we found. The Goughnuts Ring is designed for extremely strong chewers: they specifically mention Pit Bulls, German Shepherds, and Labrador Retrievers.
The Goughnuts Ring isn't just made for the big guys, however. It comes in four sizes, ranging from Small (10 – 40 lbs.) to Extra Large (100+ lbs.), and from these sizes, you can choose a variety of colors. The colors indicate the level of toughness of the toy, black being the most durable.
The Goughnuts Ring also has two advanced-toughness levels: the Pro 50 and the Heavy Duty Pro 50. The Pro 50 is made for dogs who can rip apart just about anything, but it still retains a bit of the give of the less tough rings. Finally, the Heavy Duty Pro 50 is constructed of solid-core rubber—and it comes with a lifetime guarantee.
The best feature of the Goughnuts Ring lies beneath the top layer of 100% natural rubber. All except for the toughest Heavy Duty Pro 50 have a built-in "safety indicator": if your dog manages to chew through the outer layer, the red inner layer will indicate that it's time for a new ring. And, sans shipping fees, Goughnuts will provide it free of charge, 100% guaranteed.
2. Flavored Benebone Bacon Flavor Wishbone
The Flavored Benebone Bacon Flavor Wishbone is the durable dog toy most likely to keep a picky dog's attention—or maybe draw it away from the table legs. The Benebone Wishbone comes in Small, Medium, Large, and Giant. The nylon toy is designed to provide an easy ergonomic grip for hardcore gnawing, and it features deep grooves throughout that are infused with real bacon. The bacon, nylon, and even the Wishbone's packaging materials are made in the U.S.
Not only that, but Benebone donates a portion of all sales to animal welfare organizations. The only drawback is that the Wishbone is not actually meant to be eaten. If you notice that your dog has managed to gnaw off more than a few small flakes, it may be time to take the Wishbone away. That said, this product is a great fit for dogs who are either very picky or need to be distracted from the furniture. Although the bacon seems to be the most popular flavor, the Benebone Wishbone comes in other flavors (like peanut butter and rotisserie chicken) to satisfy all canine palates.
3. West Paw Zogoflex Zisc Flying Disc Dog Toy
The West Paw Zogoflex Zisc is a Frisbee that is built to endure extremely rough play. It comes in Small and Large, which is unusual for Frisbees that are normally one-size-fits-all. You can also choose between three vibrant colors so that it's easy to spot in tall grass.
The Zogoflex Zisc is extremely pliable, which makes it easier for dogs (and owners) to pick up than standard stiff plastic Frisbees. It may be pliable, but it's also designed to handle very rough play. We don't recommend allowing your dog to treat it like a regular chew toy, but it can withstand tough grips and pretty rough treatment. And, unlike the fabric Frisbees that many companies make for dogs, the Zogoflex Zisc is made to fly as a Frisbee should. Even inexperienced throwers should have an easy time sending it soaring.
The Zisc is also buoyant, so pups who love to swim will have a blast retrieving it from the water. Finally, it's made of BPA-free, phthalate-free, non-toxic, and FDA-compliant materials in Montana from U.S.-sourced materials. The Zisc is dishwasher-safe, and, should your dog's days soaring after the Zogoflex Zisc ever come to an end, it's made with 100% recyclable materials.
4. Jolly Pets Tug-n-Toss Dog Toy
For lovers of tug-of-war, the Jolly Pets Tug-n-Toss is a fantastic durable option. Jolly Pets even promotes the toy for small equines as well as dogs. The Tug-n-Toss features a handle for owners to get a good grip during fierce rounds of tug-of-war, and its buoyancy and erratic bouncing should keep fetch unpredictable for dogs and owners. It comes in 4.5-inch (0 - 20 lbs.), 6-inch (20 - 60 lbs.), 8-inch (60 - 90 lbs.), and 10-inch (90+ lbs.) sizes, and its bright colors make it easy to locate after a wild throw.
The Tug-n-Toss is made of non-toxic, low-density polyethylene, a material made to be flexible enough for your dog to chomp down while also withstanding pouncing, throwing, chewing, and tugging. But if the ball is punctured, it won't deflate, meaning you can always toss it in the water for your dog to chase. Although the Tug-n-Toss is made primarily for rough games of tug-of-war, its versatility as a toss or water toy means that it can tire out high-energy dogs.
5. Purrfect Play Natural Wool Dog Balls
Did you know that tennis balls are made of treated plastic that's not intended for consumption and can be dangerous for your dog? Purrfectplay's Natural Wool Dog Balls are a great alternative for pet owners whose dogs love tennis balls but who want to be sure their pet is not chewing on anything that could be harmful.
They come in six sizes, from Extra Small to Jumbo, and are made to withstand tough chewing. If the wool begins to look threadbare or fuzzy, toss it in the washing machine for a quick refresh. The Purrfectplay Wool Dog Ball is bouncy, durable, and (much to your delight and your dog's chagrin) doesn't squeak at all. The balls are made of 100% all-natural wool, all of which comes from a small, U.S.-based family farm. The balls are then handmade by a sewing machine in a small Indiana workshop.
Purrfectplay donates 5% of each sale to rescue organizations and is also a member of Green America, the Hoosier Environmental Council, and 1% for the Planet, through which the company donates 1% of its annual profits to initiatives dedicated to environmental preservation.
6. Planet Dog Orbee-Tuff Ball Tough Dog Chew Toy
If you're still unsure which is the best toy for your dog, the Planet Dog Orbee-Tuff Ball is probably the most versatile option. It comes in Small, Medium, and Large and a variety of color patterns (including one that looks like Earth). It's made of a solid piece of U.S.-made, recyclable, non-toxic, food-safe, BPA-free, lead-free, and phthalate-free TPE rubber, meaning that it's eco-friendly, perfectly safe for your dog to chew on, and resistant to tough chewers.
Although durable, the Orbee-Tuff Ball is bouncy and buoyant, making it suited to fetch both on land and in the water. But what really sets it apart from other tough dog toys are the extras. The Orbee-Tuff Ball is infused with natural mint oil so that your dog gets a breath refresh while trying to extract treats from a small compartment in the side of the toy. Not only that, if you order the Orbee-Tuff Ball in glow-in-the-dark orange, you'll be hard-pressed to lose a ball in the dark again. Even the classic Earth design is no coincidence: as a founding member of the Pet Sustainability Coalition (PSC), Planet Dog is dedicated to promoting a pet industry that fosters healthy communities and a healthy planet.