Most dogs are naturally attracted to drinking from moving water instead of a bowl on the floor that gets refilled every day. Dog water fountains are a great way to give your dog access to continually fresh and moving water. If you have a dog who likes to drink from the toilet, or who is always asking for fresh water, a dog water fountain can help your dog stay hydrated by encouraging them to drink more. A water fountain is a great way to provide your dog with fresh water when you are busy with work or away from the home. Not only do dog water fountains provide your dog with constantly moving water to drink from, but they also clean your dog's water before they drink it.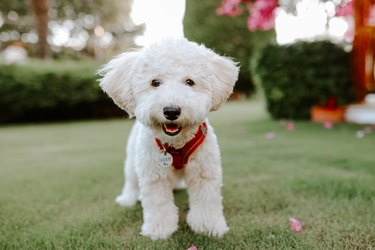 What to consider when purchasing a water fountain for your dog
​Filtration Systems:​ Automatic water fountains are designed to keep your dog's water filtered and always moving and generally have filter systems. With a filter, your dog's water gets repeatedly cycled through the filtration system before being made accessible for your dog to drink. This means the water is constantly being cleaned and dirt, leaves, and bits of food, dog hair, and other debris are removed from the water. Depending on the size of your dog, and how much they drink, dog water fountains can hold up to a couple of days or more of drinking water for your dog. Be sure to read and follow all instructions for how to clean the water fountains' filter and when to replace the disposable filter components to keep your dog's water fresh.
​Materials:​ When picking a water fountain for your dog, you'll want to consider the materials that it's made from. Metal is going to be easier to clean than most plastics or ceramics. Metal may also be more durable if you have a dog who enjoys digging or playing in their water bowl as it will be harder to scratch, and it's generally less likely to hold bacteria. If you select a water fountain made with plastics, look for one that is BPA-free and can be disassembled for cleaning.
​Location:​ When getting a water fountain for your dog, you may need to relocate the area of your home where you keep your dog's bowl. In moving to a water fountain, your dog's bowl will need to be located near a power source so that it can be plugged in. If you have a dog who enjoys splashing or playing in a water dish, the addition of a water fountain to the home can encourage this behavior. It's generally a good idea to keep your dog's water fountain in an area of your home with hard-surface floors that won't easily be damaged by water. You can also put a tray or bathmat under the fountain to hold or soak up any excess water that splashes out while your dog is drinking.
The best outdoor dog water fountain
Trio Gato Step-On Dog Drinking Fountain
If your dog enjoys spending time outside in your backyard during the spring and summer, it's essential they always have access to fresh water. This outdoor water fountain for dogs stands out from the pack by providing fresh water and being an interactive toy and game. Built with heavy gauge steel for strength, this fountain provides unlimited fresh water for your dog by connecting directly to your outdoor hose. It features a leak-proof cooper valve and rubber friction pads that prevent the fountain from moving while in use. To activate the water, dogs can be taught to press the lever and produce a fresh fountain of water.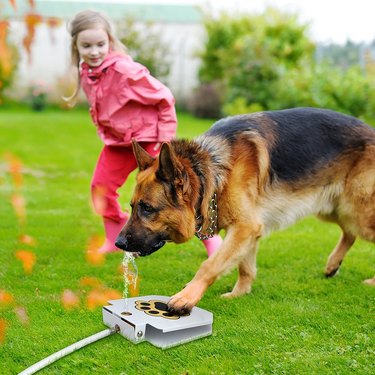 The quietest dog water fountain
iPettie Kamino LED Light Pet Water Fountain
Want a water fountain but not a lot of extra noise? This fountain runs on low power consumption with a super silent pump designed to not disturb you or your dog. With food-grade coconut shell activated carbon, this filter is designed to remove 99% of impurities from the water. The fountain itself is BPA-free, and the LED light makes it an attractive addition to your home decor. Featuring a transparent water level window, it's easy to see when you need to refill your dog's water fountain. The fountain has a 3-liter capacity.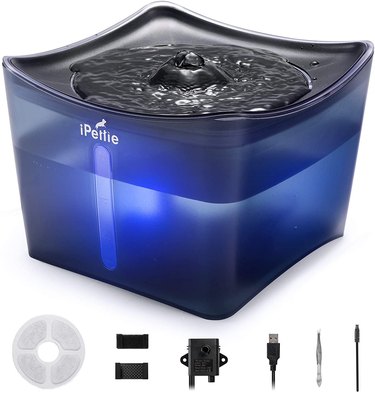 The best water fountain for large dogs
Pioneer Pet® Big Max™ Stainless Steel Pet Fountain
For people with big dogs, or who have multiple pets, this water fountain provides a larger drinking space than many other models. The filtration on this fountain is a charcoal filter that's easy to replace and provides your dog with clean, filtered drinking water all day long. Made with stainless steel, the fountain is durable and scratch-resistant, even for use with big dogs. The stainless-steel design is easy to keep clean and dishwasher safe. The fountain can hold 128 ounces, or 3.78 liters of water, and measures 13.75 inches long, 12 inches wide, and 2.75 inches tall to provide ample drinking space.
The most adjustable dog water fountain
PetSafe® Drinkwell® Pet Fountain
This dog fountain holds a half-gallon of water and has a free-falling waterfall stream to entice your dog to drink. It's designed to be easy to clean without crevices that can be challenging to access and is made of BPA-free plastic that can be fully disassembled for cleaning. This dog water fountain has an adjustable flow control for the water stream depending on your dog's preferences. Options range from the lowest setting, which offers near-silent circulation of the water, to a tranquil stream to provide soothing background noise in your home. The fountain has a foam filter to remove hair and dirt from your dog's water and the constant water circulation is designed to prevent the growth of bacteria.
The best water fountain for small dogs
PETKIT Automatic Pet Water Fountain
Designed for small dogs, this water fountain holds 2 liters of water. The fountain includes an automatic shut-off feature if it ever runs low and hasn't been refilled. A water-level window makes it easy to monitor how much water your dog is drinking, and a LED light notifies you when it's time to add more water to your dog's fountain. The fountain is designed to provide maximum oxygenation to make the water fresher and better-tasting for your dog. The water fountain features an ultra-quiet pump that has low energy consumption and is powered via a USB cable. The pump can be removed from the fountain for washing and includes a high-performance purifying cotton layer and coconut shell activated carbon to give your dog fresh and oxygen-enriched water.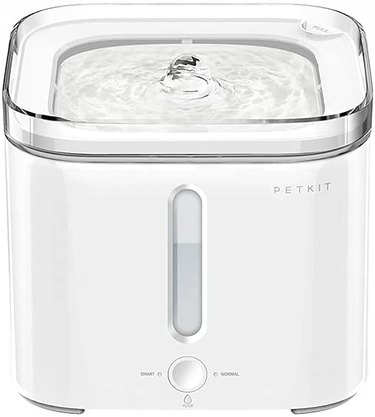 The best large-capacity dog water fountain
ZEUS Fresh & Clear Elevated Dog Water Dispenser
With a 5.9-liter capacity, this water fountain ensures your dog always has access to a lot of fresh water. The fountain features a triple-action filtration system that softens tap water, while also collecting dirt and debris and absorbing any odors in the water. The fountain has a large surface area, making it easy for dogs to drink, and provides continuous moving fresh water. The fountain is made from BPA-free material, is easy to clean, and has a disposable filter that should be replaced monthly. The elevated design can be more comfortable for senior dogs and large dogs to drink from without needing to bend over.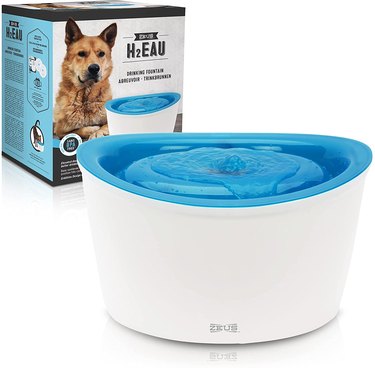 The most stylish dog water fountain
Pioneer Pet Stainless Steel Dog Fountain Raindrop Design
If you're looking for a stylish water fountain for your dog, this bowl is sleek and modern with a waterfall and basin drinking area. The stainless-steel design of this water fountain holds 60 ounces of water. Stainless steel surfaces can help prevent bacteria from building up and the fountain also features a replaceable charcoal filter that removes taste and odor from tap water. The stainless-steel construction of the fountain is easy to clean and dishwasher safe. The moving water will attract your dog to the fountain to drink, and the design blends into most decor styles.