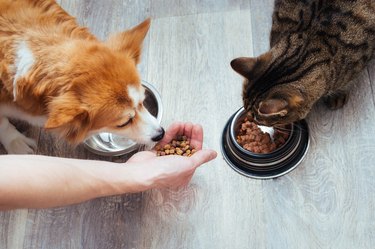 Does it ever feel like your pet's dry food runs out just a little too quickly? If you find yourself buying a new bag at the grocery store every week, it may be time to consider buying in bulk and preserving their kibble in a pet food storage container. Not only can you save money in the long run; but you'll also keep your pet's dry food fresher for a longer period of time. It's a win-win.
The Benefits of Pet Food Storage Containers
While storing dry pet food in storage containers makes the most sense if you buy in bulk (which can save you money over time), there are benefits to pet food storage containers regardless of whether you're trying to cut back on spending or not.
‌They keep dry pet food fresher for longer:‌ When dry pet food is exposed to air, humidity, or higher temperatures for sustained periods of time, it can become rancid and nutrients in the food can break down. High temperatures and humidity can also increase the chances of mold and bacteria developing. Pet food storage containers keep food dry and minimize air exposure, helping preserve the freshness of dry food, whereas many bags of kibble are not resealable and are more easily punctured.
‌They keep out pests:‌ Many pet food containers come with an airtight seal that is fool-proof to most animals. Storing dry food in containers also minimizes the food's odor, which is less likely to attract pests that can contaminate it. Some containers also have a latch so dogs and other pets can't break into them.
‌They offer more portability and storage versatility:‌ Because pet food storage containers minimize odors and the risk of making messes, they're easier to bring with you on trips and broaden your options of where you can store them. If you've got a cramped kitchen, for example, you can stack multiple containers in a closet or a different room without worrying about smells or spills.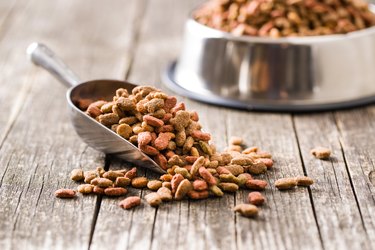 Tip
The FDA (Food and Drug Administration) recommends saving the original bag the food came in or cutting out the sections with important information such as the "best by" or expiration dates, UPC code, lot number, brand, and manufacturer for you to refer to in case of a product defect or recall. Or, keep this information somewhere handy so you know approximately how long the food has before it expires.
Things to consider when shopping for pet food storage containers
When compiling our list of the best pet food storage containers, we took the following factors into account:
‌Size:‌ If you get a container that's too big, the food might expire before you reach the bottom. However, a small container may not fit a whole bag of food or all of its contents. So, consider not only the size of the container but also the size of the bags of food you buy, as well as the size of your dog, which affects how much food they need.
‌Seal:‌ An airtight seal is an absolute must, as that is one of the main things that keeps your pet's food dry and fresh. While the FDA recommends storing the original bag of food inside the container rather than emptying its contents directly into the container, in case it doesn't fit, you'll want as tight of a seal as possible. Look for airtight options like gasket seals or a screw-on top.
‌Materials:‌ Plastic, glass, and stainless steel are the most common materials manufacturers use to make pet food storage containers. All of them work just fine, but if you're choosing a plastic container, look for plastic that's food-grade and BPA-free. You'll also want something that's easy to wash with soap and water.
‌Portability:‌ Some food storage containers have wheels, while others may have easy-carry handles to make them more portable. Portability isn't the most important factor, but it can help some containers stand out and make them easier to use or more convenient for travel.
If you're ready to make the switch to using pet food storage containers, consider these options that will keep dry food fresh, help it last longer, and potentially save you money in the long run.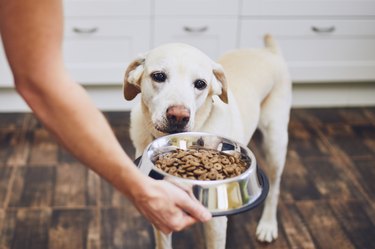 1. IRIS Airtight Food Storage Containers With Scoop
This combo comes with one larger container and one smaller container that stacks on top of the larger container, allowing you to store two different foods in the same space. The larger container can hold up to 25 pounds of dry kibble, while the smaller container holds up to 10 pounds of dry food. For added convenience, the larger container sits on wheels that make it easy to roll across the floor when it's full of food and heavier. Made of durable food-grade and BPA-free plastic, the containers feature airtight hinged lids with snap locks to keep food fresh and minimize accidental spills.
The combo also comes with a large, graduated scoop that lets you measure out 1/2 cup to 2 cups of food at once. However, it only comes with one scoop, so you may want to get another scoop to avoid contaminating different foods if you store more than one type. We recommend the Petmate 2-Cup Food Scoop With Microban (available at Amazon and Chewy) that includes indicator lines to help you measure out portions.
2. Buddeez Roll Away 50-Quart Pet Food Dispenser
This high-capacity food storage container can hold approximately 40 pounds of dry kibble at once (although it bills itself as holding up to 45 pounds). It comes on wheels for convenient mobility and is made from food-grade and BPA-free plastic for durability and safety. The container offers enough room to store the original bag of food inside, while its slim design allows it to fit comfortably in most pantries. It comes with a 1-cup serving scoop that attaches to the underside of the gasket-sealed lid for extra convenience. This is one of the largest storage containers on the list, even if its actual capacity is slightly under what's advertised.
3. Van Ness 25-Pound Food Container With Fresh-Tite Seal and Wheels
For those looking for a more budget-friendly container, this container from Van Ness is a great choice. It holds up to 25 pounds of kibble and comes on wheels so it's easy to move around. It's made from FDA-approved plastic and comes with a lid that opens at the front with an easy catch mechanism that allows you to pour out food. The lid seals airtight and audibly snaps shut to let you know it's been closed correctly, keeping it safe from pets and young children. It's not the most stylish container on the list, given its simple design, but it's inexpensive, effective, and holds a considerable amount of food.
4. Gamma2 Vittles Vault Stackable Airtight Pet Food Storage Container
The most uniquely-shaped storage container on this list, the Gamma2 Vittles Vault holds up to 40 pounds or 60 pounds of dry food in one container, depending on which size you get. The airtight, screw-on lid and opening are angled to make scooping out food more ergonomic, and you can stack multiple containers on top of each other. It's made from incredibly durable, FDA-approved, and BPA-free plastic that is so effective at minimizing humidity and keeping pests out that you can even store it outdoors. It also comes with a free measuring cup for precise feeding.
One thing to keep in mind: when the containers are full, they are ‌heavy.‌ While each container features built-in handles to make carrying them a little easier, if you fill them to capacity, you're more likely going to want to bring your pet's bowl to the container for scooping, rather than the other way around.
5. TIOVERY Pet Food Storage Container
If you've got a smaller dog or cat who doesn't consume as much food, this smaller food storage container is a more portable and travel-friendly option. While it's not as high-capacity as the other containers on this list, it still holds up to 3.5 pounds of dry food, enough to provide your small dog with approximately a week's worth of food if you're traveling, and it's small enough to fit in larger suitcases. It's made from food-grade, BPA-free plastics for safety, while its airtight lid features four seal buckles to maximize freshness. The container is ergonomically designed to fit comfortably in your hands and includes a pouring spout to make food serving easy. Along with the container, you get a 180-milliliter measuring cup and a small, collapsible bowl for holding food or water.