Whenever you're on the go with your dog, whether you're driving cross-country or taking a day trip to go hiking, it's not always practical to bring your dog's usual food and water bowls from home with you. That's when a pet travel bowl will come in handy. Many travel bowls are collapsible or otherwise designed to be portable to make traveling with them a cinch. You can rest assured that you can provide your dog with proper nourishment and hydration when you're away from home without having to carry bulky dishes with you.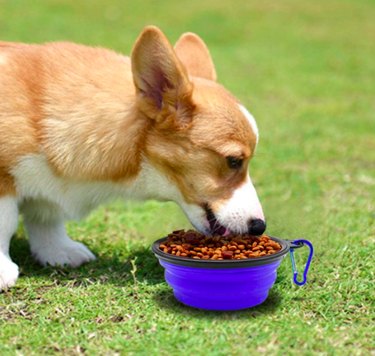 What to consider when shopping for a travel bowl
When compiling our list of the best dog travel bowls (which also work for cats), we took the following factors into account:
‌Size/Capacity:‌ A travel bowl likely won't be as large as the bowls you use at home, so the key is to find a size that holds enough food and water for your dog in one sitting while remaining small enough to be easy to pack. Also, keep in mind the size of your dog—12 ounces may be enough for a small dog, for example, but a larger dog may need a bowl that holds up to 40 ounces of food or water.
‌Materials:‌ The most common materials you'll find are plastic, silicone, fabric, and stainless steel, which can all be suitable options—but if you're tight on space, look for a material that collapses down. Whichever material you choose, make sure it's made from food-grade materials, free of lead and BPA (bisphenol A, a common chemical used to treat plastics), and resistant to mold.
‌Portability:‌ The point of a travel bowl is to be easier to travel with, so look for bowls that are easy to pack or otherwise carry with you. Some bowls, for example, come with a carabiner so you can attach them to your backpack, bag, or belt loops for quick access—especially useful if you and your dog are hiking or spending lots of time outdoors. However, if you'll mostly be staying in one place, portability may not matter as much.
‌Easiness to Clean:‌ No matter what your travel accommodations are, it's always a plus if your dog's bowl is dishwasher-friendly. If you choose a bowl that isn't, make sure it's made from a material that's easy to wash by hand.
‌Resistance to Skidding/Spilling:‌ Some dog travel bowls are designed with skid-proof bottoms or have features that reduce the chance of spills and excessive splashing when your dog takes a drink. This minimizes messes, as well as wasted food and water.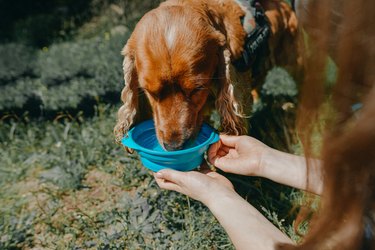 If you've got upcoming travel plans that include your dog, consider these handy travel bowls that will make meal time for your dog more convenient while you're on the go.
The best overall dog travel bowl
Made from durable silicone, these super portable dog bowls measure 7 inches in diameter and collapse down to just 3/4 of an inch thick to make packing easy. The smaller bowl can hold 16 ounces (2 cups) of food or water when partially collapsed or 40 ounces (5 cups) when fully expanded, while the larger bowl can hold 32 ounces (4 cups) and 55 ounces (7 cups), respectively, making them suitable for medium-sized and large dog breeds, as well as dogs with wide snouts.
Each bowl comes with a carabiner that you can use to clip the collapsed bowl onto a backpack—as well as a silicone water bottle holder that attaches to the carabiner—allowing you to carry both the bowl and water bottle hands-free while freeing up space in your backpack. The bowls are dishwasher-safe to make cleaning a snap.
The best dog travel bowl for the car
If you like bringing your dog on road trips, this travel bowl's unique wedge design enables it to sit flat on the car seat so it doesn't spill, while its tapered lip reduces water splashing. Made from food-grade silicone, the bowl holds up to 24 ounces of water or dry dog food and measures just under 7 1/3 inches in diameter and 2 3/4 inches tall. It's also dishwasher-safe. While it may work better as a water bowl because its tapered lip can make it more difficult for your dog to reach the last few bites of food, you can still use it as a food bowl. If you've always wanted to let your dog eat or drink in the car but were worried about the potential mess, this bowl solves that problem.
The best dog travel bowl with mat
With this pair of collapsible dog bowls, you can feed two pets at once or put your pet's food and water side by side. Made from food-grade silicone that's BPA- and lead-free, each pair is available in two sizes and adjustable to three different heights. The small bowls hold up to 15 ounces (1.9 cups) of food or water at full height, 10 ounces (1.3 cups) at half height, and 2 ounces (0.3 cups) at compact height. The large bowls hold up to 35 ounces (4 1/2 cups) at full height, 24.6 ounces (3 1/2 cups) at half height, and 8 ounces (1 cup) at compact height. The bowls come with a 19-inch silicone mat that uses suction to keep the bowls from slipping or spilling. As a bonus, you get a 7-inch dog frisbee and carabiner so you can secure the bowls to a backpack or belt loop.
The best dog travel bowl for seniors
If you've got an aging dog who suffers from arthritis, mobility issues, or joint disorders, this set of two elevated pet travel bowls and platform feeder can make eating and drinking more comfortable for them reducing strain on their neck. The platform feeder measures 16 1/4 inches long and elevates the bowls 8 1/2 inches off the floor—but you can also remove the bowls and use them on their own. Each bowl holds up to 20 ounces (2 1/2 cups) of food or water, while the bowls and platform collapse down to just 1/5 of an inch tall. They're made from silicone and are dishwasher-safe.
While further research is necessary on the effects of elevated feeding bowls on large dog breeds, it's worth noting that the lone study from over 20 years ago found a correlation between eating from elevated bowls (among other factors) and increased risk of gastric dilatation-volvulus (GDV, also known as bloat) in large and giant dog breeds. Your veterinarian may be able to determine if an elevated food bowl is appropriate for your dog, and such bowls may prove more beneficial to senior dogs with arthritis or joint problems and smaller breeds.
The best space-saving dog travel bowl
This dog travel bowl from Outward Hound can collapse down compact enough to fit in your pocket or the pocket of your dog's carrier, making it extremely portable. It can hold up to 48 ounces (6 cups) of food or water when expanded to its full size of 7 inches in diameter and 6 1/2 inches tall. Its durable yet pliable nylon material is quick-drying and wipes clean with soap and water. However, the bowl is designed for short food and water breaks, so leaving water in the bowl for extended periods of time may result in leaks. For anyone who wants to pack light when hiking or going on outdoor excursions with their dog, this bowl is the ultimate space-saver.
The best closable dog travel bowl
Similar to the Outward Hound Port-a-Bowl, this dog travel bowl from RUFFWEAR is made from waterproof nylon and recycled polyester that allow it to collapse down nice and flat. But, there's one key difference—it also comes with an integrated drawstring closure that cinches tight so you can carry food in the bowl while you're hiking or on the go, potentially saving you from having to pack food separately. The medium size holds up to 1 liter (about 4 1/4 cups) of food or water, while the large size holds up to 2.5 liters (about 10 1/2 cups), making them ideal for larger dogs who need to eat and drink more. The waterproof nylon lining inside the bowl is easy to clean by hand and also machine-washable. Its flat bottom also makes it more difficult to tip over.
The best dog travel bowl multipack
This combination pack comes with two collapsible dog bowls that each come with a carabiner so you can secure them to a belt loop, bag, backpack, or even leash. Made from high-quality, non-toxic, and odorless silicone, the small bowls hold up to 12 ounces (1 1/2 cups) of food or water and measure 5 inches in diameter at their widest and 2.1 inches tall, while the large bowls hold up to 34 ounces (4 1/5 cups) and measure 6.8 inches at their widest and 2.9 inches tall. The bowls are dishwasher-safe and easily wipe or rinse clean when you're on the go. The small bowls are ideal for puppies and small breeds, while the large bowls are suitable for medium-sized and large breeds.