Work, school, and life in general can get in the way of feeding your dog at least two consistent meals a day, which is the amount recommended by veterinarians. If you aren't home to feed your dog, your dog isn't going to get fed, which can lead to both behavioral and digestion issues—not to mention a very hungry dog. Something else that can get in the way of feeding your dog? Sleeping in. When you sleep later than your dog, they either have to wait for you to wake up or they'll take matters into their own paws and wake you up so they can get fed—which is the most adorable alarm clock, but you probably don't feel that in the moment. An automatic dog feeder can solve all of these problems.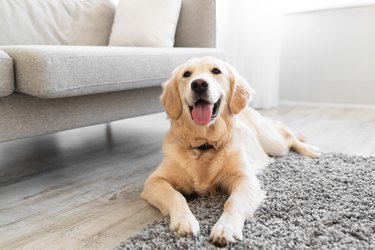 What to consider when purchasing an automatic dog feeder
​Feeder Type:​ There are four main types of automatic feeders: gravity feeders, the simplest kind that work through the process of gravity; programmable models that dispense a certain amount of food on a timer so your dog doesn't eat an entire day's worth all at once; programmable plate feeders, which rotate to a precise position and make a sound at a set time to get the dog's attention; and smart models that can be controlled from an app on your smartphone.
​Material:​ If you go with a plastic feeder, finding one that's BPA-free is a safe option, but depending on the features you're looking for, that isn't always possible. The other option is a stainless steel bowl, which is durable, non-porous, and never made with BPA.
​Cleaning Routine:​ Pet bowls are one of the top five germ-filled places in a home, according to the National Sanitation Foundation (NSF). It's important to be able to clean the hopper (food container) and bowl with ease so you'll actually get around to doing it.
​Price:​ Automatic dog feeders range in price depending on how much technology is involved. Gravity feeders are generally less expensive at around $25, programmable plate feeders are typically in the $60 range, while smart models can reach upwards of $100 or $200.
Now you just need to decide which type of feeder works best for your lifestyle and your dog (of course, they work for cats too). Take a look at our picks for the best automatic dog feeders you can buy right now.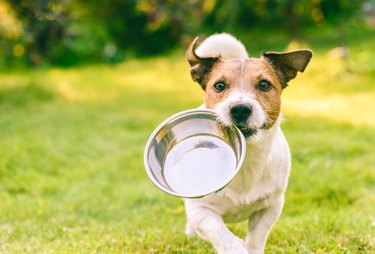 Amazon Basics Gravity Pet Food Feeder
If you don't need all the bells and whistles of a fancy automatic dog food dispenser, this reasonably priced gravity feeder is a great option. It's best for dogs who don't overeat when given the opportunity, as food will continuously dispense (thanks to gravity) as it is eaten. The only size option is small, but it's suitable for small, medium, and large dogs—extra-large breeds like Great Danes are the exception.
Capacity: 6 lbs. dry food
Dimensions: 12.6" x 6.89" x 12.1"
Materials: Polypropylene, polyethylene (PET), and rubber
Sturdiness: Moderate with non-skid rubber feet
Ease of Care: Hand wash, side cut-out handles for easy lifting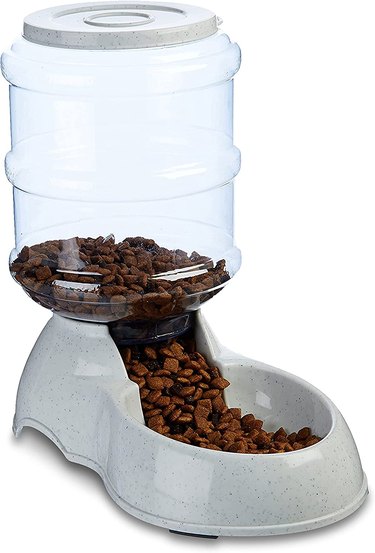 SPORT PET Gravity Food and Water Bowl
This small, 2-liter gravity food dispenser will buy you more time out of the house, but if you're concerned about your dog running out of water, a gravity water bowl is also the way to go. This kit has both. The containers are made of clear plastic, so with a quick glance, you'll know when it's time to refill. If you need a larger option, the company also sells a large capacity feeder that holds 4 liters. To fill, simply remove the lid and pour. You don't need to worry about the water bowl overflowing, as the dispenser has a spring mouth for slow automatic flow.
Capacity: 2 liters dry food, 2.4 liters of water
Dimensions: 6.5" x 5.88" x 5.38"
Material: Plastic
Sturdiness: Moderate, best for calm eaters
Ease of Care: Easy to take apart for hand washing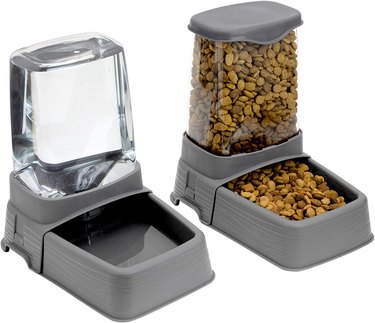 Programmable Plate Feeders:
PetSafe Eatwell 5-Meal Feeder
This BPA-free automatic dog feeder is easy to use, safe for dogs, and makes dog parent life a whole lot easier. It allows you to fill up to five one-portion food sections and set an electronic timer for when you'd like your dog fed. Of course, it's an ideal way to feed your dog when you aren't home, but it also helps with portion control and establishing healthy eating routines. Four D batteries are required but not included, and they typically last up to a full year.
Capacity: 5 cups dry food
Dimensions: 4.25" x 12.5" x 17.375"
Material: BPA-free plastic
Sturdiness: Very sturdy
Ease of Care: Dishwasher-safe food tray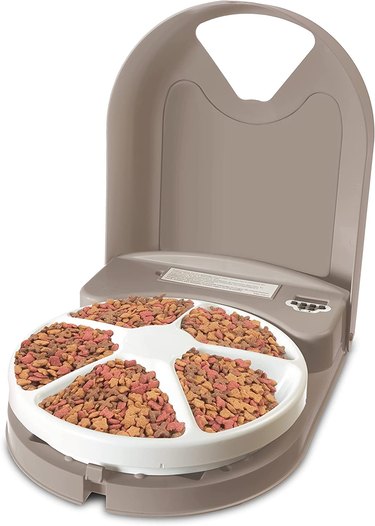 WESTLINK 6L Pet Feeder with Timer and Voice Recorder
Whatever you say to your dog when it's meal time, you can say it when you aren't even home. This programmable dog feeder allows you to record a message that'll play when food is released. Choose the portion size and the times you want meals dispensed. The feeder weighs 6 pounds, so you don't have to worry about your enthusiastic dog knocking it over or moving it all around the room while eating. It features a built-in infrared sensor that stops more food from dispensing when there's still food in the bowl. The system can fit most dry food, the food pieces just can't exceed 0.39 inches by 0.39 inches. It requires three D batteries that aren't included or USB power.
Capacity: 6 liters dry food
Dimensions: 8" x 8" x 14"
Material: Plastic
Sturdiness: Very sturdy
Ease of Care: Dishwasher-safe food tray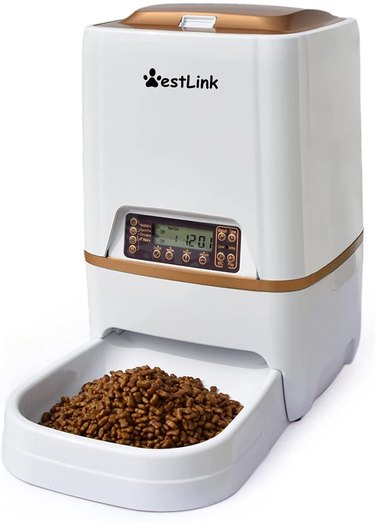 WOPET Smart Dog Food Dispenser
Who knew feeding your dog could be done with the literal touch of a button? This WiFi-enabled smart feeder allows you to dispense food for your dog via its app. You can program up to 15 scheduled meals. The feeder features distribution alarms and a voice recorder so you can record a custom message to let your dog know when it's time to eat. As far as charging goes, a power adapter is included, or you can use three D batteries (not included). The company recommends using both power options just in case of a power outage or a dead battery. When you're ready to connect to Wi-Fi, keep in mind that your home Wi-Fi network needs to be at a 2.4 GHz frequency in order for the pet feeder to work.
Capacity: 6 liters dry food
Dimensions: 7.6" x 14" x 14.2"
Material: Plastic
Sturdiness: Very sturdy
Ease of Care: Hand wash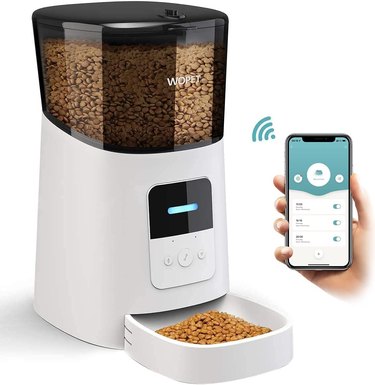 PetSafe Automatic Smart Dog Feeder
OK, yes, this WiFi-enabled dog feeder is the most expensive automatic on the list, but hear us out. It earns its place by offering some really cool features, including the option to feed your dog from your smartphone using the connected app; the ability to schedule up to 12 portion-controlled meals; a slow feed option that can dispense food slowly over a 15-minute period to prevent an upset belly; and a dishwasher safe, BPA-free, stainless steel, and plastic bowl. Just like the smart feeder option above, you'll need to connect this one to your home's 2.4 GHz router.
Capacity: 5.6 liters dry food
Dimensions: 20.3" x 9.4" x 12.6"
Material: Stainless steel and plastic
Sturdiness: Very sturdy
Ease of care: Dishwasher-safe