In the animal world, there are many different types of messy eaters. From splashers to bowl-flippers to those who would prefer to take their kibble to the other room, thank you very much, the need to protect floors from spills and stains is all too common among pet parents. Fortunately, there's an easy solution to your pet's unsavory mealtime etiquette: a feeding mat.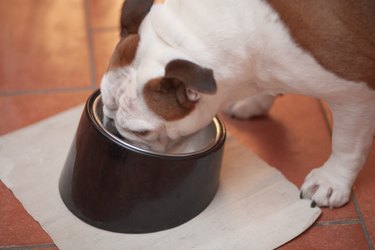 These pet placemats can prevent bowls from sliding around, absorb water from sloppy drinkers, and keep food from scattering throughout the house. If you're looking to maintain your floors and your sanity, investing in a pet feeding mat can make all the difference. Before we dive into the best options for your dog or cat, here are some things to keep in mind when purchasing a pet feeding mat.
What to consider when purchasing a pet feeding mat
​Material:​ Some of the most common materials used to make pet feeding mats are silicone, microfiber, and polyester. If you're in need of a waterproof option, silicone is your best bet. If you'd like to be able to throw the mat in the washing machine, opt for a microfiber mat. Since the mat will be in close contact with your pet's food, we recommend choosing a material that's non-toxic.
​Cleaning Routine:​ Think about how you would prefer to clean the mat—rinsing it off in the sink? Popping it in the dishwasher? Cycling it through the washing machine? This will help you narrow down which material is right for you and your pet. If you've got a messy eater, chances are the mat will need to be cleaned at least once a week.
​Size:​ Feeder mats come in a variety of shapes and sizes, so it's important to select one that can accommodate your pet's bowls. If you have multiple pets or a drinking fountain that takes up a lot of floor space, an extra-large mat might be the best fit for your needs. If you own a small dog or cat with appropriately sized bowls, an 8-by-16-inch mat could suffice.
​Durability:​ Some pets are determined to make any inanimate object their plaything. If that sounds like your cat or dog, look for a feeding mat that can stand up to wear and tear. Choose a sturdy material like heavy-duty silicone, rubber, or BPA-free plastic for a pet that's prone to chewing or clawing up their belongings. Some mats even come with a limited-time warranty for peace of mind.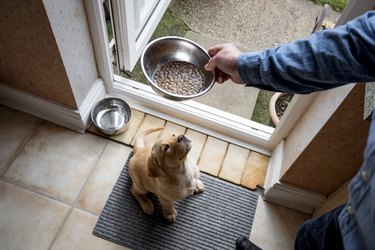 The best overall pet feeding mat
Gorilla Grip Waterproof Slip Resistant Silicone Pet Feeding Mat
This 100% waterproof mat features a ⅛-inch raised edge to contain spills. It's made of BPA-free, food-grade silicone that's dishwasher safe and boasts a textured surface to prevent bowls from slipping and sliding. While the backing is smooth and flat, the silicone material ensures that the mat stays firmly in place. It's available in four sizes, ranging from 15-by-23 inches to 32-by-24 inches, and 17 vibrant colors. If your pet is destructive, this might not be the best choice as the flexible silicone can be punctured if it's repeatedly chewed or scratched on. Thankfully, all Gorilla Grip products come with a "10-year no questions asked warranty."
The best pet feeding mat for small bowls
If you have a small pet or are concerned about trip hazards, a compact feeding mat could be just the right size. This non-slip mat by mDesign measures 8 inches long, 16 inches wide, and ¼-inch thick and fits two small dog bowls or two cat bowls. The raised ribbing keeps bowls in place and prevents spills. Made of BPA-, PVC-, and chlorine-free silicone, the mat is heat safe up to ​​570° Fahrenheit. It's also easy to clean—just place it on the top rack of the dishwasher when it starts to look grimy. It comes in two colors, gray or espresso brown, and touts a plastic hook so the mat can be hung up to dry after rinsing.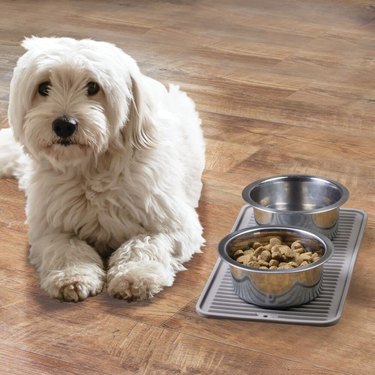 The best pet feeding mat for large bowls
If your philosophy toward containing your pet's mess with a mat is "bigger is better," this 34-by-23-inch version should fit the bill. Constructed from food-grade silicone, which is inherently waterproof and antimicrobial, the mat has a bumpy surface to stop bowls from sliding around. The 1.5-inch raised edge will save your floors from accidental spills and the flat underside has enough grip to stay put. The extra-large size works particularly well with raised food bowls, which tend to take up a lot of space. On Chewy, the mat is sold in gray or beige, but you can also find it in blue on Amazon.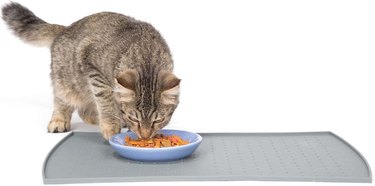 The best personalized pet feeding mat
TheJHStudio Personalized Feeding Mat
For a personal touch, why not order a feeding mat with your pet's name on it? Etsy shop TheJHStudio creates three sizes of customizable mats—10-by-16 inches, 12-by-18 inches, or 14-by-24 inches—and allows you to select the font style, color, pattern, and message. The ⅛-inch-thick mats feature a slip-resistant neoprene rubber backing and a polyester fabric surface. If stains occur, the mat can be spot-treated and thrown in the washing machine or dishwasher. There are 13 other eye-catching patterns beyond the buffalo plaid option shown here, including floral, color-blocking, and marble-inspired designs.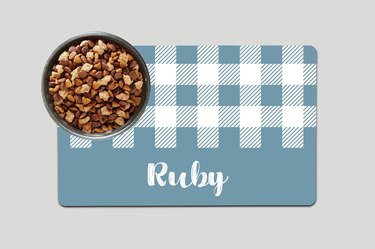 The best water-absorbing pet feeding mat
Sloppy drinkers are no match for this ultra-absorbent Soggy Doggy feeding mat. The chenille microfiber "noodles" trap food, hair, and other debris. The mat can absorb up to seven times its weight and it dries quickly to ward off unpleasant odors. Plus, it's got a non-slip backing to keep it in place. Although it's only available in one size (24 inches long and 18 inches wide), there are five colors to choose from so you're sure to find something that blends with your home decor. Complete with an adorable bone motif, the mat feels soft under your pet's paws and can be "machine washed and dried over and over again" if it gets dirty.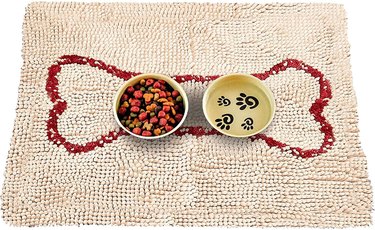 The best design-forward pet feeding mat
Nalalas Bohemian Pet Food Mat
If style is of concern, opt for one of these non-toxic mats made from recyclable materials. There are five unique patterns, including palm leaves, nautical stripes, and a tone-on-tone geometric design, all with a non-slip grip backing. The 100% waterproof mats are made of silicone and measure 16.5-by-28 inches. They're easy to wipe clean with a wet cloth and don't attract pet hair like traditional silicone mats do. The mats are fairly thick with rounded edges but don't have a raised border to contain major spills. That being said, they are certainly more aesthetically pleasing than some of the other "gray rectangles" on the market, as one purchaser put it.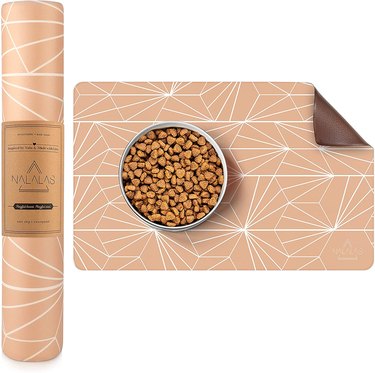 The best budget pet feeding mat
Drymate Paw Print Pet Place Mat
Not everyone wants to drop $30 on a pet placemat, but this under-$10 version boasts many of the same features as the more expensive optios. Made in the U.S., the Drymate feeding mat has a waterproof, non-slip backing and is highly absorbent. It's machine-washable and features a cute pawprint and stripe motif. There are three colors to choose from, brown, gray, or light gray, and two sizes, 12-by-20 inches or 16-by-28 inches. Both sizes are 0.125 inches thick but do not have a raised edge. Despite being a thin mat, it's still good value for money and holds up well over time. If your pet makes the occasional mess with their food and water, this mat will help keep your floors tidy.