Does your dog like to stop and sniff the grass when you are walking? Sniffing is an extremely natural activity for dogs—not only do they explore the world by using their sense of smell, but the act of smelling lowers their stress levels and provides much-needed mental stimulation. Foraging taps into your dog's natural instincts and they find the activity highly enriching.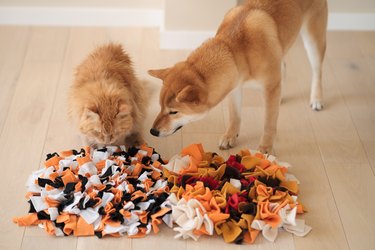 A fun way to give your dog a chance to sniff more without ever leaving home is to provide them with a snuffle mat to play with. Snuffle mats are designed for hiding kibble and treats, which your dog must then search for. Snuffle mats generally have a fabric base with strips of fabric and pockets where goodies can be concealed. They're a great option for providing mental stimulation and enrichment for your dog when the weather is bad and you can't get outside to play.
Before we take a look at the top-rated snuffle mats on the market, here are a few things you should keep in mind when purchasing one for your pup.
What to consider when purchasing a snuffle mat for your dog
‌Material:‌ When selecting a snuffle mat for your dog, you'll want to think about the material it's made with. When it comes to snuffle mats, durability matters. It's best to use dry treats or kibble in a snuffle mat, although the mat can still get dirty over time from drool and treats, so consider how easy it will be to clean. Especially if you have a large or exuberant dog, choosing a sizeable and sturdy snuffle mat can help make the foraging activity more fun and enriching for them.
‌Supervision:‌ Although dogs and puppies can play independently with their snuffle mat, it's important that they are always supervised while using it. Snuffle mats aren't designed to withstand heavy-duty chewing. As your dog is snuffling and foraging in the mat, make sure they aren't gnawing on the strips of fabric.
‌Manage Frustration:‌ Most dogs really enjoy the act of sniffing and searching for treats in their snuffle mat. However, some dogs (especially if they are first getting started with snuffle mats) may not quite understand the activity and get frustrated. To start, just sprinkle kibble or treats right on top of the mat instead of embedding it deep into the snuffle mat. If at any point your dog shows signs of distress, including picking up the snuffle mat or trying to shake or chew it, make the activity a little easier by putting more treats on the surface of the mat for your dog to find. If your dog still seems frustrated, engage them with treats or toys in a different game and come back to the snuffle mat later.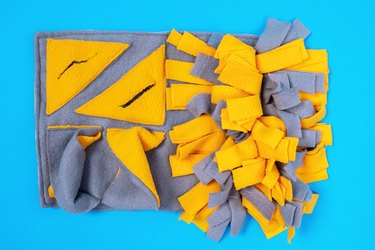 The best snuffle mat for travel
This unique snuffle mat is a soft book that can be folded up and taken anywhere. The book is made from fleece and ripstop fabric, making it tear-resistant as your dog sniffs through it. The eight-page book features different fruit designs with pockets and other spots for hiding your dog's treats. It's perfect for on-the-go sniffing and giving your dog an enriching activity while traveling, waiting for the vet, or in any other situation where you want to keep your dog busy and quiet.
The best puzzle snuffle mat
Built to resemble a game board, this snuffle mat has different puzzle areas to keep dogs engaged and enriched. The snuffle mat is made from durable polar fleece that resists ripping and is soft on your dog's nose. It can also be machine-washed between uses. The mat has an anti-slip backing to prevent it from sliding and shifting while your dog is snuffling. The unique star-shaped pattern of the mat provides five corners of sniffing enrichment, plus a large center area with long strips of fabric.
The best snuffle mat for puppies
Measuring 18 inches long and 29 inches wide, this snuffle mat will keep puppies busy for a long time (until they're ready for a nap, that is). The snuffle mat features different search areas including soft cups, fleece strips, and pockets. The mat has a cute garden design featuring flowers, butterflies, and grass. The snuffle mat also comes with a fleece ball that treats can be hidden inside of.
The most compact snuffle mat
When not in use, this snuffle mat folds up and is held together with four buckles for easy storage and transportation. The snuffle mat has a large flower search area with four layers of petals for dogs to sniff through. The exterior of the snuffle mat has fleece cut to look like grass for more challenging searches. In addition, the snuffle mat includes pockets for hiding treats and kibble around the edges. The snuffle mat is made from non-toxic, odorless, and durable fleece. The fabric flower petals are sewn into the mat with cotton thread to prevent them from ripping.
The best snuffle mat for large breeds
Perfect for large breed dogs, this snuffle mat has two sizeable search areas: a flower with two layers of petals and a squeaker in the center, and a grassy area with a drawstring to make the activity more challenging. There are also three pieces of hidden crinkle paper to make the mat even more enticing. This large snuffle mat is made of a high-quality fabric designed to prevent ripping. It folds in half and can be stored in a storage bag or hung by the handle. The mat measures 34.6 inches long and 19.6 inches wide and can be put into the washing machine between uses.
The most durable snuffle mat
Designed to simulate what it's like for dogs to search for treats in the grass, this snuffle mat is 19 inches long and 19 inches wide—meaning it's suitable for dogs of all sizes. The snuffle mat is made of 2-inch-long chenille strips that you can hide treats and kibble in. The snuffle mat folds up for convenient storage and the drawstring closure allows you to change the size of the snuffle mat so that dogs of different sizes can search comfortably. The snuffle mat is machine-washable and has a non-skid backing to keep it stable while your dog is sniffing.
The best play and sniff mat
Part snuffle mat, part play mat, this product is designed to keep dogs entertained while they play and explore. The interactive mat includes built-in squeaky toys, burrows, and fleece snuffle areas. Intended to channel a dog's natural instinct to hunt and search for food, this snuffle mat will help make snack and mealtime more engaging. The snuffle mat is also machine-washable to keep it fresh and clean between search sessions.