Licking is a pleasurable activity for dogs that releases happy endorphins, helping them to calm down. Lick mats can also distract dogs as they self-reward themselves during situations or activities that are stressful or unpleasant, such as visits to the vet and bath time. Lick mats are made of either hard or soft plastic or silicone and generally have various shaped ridges and crevices that you can smear soft food into for your dog to lick.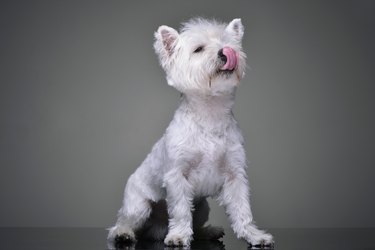 The food or treats you utilize in lick mats will depend on your dog's preferences. Easy options include canned pumpkin, dog-safe peanut butter, spray cheese, and wet dog food—all of which can be spread onto the lick mat. Lick mats are also a great way to provide enrichment for your dog.
Before we get into our recommendations, here's what you need to know about these long-lasting and versatile enrichment tools.
What to consider when purchasing a lick mat
‌Supervision:‌ Anytime you give your dog a lick mat, make sure they're under supervision. You'll want to make sure that they are licking the treats on the mat, but not trying to chew or gnaw on the mat itself. The textured mats are designed for dogs to lick and "work" for their treats but are not built to withstand chewing.
‌Material:‌ Lick mats are made from a variety of materials, most being either plastic, silicone, or a combination of the two. When purchasing a lick mat, it's important to verify that the materials are non-toxic since your dog will be eating off of it. You should also take note of the washing instructions for the lick mat—some silicone and plastic mats are dishwasher safe, while others will need to be hand-washed.
‌Size:‌ When shopping for a lick mat, you'll want to consider not only the size of your dog but also where and how you'll be using the product. For example, if you plan to use the lick mat during bath time, you'll want to get one that has suction cups, allowing it to stick to the side of your bathtub. If you want to bring it to the vet for your dog's next appointment, a small and portable lick mat may be the most convenient option.
The best lick mat for large dogs
Made with BPA-free silicone, this large lick mat features four uniquely textured areas to keep your dog busy or to use as a slow feeder. This lick mat has built-in suction cups to keep it secured to hard floors or the shower wall during grooming. The lick mat is 9 inches long and 5 inches wide, making it a great choice for large dogs who require a greater surface area. The lick mat is dishwasher-safe for easy cleaning and sterilization between uses.
The best lick mat with powerful suction
Made from BPA-free silicone, this set of two lick mats comes with a handy spatula to help you spread treats and food. The lick mats feature different sections that are designed to slow dogs down while they are eating and provide enrichment. The textured surfaces also promote oral hygiene by encouraging your dog to generate more saliva and helping to scrape food residue from their tongue. The back of each lick mat has 72 individual suction cups to keep it secured to smooth surfaces. The mats also have raised edges to contain food and prevent it from spreading onto your floor. The dimensions are 8.2 inches long, 8.2 inches wide, and 0.4 inches high.
The most engaging lick mat
Unlike traditional flat lick mats, this wobble mat is bowl-shaped. The textured bowl promotes licking and creates extra challenges and enrichment for dogs as they work to get food and treats from the dimpled surface. This lick mat is made from recycled natural rubber and measures 6.5 inches long, 6.5 inches wide, and 3.15 inches high. It's microwave- and freezer-safe and can be easily cleaned in the dishwasher.
The best lick mat for easy cleaning
Made with food-grade silicone, these lick mats are BPA-free and feature different patterns of raised grooves. They're designed to reduce anxiety and boredom while promoting good oral hygiene and slowing dogs down while they eat. The lick mats are also freezer-safe if you want to freeze your dog's treat for an extra challenge.
The lick mats are dishwasher-safe but can also be cleaned by soaking them in warm, soapy warm water. Any residue can then be cleaned off with the included scrub brush. These mats have 25 large-sized suction cups on the back and are designed to stick to most smooth surfaces. Each unit measures 7.8 inches square and features a 0.2-inch raised edge to keep treats well contained.
Made of high-quality, non-toxic, FDA-grade TPE (a rubber-like material), this lick mat features suction cups that allow it to be securely attached to any smooth surface including the floor or bathtub. This lick mat has two different textured surfaces to encourage dogs to lick. It also features a raised edge to keep treats and food on the mat and prevent your dog from making a mess. The mat measures 8 inches long, 8 inches wide, and 0.25 inches high, so it's good value for money.
The best novelty lick mat
For a dog who's out of this world, this Grogu/Baby Yoda-themed Star Wars lick mat is a fun way to keep them occupied. The lick mat is made from BPA-free silicone and has both bumpy and smooth textures. After use, it can be washed and sanitized in the top rack of the dishwasher. The non-skid backing keeps it firmly in place while your dog licks. The mat measures 8.8 inches long, 6.3 inches wide, and 0.37 inches high.
The best lick mat for grooming
This 100% silicone lick mat is designed to distract your dog while you give them a bath. It has textured nubs to keep your dog busy and silicone wings that make it easy to place, remove, and replace while in the tub. This lick mat comes in a triangular or square shape, but both options are the same size. The lick mat is microwavable if your dog prefers warm treats and is also freezer-safe, so you can create long-lasting fun. The lick mat can be thrown in the dishwasher, making it easy to keep clean between uses.