Have you ever noticed your dog struggling to reach their water bowl? For some dogs, bending over to access the water bowl can be painful and uncomfortable. If you have a dog who is aging or struggles to reach the bowl, it's a good idea to talk with your vet to find out if an elevated water bowl would be more comfortable for them. Stands hold water bowls up off the ground to enable dogs to have easier access to them. Raised water bowls have the added benefit of deterring dogs from splashing and playing in their water bowls, which can help to keep your house cleaner. Raised water bowls can also prevent insects from getting into your dog's water.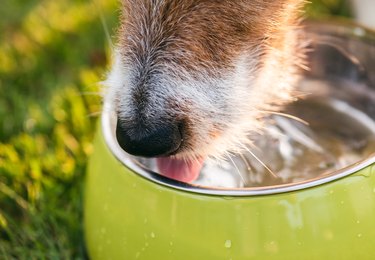 Before we take a look at the top-rated elevated water bowls, here are a few things to keep in mind when deciding if this product is right for your dog.
What to Consider When Purchasing a Raised Water Bowl
​Material:​ When selecting a raised water bowl for your dog, be thoughtful about the material the water bowl is made of. Stainless steel or ceramic bowls will be easier to keep clean and disinfect than plastic. Look for bowls that can be removed from the raised stand as they'll be easier to clean and fill with water. Stainless steel bowls will generally be the most scratch-resistant and will be dishwasher-safe, preventing the build-up of bacteria and germs in the water that could make your dog sick.
​Location:​ Some dogs are tidier drinkers than others. Although raised water bowls can be helpful with preventing dogs and puppies from using them like mini swimming pools, they can still be messy. Some dogs really enjoy splashing and playing in their water bowl and may not be deterred by the height of the raised bowl. If you have a dog who likes to play in water, look for a raised water bowl that is heavy and sturdy to prevent it from easily being knocked over. You should also set it up in a location in your home that will be easy to clean, such as on a hard surface instead of carpet, if your dog does spill their water.
​Health Condition:​ If you are considering getting a raised water bowl for your dog, it's a good idea to have a conversation with your veterinarian. Some dogs, especially older dogs who are less mobile due to arthritis, may find a raised water bowl easier to drink from and more comfortable to use. Some people believe that raised water bowls are safer for large or giant breeds of dogs, especially around concerns of bloat, a condition where a dog's stomach twists and turns on itself. Bloat is a serious condition that needs immediate veterinary attention and can be fatal. However, studies show that elevated ​feeding bowls​ can actually lead to an increased risk of bloat for giant and large breed dogs. Before utilizing a raised food bowl for your dog, contact your veterinarian to discuss if it is an appropriate fit for your dog.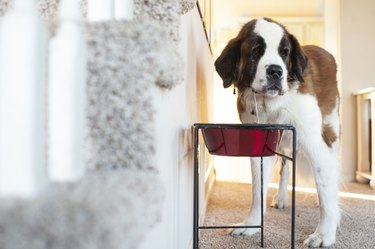 The Most Affordable Elevated Dog Water Bowl
Top Paw Melamine Textured Dog Bowl with Stand
You don't have to spend a lot of money to have great style. This raised water bowl features an aesthetically pleasing diamond design made of grey melamine to match your interior design. Included with the stand is a stainless steel bowl that inserts into the stand but is removable to make it easy to fill with water and to wash. The bowl holds 18.5 oz of water and the raised dish measures 7.5 inches long, 7-1/8 inches wide, and 5 inches high, making it a good raised bowl option for small and medium-sized dogs.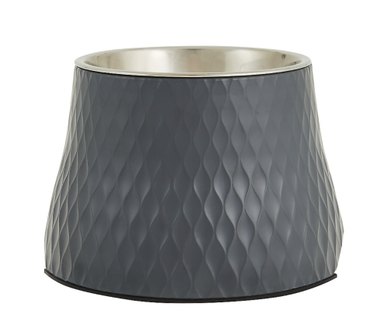 The Most Adjustable Elevated Dog Water Bowl
Pet Zone Designer Diner Adjustable Elevated Dog Bowls, 7-cup
This raised water bowl is designed to be adjustable to three different heights to help dogs of all sizes have easy access to their water bowl and decrease strain on their neck and joints while reaching for the water. The raised water bowls can be adjusted to heights of 2.75 inches, 8 inches, and 12 inches. The removable stainless steel bowls are also dishwasher-safe for easy cleaning. Each bowl holds up to 7 cups. The raised stand has an espresso finish with a modern geometric pattern.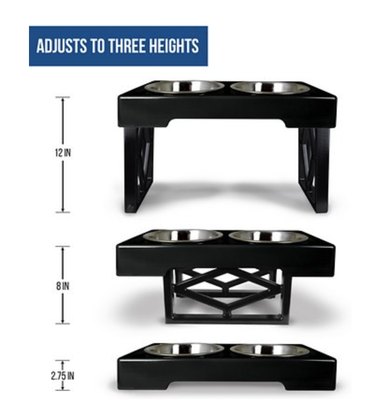 The Sleekest-Designed Elevated Dog Water Bowl
SPOT Elevated Single Dog Bowl
This minimalist, stainless steel raised water bowl will fit any decor style. The open wire stand is 14 inches tall and 10 inches in diameter, allowing it to fit into even small living spaces. The 8-cup water bowl is removable and can be washed in the dishwasher. The water bowl stand has a snap-in assembly process that doesn't require any tools.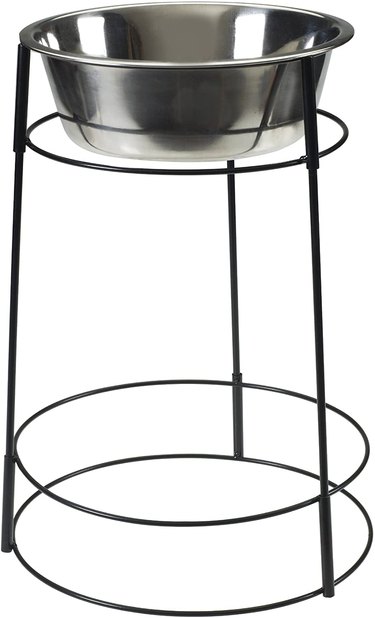 The Most Personalized Elevated Dog Water Bowl
Hongtamoya Elevated Dog Bowls
This water bowl features a unique design that has a display area with a name tag to be filled out, and space to post photos of your dog, or your dog's favorite places or activities. This raised stand features stainless steel bowls that can be removed to be washed and disinfected in the dishwasher. The raised water dish has a bamboo counter surface that can be wiped down to be kept clean and metal construction for the legs. With 12 different adjustment points, this raised water bowl can be personalized to your dog's unique style.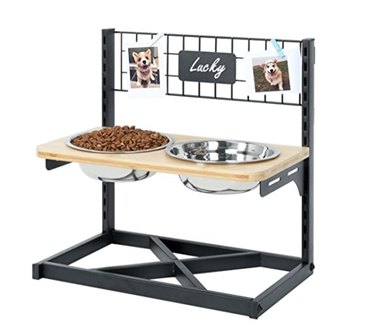 The Best Elevated Dog Water Bowl with Storage
New Age Pet ecoFLEX Piedmont Double Diner Elevated Dog Bowls & Storage
This raised water bowl doubles as a storage container. Made of non-toxic recycled wood and plastic polymer, this raised water bowl can be assembled without tools. The under-bowl container can hold up to 25 pounds of dog food, or other supplies. Each dishwasher-safe, stainless steel bowl holds 32 ounces of water.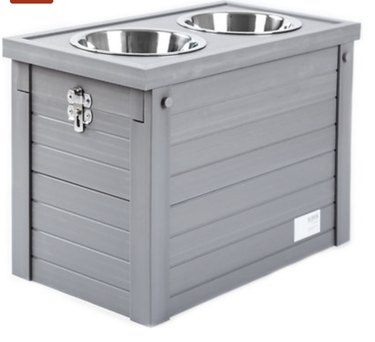 The Best Spill-Proof Elevated Dog Water Bowl
LIDLOCK Raised Dog Water Bowl
Designed for large dogs and multi-dog households, this raised water bowl holds 1.1 gallons of water. The adjustable bowl is designed to slow dogs from drinking too quickly. The bowl has a floating cover that sinks as your dog's tongue touches it, to slow them down while they are drinking. The floating disc cover also prevents water from being splashed onto your floor, while keeping the water clean by warding off dust and dog fur. The raised stand has anti-slip feet to make it stable for dogs to drink. Inside the raised stand are removable, stainless steel bowls that are dishwasher-safe and can be easily detached for cleaning.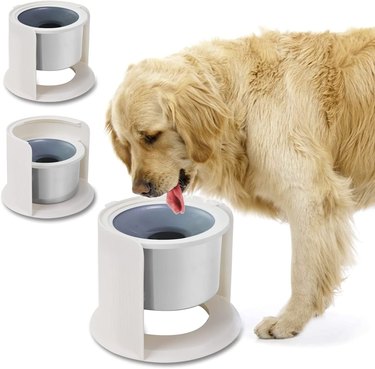 The Most Portable Elevated Dog Water Bowl
IRIS Elevated Dog Bowl with Airtight Food Storage
Need a raised water bowl on the go? This portable raised water bowl is built into an airtight food storage container that you can use to hold your dog's food while you're traveling. This elevated dog water bowl is great for camping and traveling. The stainless steel bowls are removable and dishwasher-safe. The below plastic container is airtight to keep food or treats fresh and prevent pests from gaining access.