Though New Years is exciting, it can also be dangerous and scary for your dog or cat. For instance, there is a 95% increase in car accidents, and if your pet is in the street during this time, there is a risk of them getting run over. If there are loud noises like fireworks or parties going on, then your dog or cat could become frightened and start exhibiting anxious behaviors, like being destructive, shivering, hiding, and going to the bathroom in the wrong spots. That's why it's critical to prepare for the holiday ahead of time. Then, you can ensure that both you and your pet will have a good time.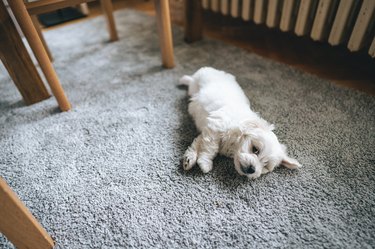 Here are some tips for keeping your dog or cat safe this New Years.
Since more car accidents happen on New Years, it's best to keep your dog or cat indoors. Even if you have a cat that primarily lives outdoors, figure out a way to lock them inside your house or yard for the night. You just don't want to risk them running into the street during this dangerous time. Just in case your pet does get out, make sure he has his ID tags on and he also has a microchip in him so that he'll be returned if he gets lost.
If you're having little kids over and your cat is scared of them, or your dog barks incessantly at strangers, then make sure they don't come into contact with their triggers at some point during the night. Also, if your pet doesn't like other dogs or cats, don't let your friends bring them to your party.
Take your pet to a safe space
If there are fireworks being shot off outside your home or loud music playing, or you have party guests over, then find your pet a quiet room to go into if he's frightened. This should be a room that is far away from the action and includes things they love like their crate, bed, toys, and perhaps even some treats. You could put a white noise machine, radio, or fan outside of the door to make the loud noises less prominent.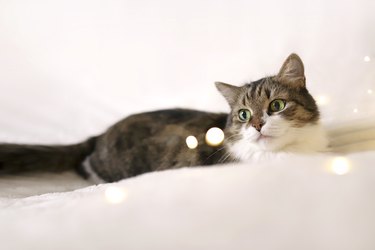 Give your pet some exercise
Before you have a party or the loud noises start up outside, take your dog for a walk and play fetch with him. You can also play chase the laser pointer or some other fun game with your cat. If your pet has gotten their exercise in, there is less of a chance they will be anxious once the New Years festivities begin.
Dogs that are scared could benefit from wearing a calming T-shirt or coat, like the ThunderShirt Anxiety Jacket. This clothing applies some pressure to your dog and makes him feel more protected. You can also try Rescue Remedy for Pets for your dog or your cat. This homeopathic blend can be sprayed on your pet's toys and bedding or added to their water — just follow the directions on the bottle. You can also try Rescue Remedy's Calming Pheromone Diffuser Kit, which you plug into the wall.
Ask your veterinarian for help
Your dog or cat could be anxious in general, and your veterinarian will have good insights on how to help your pet. For instance, perhaps your pet could go on medication to make them feel less stressed. Remember not to give your pet any medication without asking your vet first if it's safe.
When your pet is feeling upset, they may just need some love from you. Cuddle with them to help lower their blood pressure — and yours. Giving them a nice pat on the back and speaking to them in a calming tone could be just the thing that makes them feel better.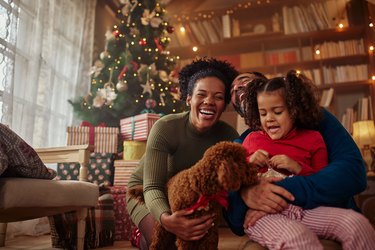 Make sure the holiday is enjoyable for everyone
By keeping your dog or cat safe and calm on New Years, you can ensure that the holiday is going to be much more fun for both you and your pet. And, you can look forward to an amazing year ahead with your pet.