Toys are important for a dog's well-being, and plush toys are cuddly, soft, and can be a welcomed break from slobbery balls and the smell of bully sticks. Plush toys can offer stimulation, help prevent your dog from developing certain problem behaviors, and they can help combat boredom. They also offer companionship and comfort for dogs who spend a lot of time home alone or have nervous energy—think comfort animal for your animal. Soft toys are also important for older dogs, as their teeth and gums can be brittle and sensitive.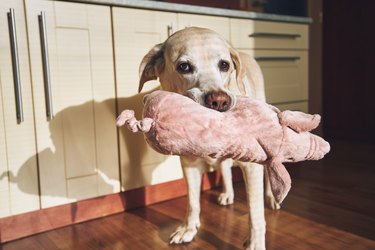 Here's the thing though, not all plush toys are created equal. Some are more durable than others; some are packed with stuffing, which can be toxic to ingest, a choking hazard, and cause blockages; and some don't have any stuffing at all. To help you find the best option for your dog, we rounded up our favorite plush toys for small, medium, and large breeds below.
What to consider when purchasing a plush dog toy
‌Size:‌ As adorable as it is to witness a tiny dog dragging an oversized plush toy or a large dog playing with a tiny plush, it's safer to purchase the appropriate size for your pet. There is, however, some wiggle room. A plush that's too small for your dog's mouth can be a choking hazard and isn't safe, but one that's a bit too big isn't going to hurt them—especially if your dog prefers it for cuddle time. A plush, after all, is...well, plush.
‌Durability:‌ It's important to choose a plush toy that won't fall apart within seconds of it coming in contact with dog teeth, especially if you have a dog that tends to be an aggressive chewer. It's always best to buy durable dog toys because ones that break into pieces can be ingested and aren't safe—not to mention the cost of having to consistently replace them.
‌Material:‌ The most durable materials in plush toys are made with multi-layered fabrics and have strong stitching. Nontoxic materials are always the safest, so if that's what you're going for, these are some of the toxins to avoid: polyvinyl chloride (PVC), phthalates, lead, chromium, formaldehyde, and cadmium. Stuffing can also contain toxic materials, but if your dog plays gently with stuffed toys, that shouldn't be an issue.
Now that you have an idea of what to look for, take a look at our top-rated plush toys for dogs below.
1. Frisco Flat Plush Squeaking Mallard
This flat mallard has not one, not two, not three, but four squeakers to make playtime even more fun (and noisier, sorry in advance). The plush fabric is cuddly with no stuffing o the inside, so you don't need to worry about your dog ingesting it or leaving a stuffing trail. It works well as a chew toy for light chewers and a fetch toy for dogs of all sizes.
2. GoDog Dragon Squeaker Plush
This is the plush to get if you have a dog who is an enthusiastic chewer. The dragon has a chew-resistant lining and reinforced seams, making it durable enough to get tossed around by even the largest dog. Made of super-soft baby fleece, this high-quality dragon plush has a bubble body with minimal stuffing to give it a floppy feel that dogs love. It also comes equipped with a squeaker. The company promises the plush is tougher and will last longer than most plush toys. In fact, if it doesn't outlast the standard plush, they'll send a replacement. The toy comes in sizes small or large and has several fun color and design options.
3. ZippyPaws Burrow Squeaky Hide and Seek Plush Dog Toy, Log and Chipmunks
Dogs love a good game of hide and seek, and they especially love burying their noses in small spaces. This interactive plush offers all of that and more. Hide the small, squeaky plush squirrels inside the plush log to give your dog a challenge to work and get them out. It's designed for medium and large dogs but not for aggressive chewers. To make life a little easier (and cleaner), the toy is machine washable.
4. TrustyPup Penguin, Silent Squeak Dog Toy, Black, Large
If you're tired of listening to squeaky toys all day long, this penguin plush will keep your dog entertained in silence. The toy is equipped with an ultrasonic silent squeaker, which means only dogs can hear it (you can thank us later). It's made with double stitched seams and chew-guard technology that makes it near indestructible, but of course, no dog toy is 100% safe from excited dog mouths‌.‌ Designed for medium dogs, this soft penguin also makes a great cuddle buddy.
5. SHARLOVY No Stuffing Dog Squeaky Toys, 5-Count
You don't have to worry about stuffing with this five-pack of plush dog toys. They might be flat, but they have squeakers and crinkles, so there's lots of fun to be had. Plus, you can't go wrong with five of them—one for every room of the house, or one to replace another when it gets lost or ruined. They're made of high-quality materials and their eyes are embroidered (no marbles here) so they're fully safe for chewing. As an added bonus, the toys are machine-washable for easy cleaning.
6. Multipet Banana Dog Toy
Is it a dog? Is it a banana? Why, it's both! This toy has a dog-shaped head made of soft plush and a banana-shaped body made of stuffed, durable latex. So, it's pretty much the perfect toy for dogs who love playing with both plush and latex toys. The shape of it makes it easy to play fetch with or for your dog to play with solo.
7. Sundrawy Puppy Toys, 9-Count
All puppies need teether toys, and this kit offers a fun variety. In it, you'll find three squeaky plush toys, four 100% cotton rope toys, and two balls for games of fetch. The toys make for great first toy gifts for puppies, but can also be given to small- and medium-sized dogs. They're surprisingly durable and offer a lot of value for the price.
8. Outward Hound Hedgehogz Plush Dog Toy
This adorable plush hedgehog is a lot softer than a real hedgehog. Made of faux fur, it makes an excellent cuddle buddy and playmate. An internal squeaker and grunter provide lots of entertainment for dogs (probably less entertainment for you, but this is about your dog). It was made with reduced seam exposure for added durability. The hedgehog is available in small, medium, large, and extra-large—something for all dog breeds.
9. Americana Sneaker Canvas Toy
If your dog is always stealing your shoes, gift them this cotton canvas plush toy shaped like a sneaker. It's lined with berber fleece and has a rope attached to it for playing tug-of-war with your dog. The Americana-inspired toy measures 12 inches long, 4 inches wide, and 2 inches high.
10. Spanomic Snail Snuffle Toy
Looking to add some enrichment to your dog's routine? Try this plush squeaky toy with pockets for hiding kibble or treats. Once you've filled the snuffle toy with treats, you can roll it up into its snail shape to challenge your pup. The toy is covered in a plush material and features a bottom layer of nylon fabric for durability. There are two built-in squeakers to engage your dog even when the stuffed snail is not full of goodies.