Carrying your small dog in a tote bag doesn't just make for a cute photo op (although it definitely does make for a cute photo op). Many cities throughout the U.S. require dogs to be "enclosed in a container" to ride on subways, buses, Amtrak trains, taxis, and airplanes. A container doesn't have to be ugly, though. It can be a super trendy tote bag that fits other important things besides your adorable dog.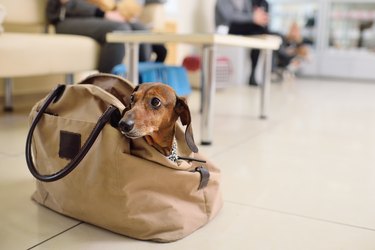 Of course, you don't have to be traveling or commuting to rock a dog carrier tote bag. They're great for shopping, running errands, or taking your dog to the dreaded groomer (carrying them is better than literally dragging them someplace they don't want to go). Carrier bags even work well for dogs who have an injury or senior dogs who can't do much walking. Whatever your reason for purchasing a dog tote bag, you have some really fun options.
What to Consider When Purchasing a Tote Bag for Your Dog
​Weight Restrictions:​ Most tote bags for dogs can hold anywhere from 12 to 30 pounds, depending on the size of the bag. Some are a one-size-fits-all deal while others come in two or more size options. They're mostly designed for small or medium dogs, which makes sense—it might be pretty challenging trying to carry a full-size golden retriever around on your shoulder. If you plan on toting other things like your wallet, phone, water bottle, dog treats, poop bags, etc., that's something to factor into the weight as well.
​Color:​ Your dog absolutely doesn't care about the color you choose, but since most dog totes are functional as a purse as well, you might want to choose a color/design that suits your personality. Some bags only come in one color while others come in an array of options.
​Comfort:​ Comfort is key when it comes to a dog tote bag. The bag needs to be cozy enough for your dog to want to hang out for a while, and it also needs to be comfortable enough for you to carry around. Keep in mind, the tote is going to be heavier than your purse for obvious reasons, but if you have a back injury or prefer a little more handle support, you might want to check out bags with over-the-shoulder straps.
​​Material and Care:​ You can find tote bags for dogs that are made of leather, faux leather, polyester, canvas, nylon, etc. If you aren't sure if your dog will have an accident while inside the bag, it's probably best to buy one that's water-resistant. Most bags are capable of being spot cleaned or hand washed.
Alright, enough talk. Let's get right into the best tote bags for dogs.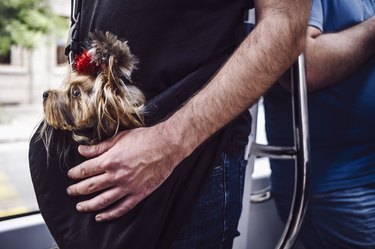 1. Roverlund Out-and-About Pet Tote
There's a cool factor about this bag that's hard to pinpoint to one feature. Perhaps it's the ruggedness of the rope straps or the attached carabiner for your keys or poop bags, maybe it's the camo design, or maybe it's just knowing that you're going to have a safe and convenient way to tote your trusty sidekick around with you wherever you go. Whatever it is, we're into it.
The water-resistant bag comes in sizes small and large and is made of "tough-as-nails" marine and mountaineering grade fabrics with a padded, slip-resistant shoulder strap with velcro fastening. It has a built-in interior leash that attaches to your dog's collar to keep them secure. The bag also features reflective detailing for nighttime walks. As for your dog's comfort, it has cozy interior bedding that's removable and washable, an ergonomic neck scoop so your dog can hang their head out and see the sights, and versatile positioning so your dog can comfortably lay down or stand up.
Weight Limit: 15 lbs. (small), 30 lbs. (large)
Dimensions: 15" x 8" x 10" (small), 17" x 8.75" x 13" (large)
Materials: Water-resistant 1200D polyester, mountain climbing rope
Color Options: Black/magenta, black/yellow, camo/magenta, camo/orange
Care: Spot clean with warm water
2. Tailfour PU Leather Tote Bag for Dogs
If you're on a budget or just can't wrap your head around spending hundreds of dollars on a dog bag, check out this affordable, functional, and good-looking option. An ergonomic zipper on the top makes it easy to access your dog, and a removable cushion sits on the bottom of the bag for your dog's comfort. The bag has five pockets to hold your essentials. When your dog's head is tucked in, it's as if a dog isn't even there. So, if you need to quickly run into a grocery store or a business that doesn't allow dogs, no one has to know.
Weight Limit: Approx. 10 lbs. (medium), 15 lbs. (large)
Dimensions: 11.8" x 12.8" x 7.3" (small), 15" x 17" x 7.9" (large)
Materials: Synthetic leather
Color Options: Brown
Care: Spot clean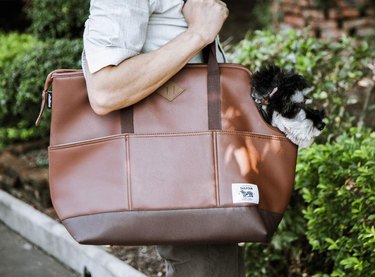 3. Wild One Everyday Carrier
It's probably safe to assume that you don't already own a bag that's made from 80 recycled water bottles like this tote bag for dogs. In addition, this bag is equipped with dual-length carrying straps, four pockets for your supplies (and a dedicated phone pocket), and a machine-washable mat. The color options are so trendy, you won't even feel like you're carrying a dog bag. The tote includes a travel mat made of polyester and spandex that can be thrown in the washing machine.
Weight Limit: 20 lbs.
Dimensions: 21.5" x 7.5" x 14.25"
Materials: Exterior is 100% recycled post-consumer polyester from plastic water bottles, interior lining is 100% cotton
Color Options: Lilac, black, cocoa
Care: Hand wash only, dry flat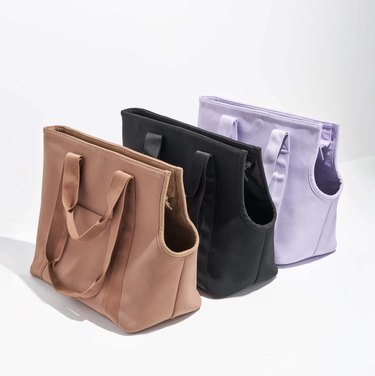 It may feel like this bag is luxurious, and that's because it absolutely is—and not just for a dog carrier. Made of high-quality leather and handcrafted by artisans in Ubrique, Spain, this tote is equal parts dog carrier and fashionable purse. Cushioned nylon makes up the interior, giving your dog a cozy place to rest while on the move. The bag features reinforced straps to ensure they don't break with the weight of your dog, a zipper pouch to hold your belongings, and a short tether on the inside to secure your dog.
Weight Limit: 15 lbs.
Dimensions: 15" x 11" x 6.5"
Materials: Top-grade leather, nylon interior
Color Options: Light blue, blush, dark green, light gray
Care: Spot clean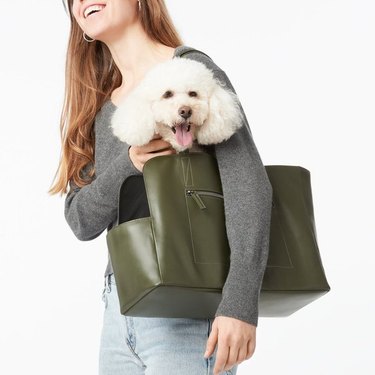 5. Noble Duck Portable Dog Carrier
It's the most affordable option on our list, but this dog carrier bag doesn't skimp on design. It's chic with thick straps for maximum shoulder comfort, and it has plenty of pocket space for your belongings. The interior has a hook for your dog's leash to keep them from getting out. While this bag is easy to spot clean, a bonus of buying an inexpensive bag is that you might not care as much if your dog's paws get it dirty.
Weight Limit: 12 lbs.
Dimensions: 15" x 11.8" x 7.5"
Materials: Polyester
Color Options: Black, khaki
Care: Spot clean