If you want to bring your dog or cat along on a flight, you'll need to buy an airline-approved pet carrier. Whether your dog or cat is a frequent flyer or you're getting ready to take them on their first flight, it's important to find a carrier that's a safe and comfortable space for them to relax.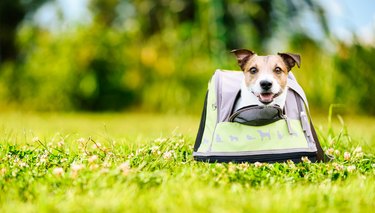 Pets that are brought into the cabin of an airplane must be enclosed in a carrier that's "small enough to fit underneath the seat without blocking any person's path to the main aisle of the airplane," according to the Federal Aviation Administration (FAA). Soft-sided carriers for dogs and cats are the most pliable and fit best under seats. Some offer features that can help make your travel day a little easier, including comfortable shoulder straps and wheels. Expandable carriers make your pet's travel day a little easier by offering extra space to stretch out and move around before boarding.
Unfortunately, there's no universal set of guidelines for what makes a pet carrier approved for airplane travel (like the amount of ventilation or how waterproof it has to be), so you'll need to check with your chosen airline before you travel to make sure the carrier meets regulations.
What to consider when purchasing a pet carrier
‌Size:‌ Finding the right size carrier for your pet can be tricky. It should be big enough for them to easily turn around, curl up, or stretch out when lying down. (If that sounds like more room than humans are allotted on an airplane, it basically is.) To make sure you buy the correct size, don't only rely on your pet's weight—you'll also need to get some measurements. Measure your pet's back from the neck (where the collar sits) to the base of the tail, and measure the shoulder height from the top of the shoulders to the ground. Add a few inches to those measurements. If your dog is between sizes, choose the larger size for maximum comfort.
‌Adequate Ventilation:‌ Pets are required to keep their heads inside a pet carrier at all times while on the airplane, so adequate ventilation is imperative. Without it, your pet won't be able to get enough oxygen during a flight, and since they're under the seat, you might not be aware of what's happening. Most airlines require pet carriers to have at least two sides made of mesh for ventilation—some require three. Check with the airline before you travel.
‌Ease of Use:‌ Traveling is stressful, and when you add a pet to the mix, things can get even more stressful (for your pet, too). To make your travel life as easy as possible, your pet carrier should be easy to open and close, easy to clean, and a cozy spot for your pet to rest for long periods of time.
Are you overwhelmed? Don't be. We did the legwork and found the best pet carriers so you don't have to.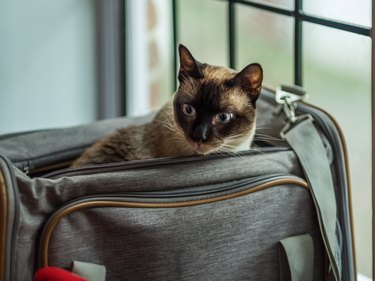 1. Wild One Travel Pet Carrier
You'll be traveling in style with Wild One's pet carrier. Not only is it a chic-looking bag, but it also has features to make traveling more comfortable—for both you and your pet. The bag's shoulder strap can be used as a leash, all of the walls are made of breathable mesh, and when opened all the way, the carrier lays flat and turns into a cozy dog bed. Plus, the frame of the carrier is flexible to easily fit under the seat.
‌Dimensions:‌ 17.5" x 11" x 10"

‌Weight Limit:‌ 16 lbs.
‌Color Options:‌ Spruce, black, tan
‌Travel Mat:‌ Yes, machine-washable
2. Amazon Basics Soft-Sided Mesh Pet Travel Carrier
Amazon Basics always pulls through with affordable, quality products, and this pet carrier is no exception. It isn't fancy, but it gets the job done. The walls are all made of breathable mesh and it comes with an adjustable shoulder strap to help relieve some of the weight load when walking through the airport. Your pet can also relax on top of a machine-washable fleece pad. This carrier fits the under-seat dimensions of most airlines.
‌Dimensions:‌ 3.8" x 8.7" x 8.7" (small), 16.5" x 9.4" x 9.8" (medium), 19.7" x 10.2" x 11.2" (large)
‌Weight Limit:‌ 8 lbs. (small), 16 lbs. (medium), 22 lbs. (large)
‌Color Options:‌ Black
‌Travel Mat:‌ Yes, machine-washable
3. Mr. Peanut's Double Expandable Pet Carrier
While you're waiting for your plane to board, the expandable walls of this pet carrier give your dog or cat extra space to stretch out on the plush interior fleece padding. All the walls are made of mesh when expanded, but something to note is when the bag is zipped and compact, only the front and top walls of the carrier are breathable. The carrier is made of waterproof snowflake nylon material, which is so strong, it's also used to make military-grade parachutes.
‌Dimensions:‌ 18" x 10.5" x 11"
‌Weight Limit:‌ 15 lbs.
‌Color Options:‌ Charcoal ash
‌Travel Mat:‌ Yes, hand-wash or dry clean
4. Roverlund Out-of-Office Pet Carrier
Roverlund's Out-of-Office carrier gives off major cool vibes. Its innovative 3-in-1 design lets you use the carrier on most airlines, as a dog or cat bed, or as a car seat. There are several fun color combinations to choose from, and the carrier includes a bonus leash—one less thing you have to bring as a carry-on. It's made of water-resistant 1200D polyester and mountain climbing rope, and all the walls are made of mesh. It comes with fleece bedding for maximum comfort.
‌Dimensions:‌ 17" x 11" x 10.5" (small), 19" x 11.75" x 11.5" (large)
‌Weight Limit:‌ 15 lbs. (small), 25 lbs. (large)
‌Color Options:‌ Desert camo/blue, black/yellow, black/magenta, camo/orange, camo/magenta, blue/blue
‌Travel Mat:‌ Yes, machine-washable
5. Snoozer Pet Products Roll Around 4-in-1 Travel Dog and Cat Carrier Backpack
If you travel often, whether by plane, train, or automobile, the Snoozer Roll Around is a versatile choice. The carrier seamlessly converts into a wheeled carrier, backpack, car seat, and pet bed. As the company notes, it's the "Swiss Army Knife of pet carriers." Three of the walls are made of mesh for ventilation. There's a hook inside that you can clip to your pet's leash for safety. There's also a convenient pocket to store poop bags, treats, food, a water bottle, etc.
‌Dimensions:‌ 11" x 14" x 20" (medium), 12.25" x 15.5" x 23" (large)
‌Weight Limit:‌ 15 lbs. (medium), 30 lbs. (large)
‌Color Options:‌ Red/black, black/gray
‌Travel Mat:‌ Yes, but not removable
6. Kurgo G-Train Dog Carrier Backpack
When you want to travel with your pet but don't want to bring an extra carry-on bag, Kurgo's G-Train Carrier Backpack is a great option. The backpack has a laptop sleeve, stretch mesh pockets, ventilated air vent, roll-up top panel, interior leash hook, and dual-side compression straps. If you need a break from wearing it as a backpack, you can tuck away the backpack straps and use it as a hand carrier. This durable, tactical-inspired backpack is made from waterproof and dirt-resistant material.
‌Dimensions:‌ 13.5" x 10" x 21"
‌Weight Limit:‌ 25 lbs.
‌Color Options:‌ Black, navy blue, ink blue, red
‌Travel Mat:‌ No