Choosing the right crate for your dog is an important task. If your dog is comfortable in their crate, it can be a safe, calming, and relaxing place for them to feel secure. It can also be an efficient tool for house training puppies, preventing destructive behavior, a safe place to leave your dog when you're gone, and for traveling. Dog crates come in a wide variety of sizes, shapes, styles, and materials. The crate you buy will depend on several factors: how big your dog will get, your dog's personality, the style you like, what you plan on using it for, and if you have room to store it when it's not in use.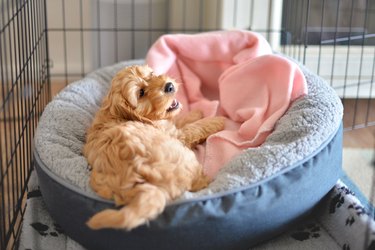 What to consider when purchasing a dog crate
‌Size:‌ The ideal crate size would allow your dog to stand, sit, stretch, turn around, and lay down without taking up the entire space. It shouldn't be too large, however, or your dog won't get the sense of security that a crate can provide. You can find crates in sizes for small, medium, large, extra-large, and even extra-extra-large dogs.
‌Type of Crate:‌ The most common types of crates are kennels and wire mesh. Kennels are made of hard plastic and usually have wire doors. They are great for airplane travel and road trips. Wire mesh crates are made of hard wire, are often collapsible for easy storage and portability, and are usually the least expensive option. More modern-looking crates are also gaining popularity, and those are generally made of wood with wire or steel doors.
‌Durability:‌ The level of durability needed in a crate typically depends on the size and strength of your dog. Larger dogs usually need a more durable crate, especially if they're aggressive chewers or diggers, but even small dogs can do some damage to a crate. If your dog is more relaxed while in his crate, you probably don't need to worry about durability. Something to also consider is how often you plan on traveling with the crate, as wear and tear will naturally happen the more you travel.
Take a look at our list below for a wide variety of dog crates both you and your dog will love.
The best overall dog crate
There's no question that dog crates are cumbersome, but this modern crate by Fable can double as a side table to save on space. Made from premium bentwood, the crate is a cozy and safe place for your dog to rest, but it's also a sleek addition to any room. The gate is clear acrylic, which allows your dog to see out and you to see in. Holes throughout the crate allow for generous airflow and plenty of light. There's also a white metal gate option that's ideal for chewers, but you'll need to join the waitlist as it's currently sold out.
‌Dimensions:‌ 26" x 20" x 23" (small), 34" x 24" x 25" (medium)
‌Weight Limit:‌ 25 lbs. (small), 50 lbs. (medium)
‌Materials:‌ Premium bentwood, clear acrylic gate
‌Crate Weight:‌ 50 lbs. (small), 75 lbs. (medium)
‌Color Options:‌ Natural wood
‌Collapsible:‌ No
The best collapsible dog crate
With this collapsible crate, you have three size options: small, medium, and large. It can be used when your dog is a puppy as it includes a customizable puppy divider and two ceiling hatches, making it easy to reach in and get your dog without opening the front gate. The solid panel door can slide up to create an open-concept lounge or be removed and used as the puppy divider. The crate is made from non-toxic materials and features a unique diamond-shaped mesh pattern, an extra-sturdy frame, and a dual-lock front door handle to keep clever dogs from opening the door.
‌Dimensions:‌ 28" x 21" x 20" (small), 35" x 24" x 23" (medium), 45.3" x 33" x 31" (large)
‌Weight Limit:‌ 30 lbs. (small), 50 lbs. (medium), 90 lbs. (large)
‌Materials:‌ Nontoxic aluminum frame
‌Crate Weight:‌ 25 lbs. (small), 32 lbs. (medium), 53 lbs. (large)
‌Color Options:‌ Gray, ash, charcoal, pine
‌Collapsible:‌ Yes
The best budget dog crate
Here's a classic wire mesh crate that can collapse for easy portability. It works well for puppies all the way through adulthood. There are seven different sizes for dogs weighing between 0 and 110 pounds, plus single-door and double-door options. It has an L-shaped, slide-bolt safety latch and a plastic base pan that makes it easy to clean up after any accidents. It's the most budget-friendly crate on our list, but it doesn't lack sturdiness and gets the job done.
‌Dimensions:‌ 18" x 12" x 14" (xx-small), 22" x 13" x 15.5" (x-small), 24" x 18" x 19.25" (small), 30" x 19" x 21" (medium), 36" x 23" x 25" (medium/large), 42" x 28" x 30" (large), 48" x 30" x 32.5" (x-large)
‌Weight Limit:‌ Up to 6 lbs. (xx-small), up to 10 lbs. (x-small), 11-25 lbs. (small), 26-40 lbs. (medium), 41-70 lbs. (medium/large), 71-90 lbs. (large), 91-110 lbs. (x-large)
‌Materials:‌ Coated steel, metal
‌Crate Weight:‌ 7 lbs. (xx-small), 9 lbs. (x-small), 13 lbs. (small), 16.5 lbs. (medium), 23 lbs. (medium/large), 33.5 lbs. (large), 39.5 lbs. (x-large)
‌Color Options:‌ Black
‌Collapsible:‌ Yes
The best furniture-style dog crate
If you're looking for a nontoxic, eco-friendly crate that's just as stylish as it is efficient, the Littell Pet Crate might be the one. This sturdy and modern crate doubles as an end table, so it can easily blend right into your home decor. While the crate has many perks, including being water-resistant and moisture- and odor-repellant, it isn't recommended for dogs who are good at figuring out how to open doors and gates.
‌Dimensions:‌ 22" x 18.1" x 23.6" (small), 25.2" x 21.1" x 29.5" (medium), 28" x 24" x 35.4" (large), 30.9" x 27.6" x 42.5" (x-large)
‌Weight Limit:‌ 25 lbs. (small), 40 lbs. (medium), 70 lbs. (large), 90 lbs. (x-large)
‌Materials:‌ Nontoxic recycled polymers, reclaimed wood
‌Crate Weight:‌ 23.8 lbs. (small), 29.1 lbs. (medium), 39.9 lbs. (large), 49.8 lbs. (x-large)
‌Color Options:‌ Antique white, espresso, gray, russet
‌Collapsible:‌ No
The best airline-approved dog crate
Planning on traveling with your dog? This crate works well for road trips, as well as for airplane travel. All of the size options come with a bowl for water and a bowl for food. Also, in all sizes except for the small kennel, the crate is on wheels. While the weight limit isn't listed, the company notes that the size of the kennel should be 3 to 4 inches taller and longer than your pet. The company also sells dog beds designed to fit in each size kennel, so that's a nice bonus. And just a heads up—airlines have different size regulations for kennels, so before you travel, check to make sure the crate will work.
‌Dimensions:‌ 24" x 16" x 16" (small), 27" x 20" x 19" (medium), 32" x 22" x 23" (large), 35.5" x 23.8" x 26.8" (x-large), 39" x 27" x 30" (xx-large)
‌Weight Limit:‌ Not listed
‌Materials:‌ Plastic, metal
‌Crate Weight:‌ 6.5 lbs. (small), 13 lbs. (medium), 16 lbs. (large), 20.25 lbs. (x-large), 26.25 lbs. (xx-large)
‌Color Options:‌ Gray/off-white
‌Collapsible:‌ No