Whether you've got a senior dog who can no longer walk long distances, an office dog who rides the subway every morning, or a frequent-flyer dog who prefers first class, there are dozens of reasons to purchase a carrier backpack for your four-legged friend. While it might take some getting used to (for both you and your dog), a carrier backpack allows the two of you to share all kinds of adventures, from hiking a mountain to going for a bike ride. Before we take a look at the best dog carrier backpacks in 2023, here are a few things to keep in mind when making your purchase.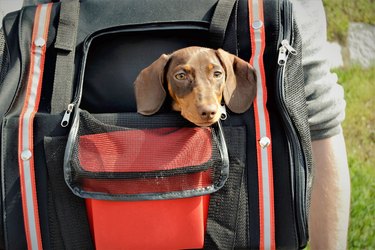 What to consider when purchasing a dog carrier backpack
‌Size and Weight Limits:‌ Despite the photos you may have seen of giant-breed dogs riding the NYC subway in IKEA bags, not every dog is meant to be toted around in a backpack. Each backpack will have different limits, so it's best to measure and weigh your dog before you begin shopping. Generally speaking, your dog's length is measured from their collar to the base of the tail, while their height is measured from the ground to the top of their shoulders.
‌Airflow:‌ Some carrier backpacks are designed with a hole for your dog's head to poke out, while others are mostly enclosed with mesh ventilation windows. If you opt for the head-out style, look for a breathable fabric that will keep your dog cool. If you plan to keep the carrier backpack closed most of the time, choose a model with two or more large mesh panels for optimal airflow and visibility.
‌Comfort:‌ It's important to consider the comfort of you and your dog when purchasing a carrier backpack. If you plan to use the backpack for hiking or have a pup weighing over 10 pounds, choose something with a chest and/or hip buckle to prevent the straps from sliding off or straining your shoulders. To keep your dog snug and secure, look for a backpack that holds its shape and features a padded base.
‌Safety:‌ Escape artists might require extra safety measures such as interior leash hooks or lockable zippers. Just as importantly, ensuring your dog has adequate space can discourage them from trying to break free due to anxiety. Give your dog plenty of time to get acclimated to the backpack—wear it around the house and reward them treats and praise for "going for a ride." That way, they'll be calm and comfortable on the day of your outing.
Now that we've outlined the most important features in a dog carrier backpack, here's our roundup of the top-rated models.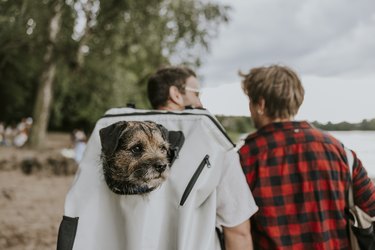 The best carrier backpack for small dogs
Ideal for dogs weighing up to 22 pounds, this comfortable backpack measures 12.6 inches long, 11.4 inches wide, and 16.9 inches high. There are four breathable mesh panels, two of which zip open to allow your dog to poke his head out. If you'd rather keep your dog inside the backpack, there are lockable zippers and an interior leash hook to prevent him from breaking free.
The soft fleece mat that your pup sits on is removable and hand- or machine-washable. It's also reversible (the other side is nylon) if you're taking your dog out in warm weather. Pockets on either side of the backpack allow you to store poop bags, treats, or a collapsible water bowl. The cushioned back is covered in honeycomb mesh and reinforced shoulder straps, a waist buckle, and chest buckle ensure a snug fit. The backpack comes in four vibrant colors—blue, green, orange, and pink—contrasted with black or gray 600D Oxford cloth, an ultra-durable, water-resistant fabric.
The best carrier backpack for medium dogs
The K9 Sport Sack Air and Urban models can support dogs weighing up to 30 pounds, while the Plus 2 is designed for dogs weighing up to 40 pounds—meaning you can finally take your chubby corgi out for a bike ride. Amazon lumps the three models together (all of which are available in sizes extra-small, small, medium, and large), so be sure to verify that you've chosen the right style and size for your dog. For the best fit, measure your dog's length from their collar to the base of their tail as well as their girth, which is the widest part of the body.
The backpacks are made out of durable, breathable fabric, include numerous safety features, and have ergonomic straps to evenly distribute your dog's weight. There are a dozen colors and patterns to choose from, including blue camo and a green tropical motif. The Plus 2, which is designed for hiking and cycling, even comes with a storage pack so you can bring along snacks and gear. The company is based in the U.S. and every purchase is backed by a 60-Day Quality Guarantee for peace of mind.
The best carrier backpack for hiking
If you want to provide your small dog with some room to stretch out while you get your steps in, this spacious backpack measures 11.4 inches long, 12.6 inches wide, and 16.8 inches high. There's no weight limit listed, but purchasers say it can support up to 25 pounds—although the heavier your dog, the more strain they will put on your back.
It provides a two-way entry and several mesh windows for optimal airflow. If you want to let your dog see the sights but worry about her making a run for it, you'll be happy to know there's a leash hook that you can attach to her harness. The plush bedding is removable and the outer fleece layer can be machine-washed if needed.
There are a number of reasons why this backpack is suitable for hiking: it's got padded shoulder straps, chest and waist buckles for extra support, and a spongey mesh backing that won't cause you to overheat. It also holds its shape really well compared to other backpacks on the market, which tend to cave in or sag at the bottom. And by unzipping just three zippers, the backpack is able to lay completely flat—a major perk if you're short on storage space.
The best carrier backpack for traveling
A duffle bag-style pet carrier is hardly conducive to a frenzied airport environment. If you want to be able to hold onto your ticket while you navigate the terminals, a hiking backpack that transforms into a traditional carrier is the way to go. The Kurgo backpack is airline and TSA-approved for dogs weighing up to 25 pounds. It measures 21 inches long, 13 inches wide and 10 inches deep, but be sure to verify that these dimensions are compliant with your airline's regulations.
The bottom of the backpack is completely waterproof, while the rest of it is covered in a water- and stain-resistant fabric. The interior pad is removable and machine-washable if your dog has an accident during the flight. It boasts ample storage, including a padded laptop compartment, two water bottle sleeves, and zippered organization pockets.
There are mesh panels on three sides for proper ventilation, an interior leash hook, and adjustable, padded straps for carrying comfort. Should you need to use the backpack as a traditional carrier, you can tuck the straps into a stowaway compartment. To create more overhead space for your dog, simply pop up the interior stakes—this will also prevent the carrier's shape from collapsing.
The best carrier backpack with wheels
Toting your dog around on your back for an extended period of time can put strain on your neck and shoulders. Having the option to carry or roll your dog through the airport, down the block, or to the park is a particularly useful feature. Suitable for dogs weighing up to 15 pounds, this versatile backpack has three breathable mesh panels, a roll-down window shade, and two zippered side pockets for storage. It measures 15.5 inches long, 14.5 inches wide and 17 inches high, so it can comfortably fit small breeds like chihuahuas, dachshunds, and miniature poodles.
There's an interior leash hook and a soft fleece mat for your dog to curl up on that's machine washable. A 20-inch telescopic handle is paired with rubber wheels that hardly make any noise when taking your dog on a stroll, or should we say, roll. When not in use, the backpack straps can be easily tucked away. It's important to note that the wheels and handle are not removable, so if you plan to use the carrier primarily as a backpack, you might want to consider other options.
The best budget carrier backpack
Not sure how well your dog will adapt to an on-the-go lifestyle? This affordable carrier is a solid entry-level purchase for dogs weighing up to 15 pounds. It measures 13 inches long, 11.42 inches wide, and 16.73 inches high, and is well-ventilated with PVC mesh panels on three sides.
The side panels zip all the way open, making it super easy to load your dog into the carrier. There's also a "skylight window" so your pup can stick her head out.
It's available in three colors (black, light gray, or pink) and has an interior leash hook, a washable fleece mat, and two zippered side pockets. The backpack straps are adjustable, and a chest buckle helps keep it secure. It can also be stored flat if you're short on space. One potential downside is that the zippers don't lock, so if your dog is a known escape artist, you might want to upgrade to a backpack with that safety feature.
The best front or back carrier
A front-facing carrier allows you to keep a close eye on your pup (and give them a reassuring scratch behind the ear every now and then). This backpack can be worn on your front or back and comes in 13 different colors so you can match it to your hiking gear. The large size is suitable for most small dogs as it accommodates 10 to 14 pounds and back lengths (from the collar to the base of the tail) between 10.2 and 12.6 inches. Toy breeds weighing up to 10 pounds with back lengths shorter than 10.2 inches could opt for the medium, but if your dog is between sizes it's better to size up.
The backpack is made from breathable mesh and polyester fiber and has an adjustable window for your dog to poke her head out. On the inside, you'll find a leash hook, a soft, washable cover, and a solid base that prevents sagging. There are also three mesh pockets for storing your cell phone, water bottle, or treats. And thanks to the adjustable shoulder straps, chest buckle, and waist buckle, the fit is very supportive and comfortable.