Cat tunnels are one of the most fulfilling toys you can buy your cat. By nature, cats are predatory animals. They like to chase things, pounce, and hide in small spaces. They like to play, but they also like to feel safe. A cat tunnel offers cats the best of both worlds—the chance to be entertained, run around, exercise, and play while also providing an enclosed space of their own to hide or relax. While it's important to play with your cat, it's also important for them to play independently and entertain themselves—especially since you probably have other things to do than hang around waiting for your cat to show an interest in playing with you.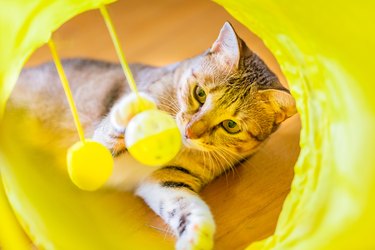 What to Consider When Purchasing a Cat Tunnel
​Size:​ The diameter is the most important thing to consider when buying a cat tunnel. While kittens and small cats can fit inside a small or large tunnel, large cats would have a hard time fitting inside a tunnel with a smaller diameter. And if they do fit, they might get stuck or have a hard time moving around. While that might be adorable to watch for a few seconds, it's not going to be fun for your cat. It's important to buy a tunnel that fits your cat appropriately so they can have the best time possible and not completely lose interest in a toy that could otherwise provide them with lots of fun and exercise.
​Type:​ There are several types of cat tunnels to choose from. There are small tunnels made for a fun game of chase; tunnels that have two, three, four, or even five tunnels attached to each other; tunnels with toys; tunnels that are good for kittens; tunnels with cubes for added excitement or a place to rest; and crinkle tunnels that have a cat-pleasing liner that makes crackling noises as your cat goes through it. You know your cat best, so choose one based on their personality traits, and as cats do, they'll either love it or hate it.
​Material:​ One of the goals in buying a cat tunnel should be to find one that's made of high-quality materials that can withstand all the antics cats get into—including the zoomies, scratching, and playing with toys. Most cat tunnels are made from tear-resistant materials like polyester and nylon. Of course, it's hard to know if the materials used are actually high-quality, so your best bet is to read the reviews to find out if the cat tunnel you're interested in has a history of ripping easily. For the record, all of the cat tunnels on our list are highly durable and intended for long-term use.
Now that you probably have a better idea of what you're looking for in a cat tunnel, check out our favorite cat tunnels of 2022 below.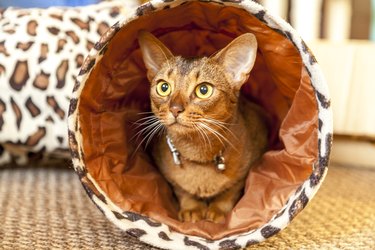 The Best Overall Cat Tunnel
Frisco Foldable Crinkle Play Tunnel
There's a lot to love about Frisco's Foldable Crinkle Play Tunnel. To start, it's not an eyesore. Compared to other cat tunnels that tend to be on the brighter side, this one blends in nicely with most home decor styles. Made of soft suede, polyester, and crinkle material, it's durable and fun for cats. It has two pop-out holes to make things a bit more interesting and a toy ball that hangs down for your cat to bat around. The tunnel folds flat for easy storage and measures 47 inches long, 11 inches wide, and 11 inches high.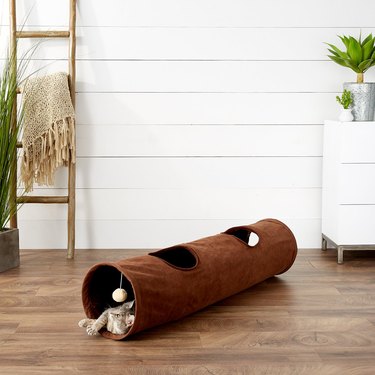 The Best Budget-Friendly Cat Tunnel
Designed for small and medium-sized cats, this tunnel might be inexpensive, but it's surprisingly durable. It's made of ultra-strong, tear-resistant polyester that holds up quite well, even with cats who play pretty aggressively. The tunnel is foldable and compact for storage. A hanging ball adds another element of fun for your cat and some added amusement for you. The tunnel is small—measuring 36 inches long, 11 inches wide, and 5.5 inches high—so if your cat seems to need more space, you can purchase additional Western Home tunnels and attach them for an even bigger maze.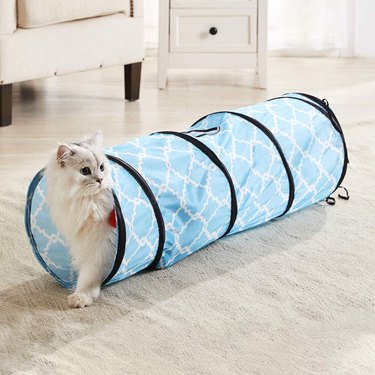 The Best Tri-Tunnel for Cats
Frisco Tri-Tunnel Variety Pack
Frisco's Tri-Tunnel Variety Pack is what cat tunnel dreams are made of. It's a fantastic starter pack for any first-time cat owner or for anyone who could use a toy refresh. It has three tunnels with a peephole in the middle, which would be a great time all on its own, but it also comes with 20 super fun cat toys. We all know that cats can be picky about their toys, but there's such a wide variety of options, so your cat is bound to find at least a few toys they love to play with. The toys include feathers, rolling balls, crinkly textures, fuzzy mice, and a wand. In addition to pink, the tunnel also comes in two shades of blue. Its dimensions are 15.5 inches long, 15.5 inches wide, and 4 inches high.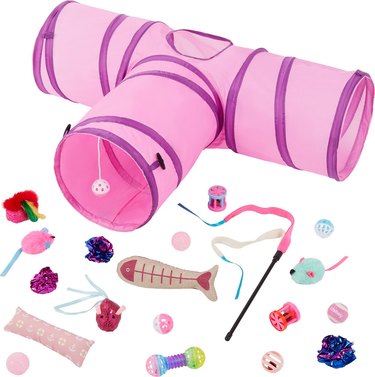 The Best 4-Way Tunnel for Cats
Your cat will love this extra-long Feline Ruff 4-Way Tunnel for so many reasons. Not only will it give them a place to play, run through, hide, and pounce, it also gives them a brief element of choice. Should they go through this tunnel, that tunnel, that tunnel, that tunnel over there, or through the hole in the middle? It's also a dark, safe space where they can spend time alone either playing or resting. There's also an attached hanging ball and a bonus feather toy. Made of durable polyester, this tunnel is large enough to fit multiple cats and even a small dog at 56 inches long, 22 inches wide, and 12 inches high. It collapses for easy storage.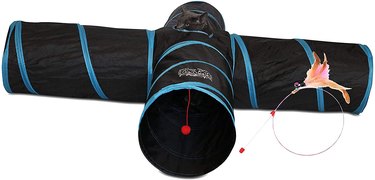 The Best Crinkle Tunnel for Cats
Cats can't resist a crinkle. SmartyKat's Crinkle Tunnel is all about the crinkle crackle sound. It literally crinkles with every step, making it enticing for cats to get in there and run, play, roll around, and have the time of their lives. It's collapsible for easy storage and has a large peephole in the middle that can be used as an added entry or exit. It measures 34 inches long, 9.5 inches wide, and 9.5 inches high.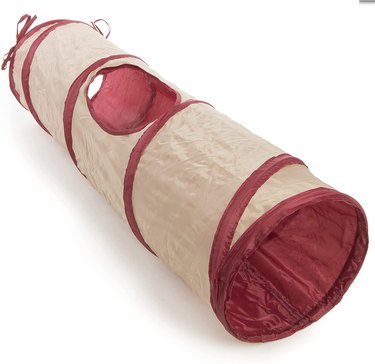 The Best Tunnel for Kittens
A large cat tunnel with various entry points can be overwhelming for kittens. The Catit Vesper Tunnel is a great option for little ones who love to play but are still learning their way around, measuring 19.69 inches long, 11.81 inches wide, and 11.81 inches high. Made of plush material, the tunnel is extra cozy for kittens to cuddle up inside, and it includes a bed cushion, perfect for a quick nap break. There's also a hanging ball for batting practice. If you purchase two tunnels, they can be combined to form a donut-shaped tunnel, with the two peepholes turned into entries and exits.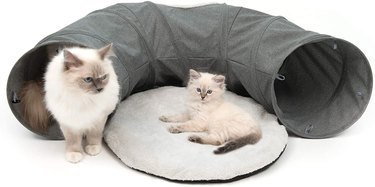 The Best Cat Tunnel with Cubes
Kitty City Jungle Cat Cube
Your cat will definitely be the king or queen of this jungle. Included in this tunnel combo is a safari cube, a safari hut house with a fleece pad (perfect for naps), and a jungle-themed tunnel that connects the two. The tunnel provides ample space for hideouts and playtime. Made of polyester and mesh, a flexi-frame pops open in seconds and can fold completely flat for storage. Its dimensions are 66.2 inches long, 15.2 inches wide, and 24 inches high.