Finding the right cat tree can be a bit overwhelming because there are so many different types to choose from. A cat tree certainly isn't a required purchase when you have a cat, but it enhances your cat's life and gives them a space of their own to lounge and nap. Some cat trees are tall with multiple levels, some are lower to the ground, some have toys attached to them that can provoke playfulness and encourage exercise, and some have cozy lounging spots like hammocks or condos. Not only is there a lot to choose from, but there are also a lot of factors to consider.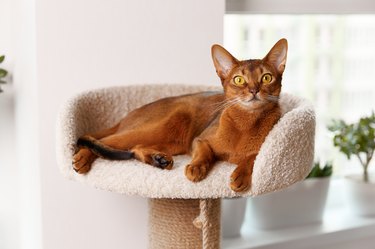 What to consider when purchasing a cat tree
‌Size:‌ You might already have an idea of the size you're willing to go with. If you're cool with and have the space for a large and in charge cat tree, that's great. Your cat will love it. But if you don't have the space or you'd rather keep the cat accessories to a minimum, a smaller cat tree would work best. The truth is, your cat will enjoy whichever cat tree you choose—big or small.
The size of your cat is also an important factor when buying a cat tree. Most cats can use any size cat tree, but if your cat is husky (over 20 pounds or so), or if you have multiple cats, you'll need a large cat tree to better evenly distribute weight so it doesn't tip over. A wall-mounted cat tree can also help with that.
‌Features:‌ Cat trees come in all shapes and sizes, but they also have varying features. You can find cat trees with scratching posts, condos, hammocks, ramps, tunnels, ladders, cozy mats, and batting toys.
‌Your Cat's Habits:‌ To determine which cat tree would work best for your cat, pay attention to their habits. Is your cat a scratcher? Most cat trees come with scratching posts, which can give cats something to scratch other than your furniture. If your cat likes heights, a tall cat tree where they can perch up high might be a space they spend a lot of time in and feel safe. A cat who likes being under beds or hiding in small spaces may prefer a small cat tree that's low to the ground. If your cat is playful, they would probably be into a cat tree with various activities.
Take a look at some of the best cat trees below.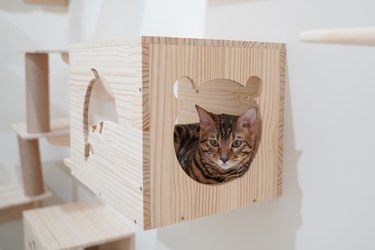 Cat trees can be an eyesore, but Catry's Modern Jute Cat Tree and Condo is anything but. Appropriate for cats up to 15 pounds, this modern beauty has a cozy condo that sits on the floor with two perches on top. It features a paper rope scratching post and a toy mouse for entertainment. It's made of jute fiber and sturdy particleboard, and it includes three removable and washable mats.
Your cat deserves a safe haven, and that's exactly what Whisker City's Playbox Cat Tree offers. It has all the bells and whistles you'd expect from a large cat tree, including a linen condo with a mat, eight jute scratching poles, perches, a fun ball track and scratcher toys, and a playtime groomer that can help remove loose hair. This cat tree will give your cat a view of the whole room with plenty of things to play with, scratch, and places to rest.
The best cat tree with activities
Yaheetech's Multi-Level Cat Tree offers ample room for two cats or even just one cat who rules the roost. Covered in cozy fabric, the cat tree features plush perches, two spacious condos, six scratching posts wrapped in sisal rope, and a hammock for ultimate relaxation. Its wide design helps with the sturdiness to ensure it won't take a tumble with your cat on board. The recommended pet weight is up to 22 pounds, so it's best suited for a home with no more than two cats.
The best cat tree with condos
Frisco's Faux Fur Cat Tree and Condo is the ultimate cat tree for homes with multiple cats or even just one cat who needs lots of space to play, jump, and rest. It's basically a mansion for cats. The tree features two condos for sleeping, three treetop-like perches, 10 scratching posts, mouse toys for batting, and two ramps for scratching and climbing. It's available in six colors (including cheetah print, as seen below), all covered in faux fur and sisal materials. It can hold up to 33 pounds—two to three cats depending on their weight.
If you love the idea of Frisco's 72-inch Faux Fur Cat Tree and Condo, but don't need something so large, check out this 52-inch version. It's more compact, but it offers the same cozy faux fur cover, one condo, a batting toy, a scratching ramp, five scratching posts, and two areas for perching. There are six colors to choose from and a wall-mounting kit is included.
The best cat tree for multi-cat households
Extra tall cat trees need to have stability, and Feandrea's Multi-Level Cat Tree offers that and so much more. Made of particleboard and strengthened with battens, the 64-pound tower has reinforced stability with additional anti-tipping fittings. Your cats will love the tree's three perches with raised edges, two condos, a scratching board, thick scratching posts, and batting toys. It's big enough for multiple cats to have their own spaces without needing to share spots. The stability of this cat tree is certainly impressive—it can hold several cats without being mounted to the wall.
The best wall-mounted cat tree
If you're looking for a cat tree with stability that doesn't take up too much space, Trixie's Acadia Designer Plus Cat Tree is a great option. Its simple design makes it easy to mount to a wall (wall-mounting brackets are included), and the gray and white colors blend in nicely with most home decor styles. The top perch has a soft, removable bed, and the other two platforms are plush-lined for comfort. It has three thick scratching posts that will give your cat a place to fulfill their natural instinct to scratch.
The best outdoor cat tree
Technically, the Petsfit Outdoor Cat Tree House can be used outdoors or indoors, but it's specifically designed to withstand inclement weather with its waterproof asphalt roof, raised floor, thick wood panels, and angled boards that prevent water from entering. If you live in an area that gets a lot of rain, you may want to place the house under a porch to help it last longer. And if your cat uses it during the winter months, you can place a cat heating mat inside for warmth (like this one). The enclosed areas of the house have secondary holes to give your cat an escape route if a predator comes in, and the top of the house can be used as a perch or a place to set food away from other animals. It's the priciest option on our list, but well worth it to give your outdoor cat a safe space.